Examples of SWOT Analysis – SWOT Analysis Examples focus on methods of doing SWOT Analysis.
A SWOT analysis is a very good method and helps the company and managers to build their business plans. SWOT Analysis helps businesses whether it is a start-up or an existing company to formulate their strategies and future plans.
SWOT (Strengths, Weaknesses, Opportunities, and Threats). SWOT Analysis Internal Factors are Strengths and Weaknesses and External Factors are Opportunities and Threats.
SWOT Analysis is a proven management tool that helps organizations to assess the market of the company's products and its success against rival companies.
Since Strengths and weaknesses are internal factors a company can effectively manage them. Examples include your staff, intellectual property, patents, and venue.
Opportunities and challenges are external factors. The company can defend these factors by proper planning and analyzing risks, rivals, cost, and government regulations.
SWOT Analysis focuses on (S) Strengths, (W) Weakness, (O) Opportunities, and (T) Threats of a company/Organization/Individual. SWOT analysis is described in two by two grid.
When you spend the effort to do a SWOT analysis, you'll have a solid plan to prioritize the things you need to do to develop your business.
You may think you already know everything you need to do to succeed, but a SWOT analysis will encourage us to look at the business in new ways and new aspects. You'll look at your strengths and weaknesses, and how you can exploit those to take advantage of your market's opportunities and challenges.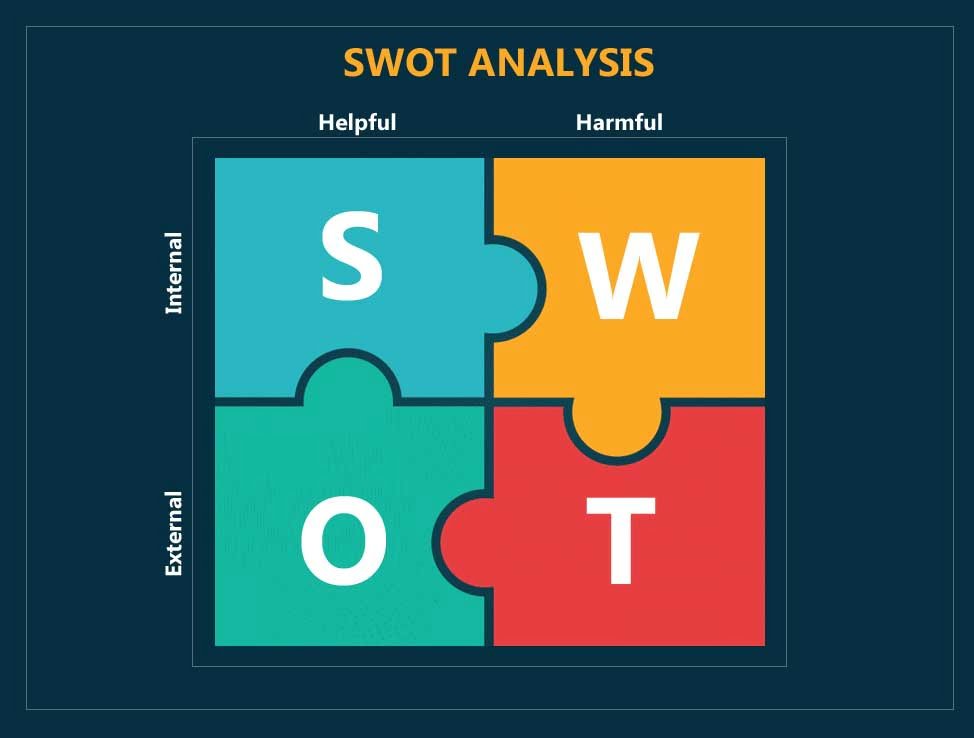 Who would evaluate SWOT?
For a successful SWOT study, business owners and managers must be deeply involved. It's not a task to assign to others.
Yet business leadership shouldn't do the job alone either. For better results, gather a group of people with different viewpoints on the business. Choose people who represent various facets of your business, from sales and customer service to marketing and product creation.
Innovative firms even look outside their own internal ranks when performing a SWOT analysis and receiving consumer feedback to add their unique voice to the mix.
When you start or run your own company, you can always do a SWOT analysis. Enlist additional views from friends who know your business, your accountant, or even vendors and suppliers. The key is different viewpoints.
Existing businesses can use a SWOT analysis to evaluate their existing situation and determine a strategy for progress. But remember, trends are currently changing because you want to reassess your strategy, starting with a new SWOT analysis every six to twelve months.
To companies, a SWOT analysis is part of a business strategy. It will help codify a strategy to start on the right foot and know the way you want to go.
How to do Proper SWOT Analysis?
As I described above, you want a group of professionals to focus on a SWOT analysis. You don't need an all-day break, though. One or two hours more than enough.
Gather people from various parts of the business and ensure you have members from both sides. You will find that different groups within your company will have completely different perspectives to make your SWOT analysis successful.
SWOT analysis is close to brainstorming sessions, and there are ways to develop them. I suggest giving everyone a pad of sticky-notes and quietly generating ideas to start things off. This avoids group-thinking and guarantees hearing all voices.
After 5-10 minutes of private brainstorming, put all the sticky-notes on the wall and bring together similar ideas. If anyone else's idea triggers a new thought, let someone add additional notes at this stage.
When all the ideas are grouped, rate the ideas. I like using a voting system where everyone gets five or ten "votes" to disperse in whatever way they want. Sticky dots are suitable for this component of the exercise.
Depending on voting, you will have a prioritized list of ideas. The list is now for discussion and debate, of course, and everyone in the room will be able to make the final decision on priority. It is normally the CEO, but someone else in charge of corporate planning may be assigned.
You'll want to pursue this method of generating ideas for each of your SWOT analyses' four quadrants: strengths, weaknesses, opportunities, and risks.
Questions that inspire you're thinking about SWOT Analysis?
Below are a few questions you can ask while developing your SWOT analysis. It can help illustrate every segment and inspire innovative thinking.
Strengths:
Strengths are internal, optimistic qualities. There are items beyond your power.
Which business processes succeed?
What assets does your team have, such as experience, network, expertise, skills, and reputation? What assets do you have, including equipment, customers, technology, cash, and patents?
Which are your strategic advantages over your competition?
Weaknesses:
Weaknesses are contributing factors to your strengths. There are things you will need to change to be successful.
Will your company need to be competitive?
Which company processes need improvement?
Does your business need tangible assets, such as capital or equipment?
There are holes in your team?
Is your place perfect for success?
Opportunities:
Opportunities are external factors that are likely to lead to your performance.
Is your market growing consistently, and are there trends encouraging people to buy more of what you're selling?
Are there upcoming events your company should take advantage of to develop the business?
Are there potential regulatory changes that could positively affect your company?
When your company is up and running, do consumers think about you?
Threats:
Threats are external factors uncontrolled by you. You may want to consider putting in place contingency plans if they occur.
Would you have potential competitors in your market?
Can suppliers supply the raw materials you need at the rates you need?
Could future technology developments change how you do business?
Does consumer behavior shift in a way that could affect your business?
Are there industry developments that could threaten?
How to develop a successful strategy
Using SWOT Analysis to determine the current situation before deciding on any new approach.
Find out what's going well, and what's not. Ask yourself where you want to go, how to get there, and what could get in your way. These are major issues, and you'll need a powerful but simple technique to help: SWOT Analysis.
This article, video, and infographic will help you discover what SWOT Analysis is, how to do one, and how to apply its benefits to the maximum.
How to SWOT Analysis
After you've explored all four elements of SWOT, you'll undoubtedly face a long list of potential actions to take. You would want to build on your strengths, strengthen your vulnerable areas, escape challenges, and leverage any opportunity.
But, before you take action, look for possible relations between your matrix quadrants. Can you, for example, leverage your strengths to open up more opportunities? And, will more possibilities come by removing any of the weaknesses?
Now it's time to prune and prioritize your proposals ruthlessly, so you can concentrate on the most important ones. Refine every argument for better comparisons. For example, accept only specific, verifiable statements such as "Cost advantage of $10 / ton in raw material x" rather than "Better value for money."
Carry through the options you create later in the strategy formulation cycle and implement them at the right level – for example, at the level of a product or product line, rather than at the much vaguer level of the entire business.
Then use the SWOT Analysis with other planning methods ( e.g. USP Analysis then Core Competencies Analysis) to provide a detailed picture of the situation you 're dealing with.
SWOT Analysis Examples – Examples of SWOT Analysis
Imagine this scenario: Laura is the CEO of a small start-up consultancy and wants a clear picture of its current situation, deciding on a future growth strategy. She gathers her team and conducts the SWOT Analysis.
SWOT Analysis
Based on team research, Laura concludes that the key assets of the firm are its versatility, strategic competence, and low overheads. They offer excellent customer service to a fairly low client base.
The company's weaknesses also contribute to its scale. Laura would need to invest in enriching skills of her staff by providing trainings. Additionally, she'll need to concentrate on retention, so she won't lose key team members.
Laura sees Opportunities to provide quick-response, good-value services to local businesses and local government organizations. The organization may be first to launch new goods and services, as its rivals are early adopters.
Threats need consultancy to keep up-to-date with technological shifts. It must also keep a close eye on its biggest rivals, despite its susceptibility to large-scale market shifts. To combat this, the company needs to target its ads on selected industry websites to get the full market exposure on a limited advertisement budget.
Live Examples of SWOT Analysis
Conclusion
SWOT Analysis is easy but useful to assess the strengths, weaknesses, opportunities, and threats of your organization.
It lets you build on what you're doing well, fix what you're missing, mitigate risks, and take full chances of success.
It can be used to formulate plans informally or more sophisticatedly as a serious strategy tool. You can also use it to consider your rivals, which will give you the knowledge you need to build a consistent and effective competitive position.
Consider the research practical and comprehensive. Apply it at the right level and, where necessary, add other option-generation resources.
If you like This Article Please Like our Facebook Page <a href="https://www.facebook.com/projects4mba">PROJECTS4MBA</a>
<h2>Cite This Work</h2>
Referencing Style to cite this article:
[citationic]