SWOT Analysis of TISSOT focuses on (S) Strengths, (W) Weakness, (O) Opportunities, and (T) Threats. Internal Factors Strengths and Weaknesses and External Factors Opportunities and Threats are discussed in this article.
SWOT Analysis is a proven management tool that helps organizations such as TISSOT to assess the market of TISSOT Watches and its success against rival companies. TISSOT has been one of the leading Watch brands for many years.
Tissot is a popular watchmaking company that was founded in 1853 and has its headquarters in Switzerland. It is a Swiss Swatch Group company, which is the world's largest watch manufacturer and distributor. Tissot 's logo includes a plus sign symbolizing the Swiss consistency and reliability that has been in its store since its establishment.
Tissot watches are sold in around 160 countries and their designs are realistic, accessible, and made from special materials, designs with advanced features, and meticulous design. The brand stands by its signature and traditionally are innovators. The strong quality of the brand has been repeatedly acknowledged.
It is an Official Timekeeper and partner in many disciplines including cycling with the UCI World and Tour de France, CBA, NBA, and MotoGP motorsports, FIBA basketball, and many more. The company combines attractive designs with watchmaking technology and has changed how people look at watches.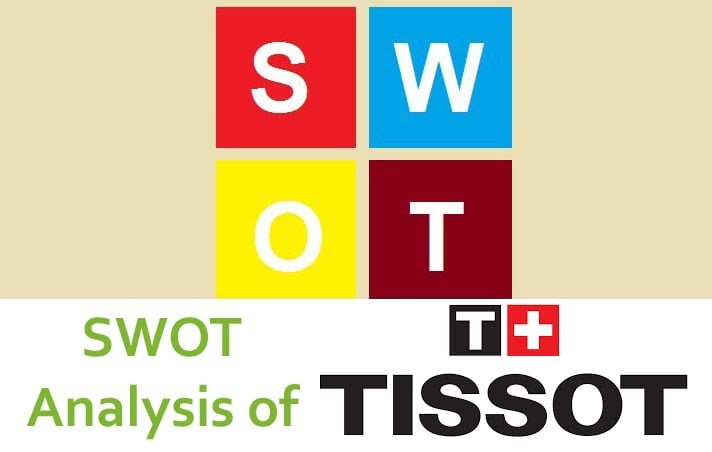 Strengths in the SWOT Analysis of Tissot – Tissot SWOT Analysis
Notable inventions – First Pocket Watch was invented by Tissot and the first watch with two different time zones in the year 1853. The firm has also been the first to manufacture acrylic, stone, pearl, and wood watches. It also introduced its first tactile watch that, during 1999, had T-Touch technology. This technology has touch-sensitive crystals of sapphire that control many functions such as barometer, compass, thermometer, and altimeter. The latest Tissot models in the T-Touch series such as the T-Touch Solar Expert and the T-Touch Lady Solar have 25 functions.
Tissot Collection – Tissot has a huge array of male and female watch collections. Many like the classic design and functionality of the brand's watches. The quality of Tissot 's watches is truly impressive in attracting bigger customers.
Considered as Fashion Statement – Tissot is considered as a class symbol and is treated as the wearers' ultimate fashion statement.
Brand Ambassadors – Celebrities, cricketers, basketball players, MotoGP players are Tissot brand ambassadors. The brand has good visibility and reach.
Customer Care-The company is still at the care of its customers. In case of any concerns, the customers can easily find a service center to service the watch.
Global Presence – The brand Tissot is part of the Swatch Group and is present in some 160 countries.
New Technology – Tissot uses new technology to manufacture its watches.
Time Keeping – Tissot is the official timekeeper for different sports events.
Huge Market Segment – Tissot covers a huge segment of the market that covers segments like youth, women, kids, sportsmen, big spenders, and people who are budget conscious.
Partnership with Europe's railway station – Tissot has partnership with Europe's highest-altitude railway station, about 3454 meters above sea level.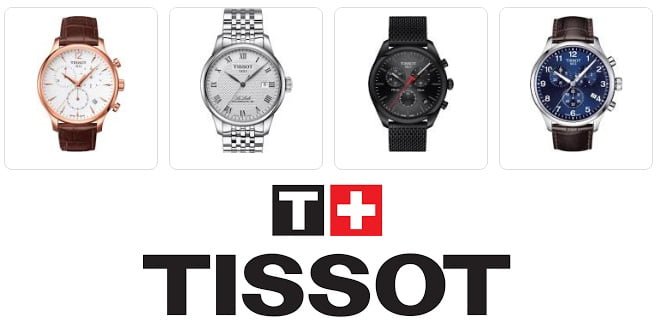 Weakness in the SWOT Analysis of Tissot – Tissot SWOT Analysis
Environmental Rating – The World Wide Fund for Nature (WWF) listed Tissot as taking a few actions during the year 2018 to address the impact of its manufacturing activities on climate change and the environment.
Simple design − Tissot has a simple design and can be replicated easily.
Limited market growth – due to high competition there is a limited growth of Tissot.
Opportunities in the SWOT Analysis of Tissot – Tissot SWOT Analysis
Class Expansion – Tissot business extends into specific markets better suited to Tissot watches. This offers various corporate gift categories.
Developing Economy – The trend of high spending by people in the emerging economy can be easily identified. This will provide the company with a new opportunity to get more and more business and improve its financial condition.
Increase in Advertising – It would help to increase brand awareness once the company focuses on more advertising.
Massive Selling of Watches – Nearly 34 million watches are expected to be sold all over the world, this means a big opportunity for the Tissot brand to be manufactured and sold.
Threats in the SWOT Analysis of Tissot – Tissot SWOT Analysis
Huge Competitors – in the watch business, Tissot faces stiff competition. Competitors can have a wide range of products that exist across several categories and designs.
Tissot 's fake product brands – Fake imitations and various Tissot branded watch duplication tend to affect the marketplace. Over that it appears to lose its prestige.
Different government regulations – Different government regulations occurring quite often on imported and luxury items tend to affect the business. This poses a significant challenge to the company.
Using Mobile Phones for Watches – Mobile phones and other digital devices act as a watch substitute. Indeed this is a serious challenge to the company.
If you like This Article Please Like our Facebook Page PROJECTS4MBA
Cite This Work
Referencing Style to cite this article:
[citationic]