SWOT Analysis of Titan focuses on (S) Strengths, (W) Weakness, (O) Opportunities, and (T) Threats. Internal Factors Strengths and Weaknesses and External Factors Opportunities and Threats in the SWOT Analysis
SWOT Analysis is a proven management tool that helps organizations such as Titan to assess the market of Titan Watches and its success against rival companies. Titan has been one of the leading Watch brands for many years.
Titan Company Limited is a consumer goods company manufacturing fashion products such as watches, eyewear, and jewelry. Titan is a subsidiary of the Tata Group. Titan is located at Bangalore. Titan Company Limited was established in the year 1984.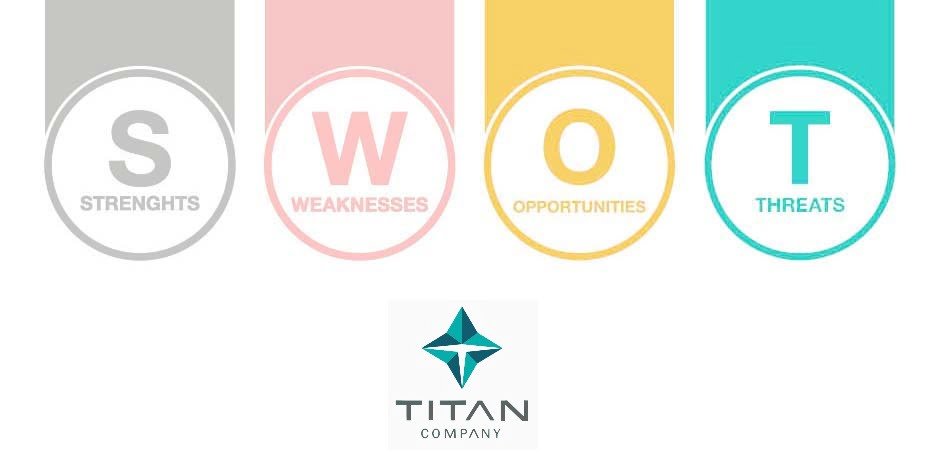 Strengths in the SWOT analysis of Titan – Titan SWOT Analysis
Distribution: Very Good Distribution Network.  Titan is giving Attractive margin to distributors and dealers.
Good Design: Titan is known for its good designs and good quality. Titan Watches is preferred by every segment of people.
Value Offering of Titan is very good. Customers are satisfied with their build quality, performance, and brand image.
Positioning: Titan has positioned itself in the Watch Market. Due to the brand image of Tata Titan is a leading brand.
Quality: Quality of Titan Watches are as good as international watches.
Visual Merchandising activities of Titan is its main strength. Visual Merchandising materials used in Titan showrooms are attractive.
Titan has a good retail chain "World of Titan"
Titan is providing good customer services. Titan watches usually don't need repairs and if they need the company will replace the product in the warranty period.
Titan has tie-ups with international brands Tommy Hilfiger and Hugo Boss.
Titan Watches are used as a Fashion Statement.
Titan has designed worlds slimmest watch sold under the brand name Titan Edge.
Titan Watches, Fasttrack and Titan Eye+ are very popular brands.

Weaknesses in the SWOT analysis of Titan – TItan SWOT Analysis
Titan Watches is not fully waterproof.
Rural India is not targeted by Titan.
Less preference to watch as customers are shifting towards mobile phones.
Titan is less in Smart Watches which is the demand for the future.
Opportunities in the SWOT analysis of Titan – TItan SWOT Analysis
Titan Must promote its watches as a symbol of Gift. Gifting watches are in trend and promotions of watches for gifting can be a great opportunity. Indian Watch market is Underpenetrated only 35% of the population possesses watches.
Watches put in the form of fashion wear, rather than simply functional items.
Consumers tend to own several watches for various times and activities with increasing customer perceptions.
Huge exchange-rate market.
Build waterproof watches.
The market in rural areas may be tapped.
Threats in the SWOT analysis of Titan – TItan SWOT Analysis
Titan is facing tough competition from Citizen, Swiss-Omega, Rolex, Tag Heuer, Tissot, Rado, etc.
Titan is also facing threats from Chinese watch companies that are selling their products at a much cheaper price.
Titan watches are simple in design that means imitation is possible.
Unorganized/grey market sector.
Mobiles are replacing watches.
If you like This Article Please Like our Facebook Page PROJECTS4MBA
Cite This Work
Referencing Style to cite this article:
[citationic]