SWOT Analysis of Lupin Limited focuses on (S) Strengths, (W) Weakness, (O) Opportunities, and (T) Threats. Internal Factors Strengths and Weaknesses and External Factors Opportunities and Threats are discussed in this article.
SWOT Analysis is a proven management tool that helps organizations such as Lupin Limited to assess the market of Lupin and its success against rival companies. Lupin Limited has been one of the leading pharmaceutical companies in India.
Lupin Limited is a multi-national Mumbai based pharmaceutical firm. Desh Bandhu Gupta 's firm, founded in 1968, was a family-owned business during the days of its inception. The organization that gets its name from the Lupin flower was founded with the aim to tackle infectious and deadly diseases.
Today, by market capitalization, Lupin has risen to become the seventh-largest company and is ranked number 10 in terms of prescription drug sales. The company has a steadily rising footprint in the USA and is ranked fourth in the country's list of generic pharmaceutical products.
Since finding tuberculosis medicines, Lupin Limited started to gain prominence in the pharmaceutical industry and gradually became the global pioneer in tuberculosis medicines. The firm now has products in hypertension, coronary disorders, arthritis, geriatrics, pediatrics, NSAID, and anti-infection medications.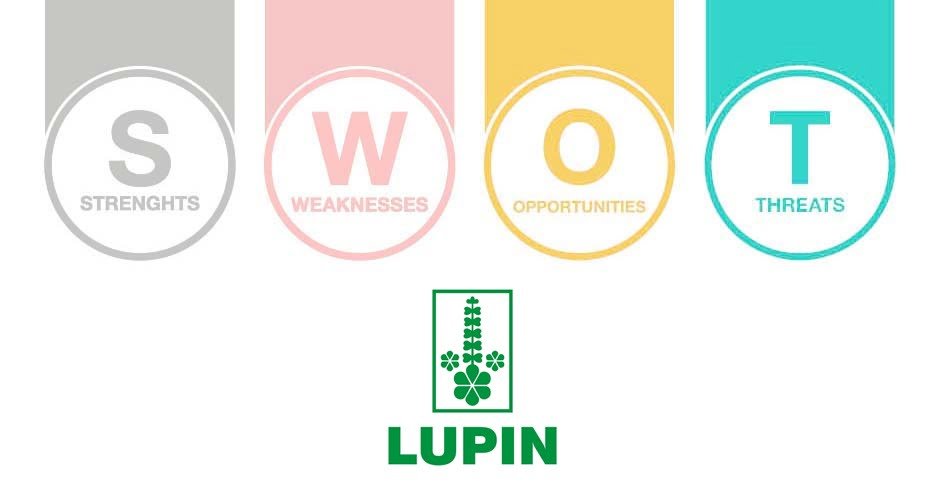 Strengths in the SWOT Analysis of Lupin Limited – Lupin Limited SWOT Analysis
Strengths are described as what each company does best in its field of operations and can give its competitors an upper hand. Those are Lupin Limited 's strengths:
Market success in various types of medicines: The organization is a world leader in anti-tuberculosis and cephalosporin products. In Central Nervous System ( CNS), Oncology, Cardiovascular, Diabetes, Asthma, Pediatrics, Geriatrics, NSAID, and Anti-Infectives, the organization also has a major presence.
Market supremacy in different markets: The company ranks number 2 in India's pharmaceutical industry. With a market share of 5.3 percent and the 6th largest pharmacy company distributing generic products in Japan, it is the 4th largest company in the USA in terms of prescriptions.
Strategy focus: Lupin Limited was set up with the goal of making medicines available to all and that the world will be safe from diseases. The organization remains focused on its mission and will pump out a supply of safe medicines that is open to all.
Series of successful acquisitions: Lupin acquired a series of long-listed drugs in the Central Nervous System ( CNS), Cardiovascular, Oncology, and Anti-Infective System (CNS), the most significant of which was the Shionogi branded product portfolio in Japan. Some recent acquisitions are Medquimica, Gavis, and Temmler, which have all helped the company broaden its drug pipeline.
World leader in drugs such as Cephalosporin and Anti-TB.
Sales are boosting by a considerable market presence for drugs against asthma, diabetes, pediatrics, and CNS.
It is the biggest generic player in the US and Japanese markets.
I'rom pharma acquisition has helped to increase its drug portfolio and, in addition, its revenue.
Wide global footprint, as present in more than 70 countries.

Weaknesses in the SWOT Analysis of Lupin Limited – Lupin Limited SWOT Analysis
Higher reliance on international markets: Lupin Limited looks up to the US for nearly 84 percent of its sales and there is a sharp drop in generic medicines that is the main component in Lupins' portfolio in the country itself.
Regulatory adherence: The Company is in a sector that is subject to a very strict regulatory framework, resulting in adherence to this being a costly and challenging business. There is also an added chance of tackling banned compositions.
Labor overheads: The pharmaceutical industry is a research-oriented environment, and therefore labor-consuming. The central team includes a group of highly trained practitioners which is not an easy job to handle.
Excessive importance to low growth segments: Lupin's most drugs are found in low-growth areas such as Central Nervous System ( CNS), Cardiovascular, and Anti-Infective. The company was also involved in TB research where the market slowed down due to the fact that many countries almost eradicated the disease through mass vaccination drives.
Opportunities in the SWOT Analysis of Lupin Limited – Lupin Limited SWOT Analysis
Opportunities apply to all environmental opportunities that accompany the company on which it can focus to raise its returns. Some possibilities include:
Policy reform: Donald Trump has reviewed the Patient Protection and Affordable Care Act (ACA Act) and experts believe the new package of reforms will favor pharmaceutical companies dealing with generic drugs. If this hypothesis is accurate, it might open up an entirely new set of avenues for Lupin whose primary market is the United States.
Growing demand for biosimilars: Biosimilars will have a growth spurt that will catapult the focus from smaller molecules to biosimilars. This is an opportunity that can be used for the benefit of the company if adequate research is carried out.
Patient-driven healthcare: developments in technologies suggest that medical treatment will continue to be more patient-centered as demand for smart biometric devices and telemedicine grows. That will provide the patients with the right knowledge and increase their commitment level as well as their position in the treatment process recommended by the doctor.
Threats in the SWOT Analysis of Lupin Limited – Lupin Limited SWOT Analysis
Threats are those environmental factors that can be detrimental to business growth. Certain threats include:
Pressure: The pharmaceutical industry is rising by leaps and bounds with decreased entry barriers and the firm is facing strong competition on the Indian market from Ranbaxy and Cipla.
Changing in federal policy: The legal system and regulations shift with a new administration, resulting in pharmaceutical firms needing to re-adjust their testing practices as well as product formulations. That creates numerous monetary challenges.
If you like This Article Please Like our Facebook Page PROJECTS4MBA
Cite This Work
Referencing Style to cite this article:
[citationic]