SWOT Analysis of Parachute focuses on strengths, weaknesses, opportunities, and threats. The internal factors weakness and strength in Parachute SWOT Analysis and external factors are opportunities and threats.
SWOT Analysis / SWOT Matrix is a validated management tool that helps a brand like Parachute to compare its business & results compared to its rivals and industry. In the next, two to five years Parachute will become the market leader of the Hair Oil Market in the Asian Market.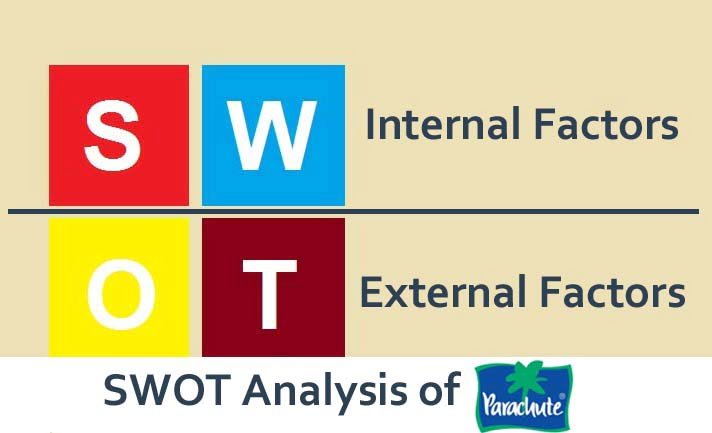 Let's discuss SWOT Analysis of Parachute
Strength in the SWOT Analysis of Parachute Oil – Parachute SWOT Analysis
Coconut oil of prime edible quality
Parachute's Five Stage Purification makes it a pure Coconut Oil.
This coconut oil was made from India using hand-picked coconuts, thus making it authentic and pure.

Parachute Hair oil has Consistent Composition.

Each drop of this oil has the same viscosity and consistency, keeping the hair healthy and strong with every application.
Market a leader in its group has tremendous loyalty in India's urban and rural areas
Known as the pure coconut oil & placed on the purity platform.
The brand has created a good image and distinguished through a range of packaging & communication initiatives such as the "weight-test" (stating that pure coconut oil is heavy as compared to impure oil). Such developments ensured the security of existing franchises, pushed more penetration, allowing loose oil consumers to be transformed into packaged Parachute Coconut Oil.
For every, the generation that passes Parachute enjoys enormous equity and trust
Parachute is entering the shampoo market and has a specific range for the 3-10yrs age group.
One of the brands with the most awareness and confidence.
Parachute has excellent exposure of the company through TV ads, newspapers, magazines, online, etc.
Due to Marico's excellent distribution, the brand can be found in supermarkets, grocery stores etc.
Brand ambassadors such as leading celebrities have helped the company link to the public.

Weaknesses in the SWOT Analysis of Parachute Oil – Parachute SWOT Analysis>
Parachute The packaging is creating hurdle companies must use Transparent bottles to show its purity.
Parachute Hot Oil should be a seasonal commodity and should be cold in winter, not in areas where it gets really hot during summers.
Opportunities in Parachute's SWOT evaluation.
The parachute may get into skincare segments.
Parachute Coconut Oil can be used as a Scar Removal Oil and Can be promoted as Scar Removal Oil.
The parachute can introduce variants which have not only coconut but also other natural ingredients that support the hair. This will help combat competition from non-coconut brands, but other ingredients such as badam, amla, mustard, etc.
The parachute can tap foreign markets mostly in Asian Countries.
Will implement variants that will make the head feel cool and refreshed.
Threats in Parachute's SWOT analysis
Increasing competition due to new entrants.
Parachute is positioned as a brand, as coconut oil. Competitor brands communicate the benefits of using oils made from badam, amla, mustard, etc.
Although Marico is expected to roll out its Maha Thanda brand, which is in the segment of cooling hair oil in March 2009, Parachute may lose market share as it does not have a product in that category.
Government regulations and FSSAI norms may pose a significant threat.
If you like This Article Please Like our Facebook Page PROJECTS4MBA
Cite This Work
Referencing Style to cite this article:
[citationic]