SWOT Analysis of Bingo Chips – Bingo Chips SWOT Analysis focuses on Strength, weakness, opportunity, and threats.
Bingo! is a brand launched by ITC in 2007, which mainly sells potato chips on the market. Bingo is entering a highly competitive industry, but an industry with high demand and brand preferences is declining.
Let's discuss SWOT Analysis of Bingo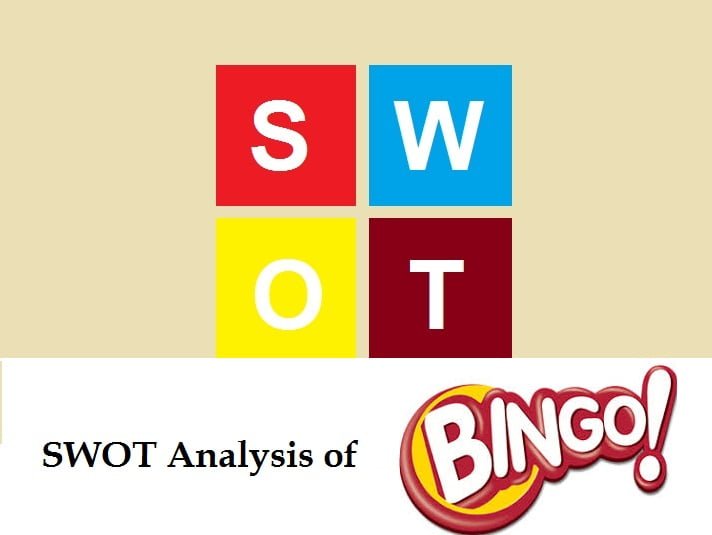 Strengths in the SWOT Analysis of Bingo Chips – Bingo Chips SWOT Analysis
Special advertisement strategy: One of Bingo's key advantages from the beginning was that it used an attractive advertising campaign and often portrayed itself as something special. The ads have made consumers aware of its products and advertisement has a high recall value.
Special product: Bingo has always been sold as a special triangle-shaped chip. Besides this, the brand also has six sub-brands: Bingo Yumitos Original, Bingo Yumitos, Bingo Rulz, Bingo Starters, Bingo tedhe medhe, and Bingo mad angles. Bingo has tried to create a good brand image for its products in the market.
Variety of flavors: Obviously, with so many sub-brands, Bingo was expected to have a range of flavors, as is the case here. Today, Bingo has 19 varieties in its kitty, each of which can be found here.
Strong Rural and Urban distribution Network: ITC has several brands under its umbrella, most of which are linked to food and beverage. As a result, the distribution of Bingo is also far and wide. ITC is connected to rural areas. ITC also opened ITC Choupal Sagar and created its reach in rural areas.
Backing ITC: ITC is one of India's biggest FMCG firms and has deep pockets as well. That's why ITC 's funding is a really positive thing for Bingo.
ITC is giving a good margin and has good delivery network hence its availability is also good.
ITC's Fair pricing guarantees spontaneous transactions.
Bingo has recently launched Bingo Starters for Bingo! Starters is a healthy snack from ITC. Key ingredients of Bingo! Starters is dal(Pulses Chips). This Chips is baked not fried and is a good source of protein and dietary Fibre.
Weaknesses in the SWOT Analysis of Bingo Chips – Bingo Chips SWOT Analysis
Advertising Low on TV: Bingo is advertised a lot at the beginning, but the brand-building process has not proceeded, so brand recall is weak for the brand right now.
High-fat content: healthy people avoid high fat and high cholesterol in potato wafers.
Wafers have a high customer brand switch, which makes it difficult to understand customers.
Opportunities in the SWOT Analysis of Bingo Chips – Bingo Chips SWOT Analysis
Micro-distribution – Bingo must be aimed at micro-distribution because these potato chips are actually distribution focused games and reachability is the winning factor.
Brand building – In addition to scope, Bingo also needs to concentrate on that brand recall through better ads, something that Kurkure has done consistently and has reaped the benefits.
Variety of taste and chip – More variety in taste and variety in chip texture or shape will help Bingo in the long run. Variety is also a choice for food items.
Leverage of successful ITC brand
Promote special offers to attract the target group
Purchase smaller competitions and resort ties, food chains
Team up with major supermarket chains like Walmart, D-Mart, Big Bazaar to sell their products.
Offer Free Gifts inside the pack to attract children.
Threats in the SWOT Analysis of Bingo Chips – Bingo Chips SWOT Analysis
Health awareness – One of the major challenges to any fast food dependent on potatoes is that people are becoming more and more nutritious and have started to disregard chips and other fried products.
Competition – has massive competition with brands such as Lays, Kurkure, and others. Regional brands such as Balaji wafers are also available. These regional brands, national brands, and international brands are all competing for the same space in the consumer's mind and stomach.
The threat of local substitute snacks
Reduced consumption of healthy people
Government Regulations are also a threat.
Changing norms for Preservatives can also a major threat to the company.
Overall, we can see that Bingo has a good market presence, but demand is lower than that of other chips makers. So bingo needs to get into the advertising game right now and buck up for its market share.
Reference :
https://www.itcportal.com/brands-microsite/bingo.aspx
https://www.bingosnacks.com
If you like This Article Please Like our Facebook Page PROJECTS4MBA
Cite This Work
Referencing Style to cite this article:
[citationic]