SWOT Analysis of Tata Motors focuses on strengths, weaknesses, opportunities & threats. Tata Motors is India's leading automotive manufacturer. TATA Motors was founded in 1945. It is one of India's oldest multinational companies. Previously was known as TELCO. TATA Motors is the fifth-largest automotive manufacturing company in the world. TATA Motors' the founder is Ratan Tata, and now Natarajan Chandrasekaran is the Chairman. Tata Motors has its headquarters in Mumbai, India. It has several types of products within its diversified portfolio. construction equipment, military vehicles, passenger cars, trucks, buses, coaches, and vans.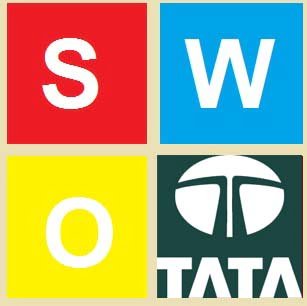 Let's discuss SWOT Analysis of Tata Motors:
Strength in the SWOT Analysis of Tata Motors – Tata Motors SWOT Analysis
Large and diversified product portfolio: Tata's product portfolio is broad and well-diversified. The well-diversified automobile portfolio helps them bring revenue and income stabilization. This stability develops confidence for the investors in Tata Motors.
Brand recognition: TATA is a well-known brand in the country of origin and in neighboring countries such as Bangladesh, Pakistan, etc.
Stable Earning: Stabilized profit has been earned. Tata has a strong method of governing. Tata Motors acquire those companies which are similar in the management structure. They only follow this policy, as they have confidence in their policy objectives of management.
Large employee base: it employs a large number of people. More than 82,797 workers work under Tata Motors.
Local Manager Recruitment Policy: The internationalization policy to date consisted of keeping local managers in new acquisitions and transplanting only some few senior managers from India into the new industry. Thus in this way, Tata is able to exchange technical expertise
Good strategy: Good Strategy is the key to success and required for the expansion of the company. Tata Motors not only focuses on Acquisitions and new products but also has an efficient management development system in a place to create leaders and loyal employees.
Alliances: Since 2006 Tata Motors is in alliance with Fiat for mass production. This has improved Tata and Fiat's product portfolio in terms of development and exchange of information.
 Weakness in the SWOT Analysis of Tata Motors – Tata Motors SWOT Analysis
Global presence: The global car market is growing at a rapid pace. If it's limited to a particular area, then it's a strong barrier to growth as other international companies can enter the very same sector. In achieving global market shares Tata remained silent. Until now it has not penetrated into other foreign markets.
Ineffective Marketing strategy: a firm's power lies in a solid marketing strategy. It's the way a firm can know their customer's demands and produce the products accordingly. This also helps to connect with customers and educate them about the value they expect to offer.

 

The TATA lacks a clear marketing strategy for promoting its company worldwide.
Limited its domestic market presence: Tata has not marked its presence in too many countries. Tata Motors must try to tap international markets.
Old Technology Use: The passenger car products of the company are based on old platforms which are the major disadvantage for Tata Motors for competing with its rivals in the automobile manufacturers.
Indifferent to Changes: Automotive is a highly competitive market. Every company remains competitive in this industry as most of the automotive companies are very old and experienced in this business. They sell a modern model, and cars that are tech-savvy. But in this case, the Tata Motors are indifferent. Its large base model is old.
Unable to establish Foothold: Tata has no foothold for luxury cars in the Indian Market. Its brand is recognized for commercial vehicles and low-cost passenger cars
Nano is the world's cheapest vehicle – Tata Motors Nano Car launch was one of Tata Motors' biggest failure. Because they didn't maintain its quality and price.
Opportunities in the SWOT Analysis of Tata Motors – Tata Motors SWOT Analysis
Strategic Positioning: For creating a positive brand identity company must have a clear marketing strategy. It can also allow developing a good client base in India and around the world. For reaching new markets and position itself TATA Motors must follow an aggressive marketing and promotional strategy.
Merger and Acquisition Opportunities: Merger and acquisition is a fairly common tradition in the automotive sector. Tata has a long track record as one of India's oldest companies. As it grew larger, it has acquired acquisition capabilities.

 

It also has its own proven management policies which may help manage newly acquired businesses.
Increasing Purchasing Power of Indians: The sales of a product depend largely on the price of the products. When costs are fair, an organization can easily produce new cars that are tech-savvy and meet the sales target. As the Indian people earn more than they did before, they have more purchasing power.
Widening the Car Market: Modernizing the world. Citizens are heavily reliant on the transport facilities. It'll boost motor vehicle sales. Seeing that Tata still has the potential to reach another international market, it has a great opportunity to grow.
In the summer of 2008, Tata Motor 's announced it had successfully purchased the Ford Motors Land Rover and Jaguar brands for £ 2.3 million from the UK. Two of the world's luxury car brand has been added to the brand portfolio which would certainly provide the company with the ability to sell luxury cars.
In 2004, Tata Motors Limited purchased Daewoo Motor's Commercial Vehicles business for approximately USD 16 million.
Electric Vehicles are the demand of the new generation. Tata Motors must introduce new electric cars to compete with new emerging players.
The company can Tap New Markets. The Super Milo range of fuel-efficient buses is powered by super-powerful, environmentally-friendly engines. The bus has an optional organic clutch with a booster and better air intakes to reduce fuel consumption by up to 10%.
Threats in the SWOT Analysis of Tata Motors – Tata Motors SWOT Analysis
Fuel price: Fuel prices influence vehicle sales not only in India but worldwide as well. The fuel price and car sales are directly related. So if the price of the product increases, the sales volume will decrease. This is the biggest threat for the car manufacturing company like TATA Motors
Government Environmental Law: Many countries develop carbon emissions laws. If India introduces this kind of law, TATA may need to produce more carbon-efficient cars that may need additional investment.
Industry pressure: There's so much rivalry in the car industry. Such companies also sell newly designed cars that have fuel efficiency, updated models, technology, and eco-friendliness. In this sector, TATA has many strong competitors. So, it's got to be vigilant to become more successful.
Tata Motors is facing stiff competition with the players in the Car Market. Tata Motors Limited, therefore, has to concentrate on both quality and lean manufacturing.
The rising cost of production: Competition has increased in this new age. As a result, the cost of production is more than before, because the company must be more competitive in offering innovative products.
Environmental Policies: Conservation and environmentalism could require additional costs. This could impact the competitive advantage that underpins it. Obviously this issue will be alleviated when Tata globalizes and acquire new brands.
Competition in the Luxury Segment:

 

Tata Motors is lagging behind in Luxury Car Segments. Tata Motors must launch new luxury cars with good and competitive technological features. Luxury car market players are giving tough competition to Tata Motors. Luxury Car Manufacturers like Ford, Toyota, Kia, etc will be the major competitors of Tata Motors.
Aluminum and Steel Prices can be a major threat: Increasing world economic prices can be a major Threat. Steel and aluminum prices are steadily placing pressure on production costs. Conclusion: Tata's engines have more strengths than weaknesses. It is a locally organized organization, meaning that most of its business activities are locally run. It will develop new strengths and leverage its potential prospects to further expand it. To compete with the new foreign players, Tata Motors needs to develop good quality interiors and features in their car models.
If you Want to read more articles on Marketing Mix – Click Here
If you like This Article on Business Model of LinkedIn Please Like our Facebook Page PROJECTS4MBA
Cite This Work
Referencing Style to cite this article:
[citationic]