SWOT Analysis of Monginis – Monginis SWOT Analysis focuses on the strengths, weaknesses, opportunities, and threats. Monginis is known for its cakes, cupcakes, pastries, rolls, and snacks.
Monginis is a bakery and pastry chain headquartered in Mumbai, India with stores in various cities in India & Egypt. Monginis is ranked among India's most trusted brands.
Monginis has a total of 1000+ exclusive franchises and has production centers in 38 cities.
The company is present in Patna, Raipur, Chiplun Ahmedabad, Dapoli, Aurangabad, Himatnagar, Bangalore, Bhadrak, Bhubaneswar, Bhiwandi, Coimbatore, Chennai, Cuttack, Goa, Delhi, Hyderabad, Kochi, Indore,  Kolkata, Junagadh, Nashik, Palanpur, Pune, Rajkot, Surat, Secunderabad, Mumbai, and Rajkot. It is also present in Cairo, Alexandria, and Mansoura, Egypt.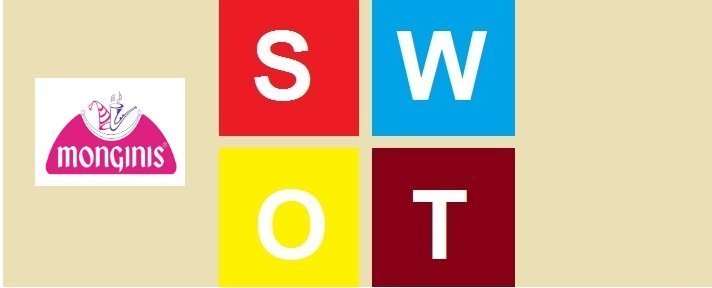 Strengths in the SWOT Analysis of Monginis – Monginis SWOT Analysis
Foods of Monginis Pvt. Ltd. has been there for almost 4 to 5 decades.
It has strong coverage; it is available in every small and big retail store all over India.
Acquired a name in the world of the bakery, food processing, and food packaging industries.
It has recently started providing home delivery and online booking and distribution services.
The prices of their products are reasonable compared to their competitors.
Weakness in the SWOT Analysis of Monginis – Monginis SWOT Analysis
Monginis has fewer variants in the range of cakes compared to the competitors.
There have been instances of lack of consistency in quality due to Monginis being a franchise business.
Monginis does not aggressively promote its products.
Monginis is using franchise models and hence their franchise partners are difficult to monitor.
Opportunities in the SWOT Analysis of Monginis – Monginis SWOT Analysis
Monginis can tie-ups with new retail chains in the market like Reliance Mart, Reliance Market, D-Mart, Walmart, Big Bazaar, and food retail chains in the malls to sell their products.
Monginis can also tie-up with food delivery partners like Swiggy and Zomato to promote their products.
Having more variety in their product line by proper market analysis.
More services can be added to further boost sales and strengthen the brand name in the minds of customers.
Supporting the online program effectively by approaching businesses, NRIs, etc.
Getting more customization options would be good for customers.
Using the "What are you celebrating today" tag line? "More efficiently.
The company can tap rural markets.
Monginis may grow both in India and abroad.
Introduction of numerous and new varieties of cakes.
Threats in the SWOT Analysis of Monginis – Monginis SWOT Analysis
Monginis is under pressure from its rivals such as Birdys, Hang Out, Merwans, etc.
Cadburys and McDonalds are also a hazard as they also put their items on the line of celebration.
Mithai Mate is the newest venture in the field of online candy, which also competes with Monginis.
The franchise method of business can often lead to abuse of the brand name. It can also affect the quality of the goods as well as the service provided by the employees at the shop.
If you like This Article Please Like our Facebook Page PROJECTS4MBA
Cite This Work
Referencing Style to cite this article:
[citationic]