SWOT Analysis of Colgate focuses on strengths, weaknesses, opportunities, and threats. The internal factors are weaknesses & strength and external factors are opportunities & threats in the SWOT Analysis.
SWOT Analysis / SWOT Matrix is a validated management tool that helps a brand like Colgate to compare its business & results compared to its rivals and industry.
Let's Discuss SWOT Analysis of Colgate.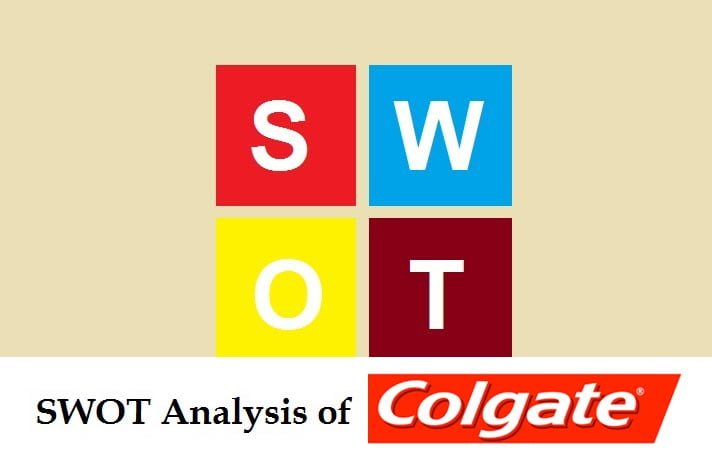 Strength in the SWOT Analysis of Colgate – Colgate SWOT Analysis
Colgate is a well known and most preferred toothpaste brand. The brand allowed the organization to compete with other companies, making it one of the best brands in the FMCG industry, with outstanding advertising and brand recognition for products that have high customer loyalty.
Product line: Colgate sells different types of products including oral care, personal care, surface area, fabric care, and pet food with a wide variety of products. In FMCG, the more the product line is comprehensive, the greater the chances of success as logistics costs are further decreased.
Good Distribution and Well Managed Supply Chain: Colgate guarantees that it serves a wide consumer base through a robust distribution network on rural and industrial markets, thus delivering the product.
Financial position: The Colgate's solid financial base has been built by being a 2 centuries-old organization with operations in 200 countries.
Market share: Colgate has achieved with strong market presence and market position in certain markets through other products/company extended products.
Automation of the processes added price stability to Colgate goods and allowed the business to scale up and down on the basis of the requirements of the industry.
Successful track record in innovative product growth – creativity in products.
The high degree of customer loyalty – The company has been able to offer high customer service among existing customers and strong brand value with prospective customers through its dedicated customer relations team.
Go To Market approaches for the goods have been highly successful.
Reputable suppliers – It provides a clear foundation for a reputable raw material manufacturer that helps the company to solve any bottlenecks in the supply chain.
Successful track record of the company by mergers and acquisitions of open businesses. Over the last several years, it has effectively merged many companies to streamline their processes and create a stable supply chain.
Colgate has large free cash flows that provide resources to expand into new projects in the company's hands.
Superb success in emerging markets-Colgate has established experience in reaching and winning international markets. The growth helped the organization develop new business sources in its existing markets and diversify the economic cycle risk.
Weakness in the SWOT Analysis of Colgate – Colgate SWOT Analysis
Business crowded: The industry has exploded and there is no room for expansion with many local & national players competing for personal & oral treatment, as everyone is taking market share.
Commoditized brand name: Coalgate 's brand of toothpaste was so popular and now its name is used by several product categories by Colgate. The identification of other products of the same name has been hindered.
Cost control: Most of its properties are on a rental basis, with high operating costs and reduced profits. Colgate 's goods are also higher priced than the rivals due to high production costs.
Specific brands within various consumer groups & segments: Colgate has small brands in a specific product group and, as opposed to rivals such as P&G, HUL, etc.
High turnover in the workforce-Colgate seems to have a higher attrition rate compared to other companies in the sector and will spend a lot more on training and growth of its employees than its competitors.
Required more New Technology Spending. As the organization plans to grow into the scope of globalization and various geographies, Colgate has to invest more resources into the technologies and incorporate operations around the board. The investments in infrastructure actually do not suit the company's dream.
Predictions of commodity demand that contribute to a higher missed chances relative to its rivals are not healthy. One of the reasons why the day stocks compare to its rivals is that Colgate is not really demand-friendly and therefore holds higher stocks in-house as well as on the network.
There are gaps in the product line sold in the market by Colgate. A new rival will get a foothold in the industry from this mistake.
The company was unable to meet the challenges of the new entrants in the segment and lost a small market share in the categories of niche. To address these challenges, Colgate must develop an internal feedback mechanism directly by the sales team on site.
Also for the present operating model is the corporate arrangement consistent, preventing the growth of neighboring commodity segments.
Opportunities in the SWOT Analysis of Colgate – Colgate SWOT Analysis
Expanding their product range: They will boost their sales and build deals and demand for various markets by adopting product line stretching & product line filling strategies.
Rural market taping in emerging economies: one of the major challenges faced today by the rising FMCG group. Rural markets are the only chance of making a profit for the business, with urban markets near to exhaustion.
Growing the company by merger & acquisition: this is one of the intelligent approaches to survive and grow on the international market pursued by multinational firms. Nonetheless, Colgate will employ these tactics to leverage the market.
Usage rate: The optimal consumption rate of such goods will be reported to the public so that the commodity is consumed by the consumer as expected by the firm. This can only be done with publicity/word/prescription of mouth/doctor. Industries often estimate incorrectly as they expect a higher rate of retail demand.
The modern product gives the chance to use competitive price approaches in the new market. It will enable the company to provide great service to its loyal customers and attract new customers with other value-oriented proposals.
Opening new opportunities by the policy deal – Colgate has been granted the ability to enter the global consumer economy by embracing the new development framework and a negotiated free trade arrangement.
Stable free cash flow provides acquisition incentives in complementary commodity markets. The business will invest more cash in the bank both in emerging technologies and in consumer goods. In other product categories, Colgate should open a window of opportunity.
In the same area of other goods, the core competences of the company will be efficient. GE healthcare research has contributed to the development of improved oil boilers as a comparable example.
Higher rate of inflation – The low rate of inflation offers more financial flexibility, including lending to Colgate 's consumers at reduced interest rates.
Colgate is given the chance to attract potential consumers and boost its market share after years of stagnation and sluggish growth in the sector.
The growth of the industry would dilute the benefit of the competition of Colgate relative to other rivals.
New environmental policies – new opportunities will provide all players in the industry with a level playing field. This gives the Colgate a fantastic chance to capture market share in the emerging product segment and to take advantage of new technologies.
Threats in the SWOT Analysis of Colgate – Colgate SWOT Analysis
Market competition is becoming very difficult for enterprises to differentiate from others, with more and more local and national players. False goods often seek to kill their brand value on the market.
Small Margins: With the pressure growing, businesses have to offer more and more incentives in order to remain in the same market.
Raw commodity costs: a rise in raw material prices would lead to a greater rise in the Colgate price. For a crowded economy, it would be impossible over a period of time to explain the high costs due to demand. Further price increases will lead to a reduction in consumer sales & branding.
Ethical questions: Once advised that its readers should not purchase Colgate because of the use of animal testing, the "Legal Market Research Association." Information such as this impacts the Colgate brand in the modern age.
Frequent brand switches: With a wide range of brands offering all kinds of advantages, it is very hard to hold to a single brand which thus results in a brand switch where customers have the power to pick a brand based on a variety of factors such as quality, group guidance, choice & interest.
Colgate's reputation is also challenged, particularly in emerging markets and low-income countries, by imitating the counterfeit and poor quality products.
Higher pay rates, in particular moves such as 15 USD an hour and higher costs, will create significant pressure on Colgate's productivity.
In certain markets, local distribution can be a threat, as the competition gives local distributors higher margins.
The company may face legal proceedings on different markets, different legislation, and continuous product standards fluctuations in these markets.
The shortage of creativity in many global markets presents a challenge to Colgate's gradual rise in earnings in certain countries.
A growing tendency towards isolationism in the US economy will lead to similar reactions to foreign trade by others.
A challenge to some existing commodity groups may be new environmental requirements under the Paris Agreement (2016).
Liability rules vary in different countries and, in the face of changes in legislation on those markets, Colgate could be subject to multiple liability lawsuits.
If you like This Article Please Like our Facebook Page PROJECTS4MBA
Cite This Work
Referencing Style to cite this article:
[citationic]