SWOT Analysis of Patanjali Ayurved focuses on strengths, limitations, opportunities, and Threats. Patanjali Ayurved is one of the largest medicine and vaccine producing companies. The strengths and weaknesses of Patanjali Ayurved Swot are internal factors, while opportunities and risks are external factors.
SWOT Analysis is a validated management tool that enables a company like Patanjali Ayurved to measure its business and performance with competitors and the industry. Patanjali is one of the leading Ayurvedic products and Food products brands for many years.
Patanjali Ayurved was founded by Baba Ramdev and Acharya Balkrishna. Acharya Balkrishna. Unbelievably, Patanjali become popular in a few years, because of Baba Ramdev's large-scale followers. Patanjali has captured a massive share in the Indian Ayurveda and Food market. Patanjali has total revenue of Rs.9500 Crores. Net Income of Patanjali is Rs. 590 Crores and Total Assets are Rs. 4345 Crores. Patanjali manufactures products in Food and Personal Care categories. The company produces over 2,500 products comprising 45 types of cosmetics and 30 kinds of food products.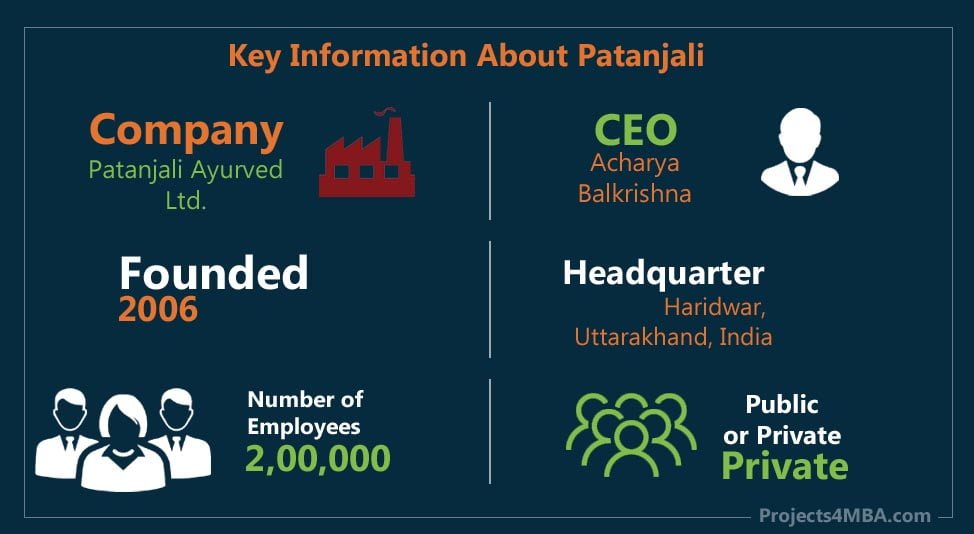 Strengths in the SWOT Analysis of Patanjali Ayurved – Patanjali Ayurved SWOT Analysis
The fame of Baba Ramdev: Baba Ramdev and his fame can be credited with Patanjali's exponential growth. It would have been unlikely for a newly established FMCG in India to demonstrate the kind of growth Patanjali has seen in such a short span of time. Yet Baba Ramdev's fan base and goodwill ensured that Patanjali would rise steadily and become a regular name in the households of the Indians.
Clear patriotism: Patanjali took advantage of India's card and has also promoted it as a brand designed for Indians in India. Many of India's labels are foreign signs. Patanjali deliberately tells the Indians to purchase goods produced in India to support the country's economy. Besides this, Patanjali's excellent growth has improved the consistency of the goods.
Ayurveda and herbal: The products sold by Patanjali are made from natural ingredients of Ayurveda and Herbal. The Swadeshi goods have also played a major role in Patanjali's growth. India has never been poor in plants or trees and in our thick forests, we get a lot of naturally produced medicines. As a result, India is one of Ayurveda's founders.
Penetration Pricing: Patanjali goods are typically sold at 20-30% cheaper than competing brands, making it difficult for rival brands to compete on-demand with Patanjali. The organization explicitly buys the goods from the producers and thus falls on middlemen. Thus, they can manufacture at lower prices.
Wide channels of distribution: Patanjali goods are distributed by medical centers like Patanjali Chikitsalayas and Patanjali Arogya Kendras, non-medical centers like Swadeshi Kendras, etc. Patanjali now has 15,000 branch offices throughout India. Patanjali was traditionally criticized for its marketing approach, but it has now been strengthened by selling it through general retail outlets and has recently joined up for delivery through Modern retail with the Future company. Now, they have turned their weaknesses into a weapon.
E-commerce advantage: Patanjali markets really well across the e-commerce companies and has a number of food bundles that it offers online.
Word-of-Mouth Promotion: A large proportion of the spending goes into advertising and promotions for a new product in the consumer goods sector. Patanjali originally adopted a word-of-mouth marketing approach, yet invested little in publicity yet advertisement. Patanjali relied on its consumer's brand loyalty.
Continuing with the trends: owned by Babas and Swamis, Patanjali was meant to be a traditional Indian firm, but it shocked everybody by bringing in numerous changes required to suit their contemporary products. If it is an advertisement that employs celebrities as Brand ambassadors, joining new retail, or using e-commerce as a forum. Patanjali has also realized the promise of and is also investing in, new technology and social media channels.
A marketing strategy is good if a company is generating a good profit and has a good brand image.
The company is taking advantage of online marketing and marketing its products through Google Ads, Instagram, Facebook, and other social media and online platforms. Thus we can say that the advertising & marketing plan of the company is good.
Analysis marketing strategy depends on the market situation. The company is always using market analytics to formulate a marketing strategy. The marketing and strategic management practices of the company are good.
The company's branding strategy is good and using an aggressive promotional strategy to promote its products and services on Television and Radio Ads.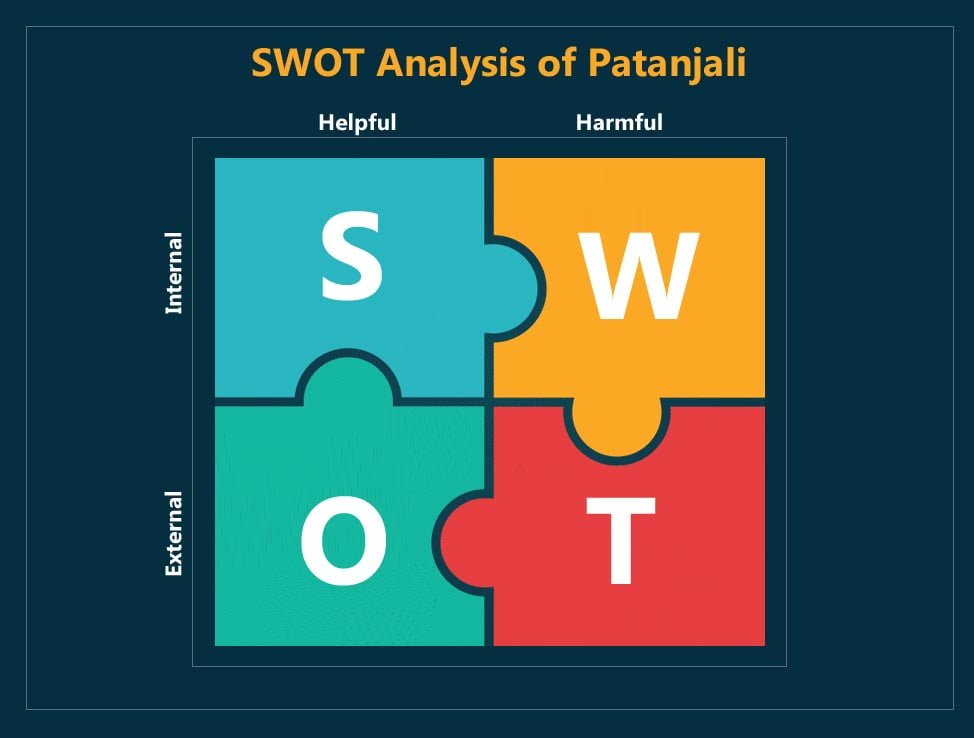 Weaknesses in the SWOT Analysis of Patanjali Ayurved – Patanjali Ayurved SWOT Analysis
Over-dependence on Ramdev: Patanjali remains synonymous with Baba Ramdev for many of its customers and hence any Baba Ramdev acts would have consequences for the company itself.
The failure of the political affiliations of Baba Ramdev can be a major risk to Baba Ramdev's Patanjali Ayurveda.
A limited number of production units: for the fiscal year 2020-21 Patanjali set itself an ambitious target of INR 15,000 crores. To do that, Patanjali will need to build manufacturing units in different parts of the world that would entail heavy investment. It will also need to switch from word-of-mouth to national advertising efforts.
Penetration pricing isn't long-term: if Patanjali decides to extend and then it's a huge obstacle for Patanjali, it would have to compromise on its pricing strategy. It can not sell on a very long-term basis at such low prices. Any corporation wants profits to generate more revenue, and therefore gain more money. This is a cycle. So if Patanjali doesn't earn a lot then he can't invest a lot and can't grow.
Dependence on the product: Patanjali has many products but the portion of its major sales is because of toothpaste and shampoo. To achieve its optimistic target, they need to move the other goods further.
The low margin for distributors: Patanjali offers distributors and retailers much lower margins compared to other consumer goods companies, as it plays a game of volume and not margins. That is why it is a demand run business.
Lack of experienced management graduates: Patanjali doesn't have a wide pool of management graduates and thinks tanks that can be a concern if they are aiming for growth around the country or internationally.
Opportunity in the SWOT Analysis of Patanjali Ayurved – Patanjali Ayurved SWOT Analysis
Growing organic sector: Patanjali succeeded in raising awareness of the benefits of using herbal and natural goods that built a demand for themselves. The knowledge has grown, and demand is continuously rising. • Extend Rural: With Patanjali's range of goods, it has tremendous potential in the rural sector, and will try to expand its operations in India's large rural market.
Going Global: Patanjali has a great opportunity to expand globally and can initially look to the Middle East and African nation. Numerous other businesses like Dabur have also expanded internationally and flourished. • Tie ups: Patanjali has been effectively connected to the Future community and will continue to communicate with new retail chains and boost its sales in e-commerce.
Diversify Product Range: Patanjali can diversify its product range based on the need of customers.
Threats in the SWOT Analysis of Patanjali Ayurved – Patanjali Ayurved SWOT Analysis
Increasing Competition: FMCG giants like Marico, HUL, etc., and new entrants like Sri Ayurveda are now joining the organic market despite Patanjali's recognition that raises competition in the sector.
Negative Word-of-Mouth: Any negative word-of-mouth that is generated on social media platforms can influence its market place.
Poor reaping can affect business: Patanjali depends heavily on natural ingredients and products and therefore poor agricultural reaping can affect sales.
Price war: A price war is good for customers but bad for companies. The longer the price battle, the more impact it would have on the company. Companies such as HUL, Colgate, and others have long been at the peak. They have deep pockets and will react to Patanjali naturally. Such a price war would have a dramatic impact on the competitiveness of Patanjali, especially because the company already sells at very low margins.
Conclusion
Conclusion Patanjali's SWOT analysis reveals the business is well on its way to further growth. Simply, the organization must control its correspondence and abstain from something that impacts Baba Ramdev directly. This wants to place more faith in itself in targeting the worldwide markets and engaging with more customers who will be involved in its name and products.
If you Like this Article Please Follow Us on our Facebook Page: PROJECTS4MBA
Cite This Work
Referencing Style to cite this article:
[citationic]