SWOT Analysis of ITC Limited focuses on Strength, Weakness, Opportunities, and Threats. ITC Limited is an Indian conglomerate that operates in a variety of diversified businesses. ITC has six separate industry verticals, FMCG, Hotel, Paperboards, Specialty Papers, Packaging, IT, and Agribusiness.
Let's discuss the SWOT Analysis of ITC Limited.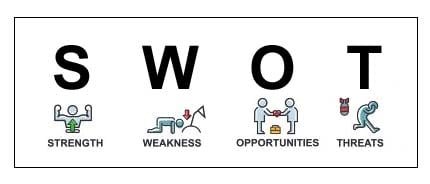 Strengths in the SWOT Analysis of ITC Limited – ITC SWOT Analysis
ITC's cigarette sector contributes a significant proportion of its sales to the FMCG.
Increasing Revenue of ITC Limited in the year by year is its main strength. In the year 2019, its revenue was ₹52,035 crore.
Operating Income is 2.7 Billion US Dollars in 2019.
Net Income is Rs. 12824 Crores in 2019.
Number of Employees 27279
Portfolio of Companies: under its name, ITC has 6 large and diverse businesses that boost its total revenue and allow ITC to innovate and pursue other business opportunities.
Powerful brand: ITC is a large brand house with most of its products leading the segments in which it works.
ITC owns some of the most famous cigarette brands, such as the Gold Flake and Classic. It also owns Sunfeast, one of India's highest-selling biscuits. Similarly, the Aashirvaad Chaki Fresh Ata, the Yippee! , Engage, John Players, and Bingo are all among the industry leaders in their respective groups.
ITC's hotel and property businesses are also doing well. With a portfolio like this, ITC has become one of India's most dominant conglomerates and is revered all over the world.
Efficient Social Business Initiatives: The ITC has developed a three-pronged strategy that focuses on building national economic, social, and environmental resources.
ITC has introduced initiatives such as E-Choupal, Choupal Pradarshan Khet (CPK) that support grass-roots people, i.e. farmers. Such initiatives have also enabled ITC to boost their brand reputation as a conventional tobacco producer.
Inter and Intra-Divisional Synergy: ITC has effectively used the strengths of core companies to push into newer products or categories. ITC has leveraged the powerful distribution network of cigarette brands to build a market for its FMCG products.
In addition, ITC has leveraged the experience of food and bakery items from its hotel company to become part of the Packaged Food group.
ITC has a large and competent management team. Clear brand image, outstanding promotional goods Diversified range of products and services, including FMCG, hotel chains, paper & packaging, and agribusiness.
Over 6500 E-Choupal CSR programs and sustainability projects improve the brand identity of ITC to more than 4 million farmers.
ITC has reduced personnel to more than 25.000 employees Good services for research and development.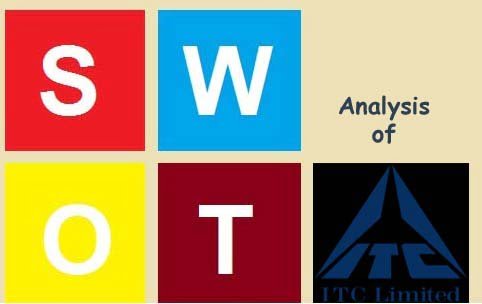 Weaknesses in the SWOT Analysis of ITC Limited – ITC SWOT Analysis
High Proportion of Tobacco Product Revenues: ITC has made continuous efforts to separate the FMCG sector from over-dependence on tobacco products and has been successful in doing so to some degree. Nonetheless, tobacco products remain the biggest source of revenue contributing more than 60 percent to FMCG's overall revenue.
Tobacco Products Association has an impact on the brand: ITC has made a great deal of effort to enhance its corporate image, but the fact that ITC has many tobacco products in its portfolio has an impact on its corporate image. The increase in the Tobacco Tax has an effect on revenue: due to the rise in the tax on tobacco products, rates and, subsequently, profits are affected.
ITC is still dependent on its tobacco sales, and people have cheaper alternatives and other brands.
The hotel industry has not been able to build an enormous market share.
Opportunities in the SWOT Analysis of ITC Limited – ITC SWOT Analysis
Acquisitions: ITC will continue to make strategic acquisitions, as it has done in the past, by purchasing Savlon from Johnson & Johnson and B Natural from Balan Natural Foods. Keeping in mind that the product fits into the current distribution network, ITC will try to increase its product range and broaden its non-tobacco FMCG business and thus improve its revenue base.
Growth in purchasing power and changing lifestyles: ITC can tap into rising buying power and changing customers' lifestyles in India. It will help to raise sales for all of its companies.
Growing Personal Hygiene as well as Food Processing Industry in India: ITC should use its distribution channel in the Personal Hygiene and Food Processing Industry to capitalize on the growth of categories and thus increase revenue.
Tap opportunities created in the rural sector: the rising rural sector in India and other developing nations are generating enormous opportunities to boost the company's bottom line.
Mergers and acquisitions are planned to reinforce the brand.
Increased people's buying power, thus rising competition. More exposure to hotel chains to increase market share.
Threats in the SWOT Analysis of ITC Limited – ITC SWOT Analysis
Intensifying rivalry in FMCG companies: ITC is facing intense competition in its FMCG market from major MNCs such as HUL and P&G and Indian FMCGs such as Patanjali and Dabur. It limits the market share of the ITC.
Regulations and Increased Taxation in Cigarette Business: The Tobacco and Cigarette Industry in India continues to be regulated by strict government regulations and the tax system. This poses a threat to the highly profitable ITC Cigarette company.
Increasing health awareness: there has been an increase in health awareness, which has resulted in a decrease in the demand for tobacco products in India. Anti-smoking programs throughout the country also have an effect on cigarette sales.
Intense and increasing competition among other FMCG companies and hotel chains.
FDI in the retail sector, thereby allowing for international brands.
If you like This Article Please Like our Facebook Page PROJECTS4MBA
Cite This Work
Referencing Style to cite this article:
[citationic]