This article on SWOT Analysis of TVS Motors focuses on Strength, Weakness, Opportunities, and threats. TVS Motor Company is a manufacturer and marketer of two-wheeler and three-wheeler vehicles and operates in India, Singapore, Indonesia, and parts of Europe. The TVS Motor Company is headquartered in Chennai, India (T.N.). It is India 's third-largest two-wheeler vehicle maker. TVS Motor Company is exporting its products in over 60+ Countries and it is ranked no. 2 in Exports.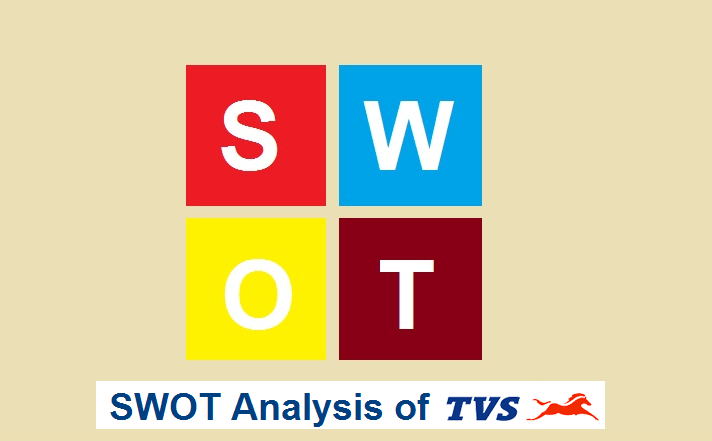 Let's Discuss SWOT Analysis of TVS Motors
Strengths in the SWOT Analysis of TVS Motors
Multiple different brands across the portfolio: TVS sells mopeds, bicycles, scooters, and three-wheelers and has common brands in all categories. Motorcycles include common brands such as Apache RR 310, Apache RTR Series, TVS Radeon, TVS Victor, TVS Star City, and TVS Sport while scooters include Zest 110, Scooty Pep+, TVS Ntorq, and TVS Jupiter, etc.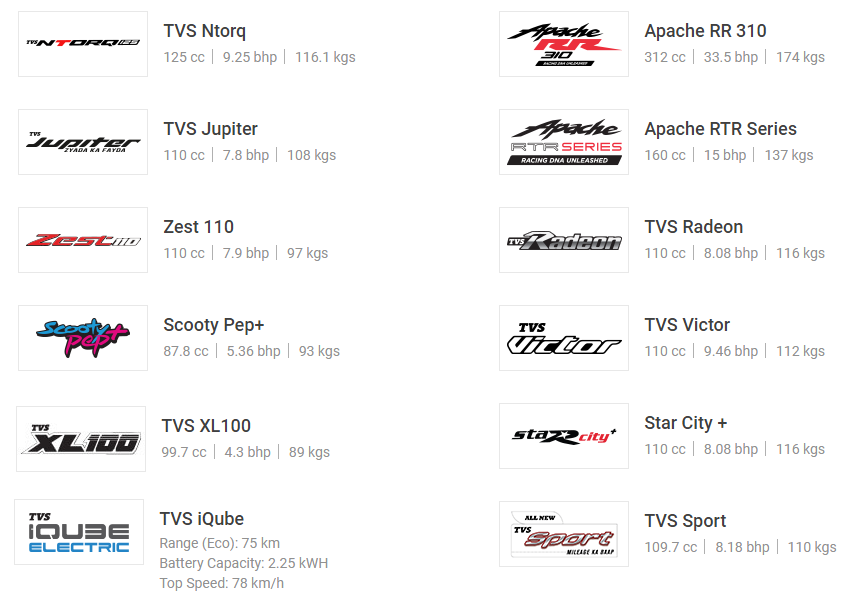 Good financial results: TVS has had good financial performance in recent years. Income growth (12.3 percent) and operating margin (4.8 percent) were recorded in FY2019. As a result, the organization has strengthened its financial conditions, improving shareholder equity, and promoting growth plans. The company has reported a profit of Rs. 1081.15 Crores in the financial year 2019.
Strong R&D capabilities: TVS has set up a strong research and development department that enables continuous innovation in product design and integrates newer technology into its products. This gives TVS a strategic advantage.
Huge brand value and one of the largest names on the Indian two-wheeler market.
Wide Range of Products in all categories.
Good delivery and a large number of service centers.
The TVS Group has over 40,000 staff and a client base of over 15 million.
Associating itself with the ambassadors of the popular company.
'Scooty' has become the second name for the scooterette category as a brand.
Weaknesses in the SWOT Analysis of TVS Motors
Lack of Scale: While TVS has seen a rise in sales in the past few years, it is still not big compared to large companies like Bajaj Auto and the hero MotoCorp. Such companies have capital advantages over TVS.
Dependency on the domestic market: India is the primary market for TVS that contributes more than 75% of its revenues. TVS has a minimal regional scope and is therefore overly reliant on the Indian market. Any change in the Indian market would affect the finances of the company.
Opportunities in the SWOT Analysis of TVS Motors
Expanding Indian 2-wheeler market: India has witnessed growth at a rapid pace in the 2-wheeler market, continuous demand and growth is expected in the near future. In the two-wheeler industry, India is the fastest-growing market. This provides TVS with an opportunity to capture the demand and need to be generated.
Development in the three-wheeler industry: the three-wheeler passenger industry as well as the load carrier market is rising in India. The three-wheeler industry expanded with a CAGR of 4.4%. It provides an opening for TVS, too.
Optimistic outlook for the global motorcycle industry: TVS will look forward to increasing its operations internationally in order to take advantage of the optimistic outlook for the global motorcycle industry, which is projected to rise by 6.3 percent to CAGR by 2021.
The two-wheeler segment is one of the fastest-growing industries.
Exports of bikes are limited, i.e. untapped international markets.
Threats in the SWOT Analysis of TVS Motors
Intense competition: The Indian two-wheeler sector has grown highly competitive with the entry of numerous multinational and national brands such as Yamaha, Honda, Bajaj Auto, and the Hero MotoCorp, etc. TVS, which is subject to such rivalry, must continuously evolve in order to thrive in such an intensely competitive environment.
Environmental regulations: The organization is subject to a range of strict environmental legislation that is continually revised and thus raise the cost of enforcement.
Improvement in public transport: Public transport facilities in India are improving, which poses a threat to the passenger vehicle industry as a whole. Government Regulations can also affect the sales of TVS Motors.
If you Want to read more articles on SWOT Analysis – Click Here
If you like This Article Please Like our Facebook Page PROJECTS4MBA
Cite This Work
Referencing Style to cite this article:
[citationic]