This article is on SWOT Analysis of KFC. Kentucky Fried Chicken is abbreviated as KFC. KFC is American Fast Food chain. KFC has its H.Q. in Louisville, Kentucky. It is ranked after McDonald. KFC has registered its presence in 150 countries and 22621 outlets. Customer love to eat KFC Chicken and Meat. McDonalds and Pizza hut are the main competitors of KFC.
In this article we will do internal and external analysis of KFC. With the help of SWOT analysis of KFC Company can analyze its strengths and weaknesses. Company can also analyze its opportunities and threats. This SWOT Analysis of KFC will help the company to formulate its strategies to increase its sales and profits.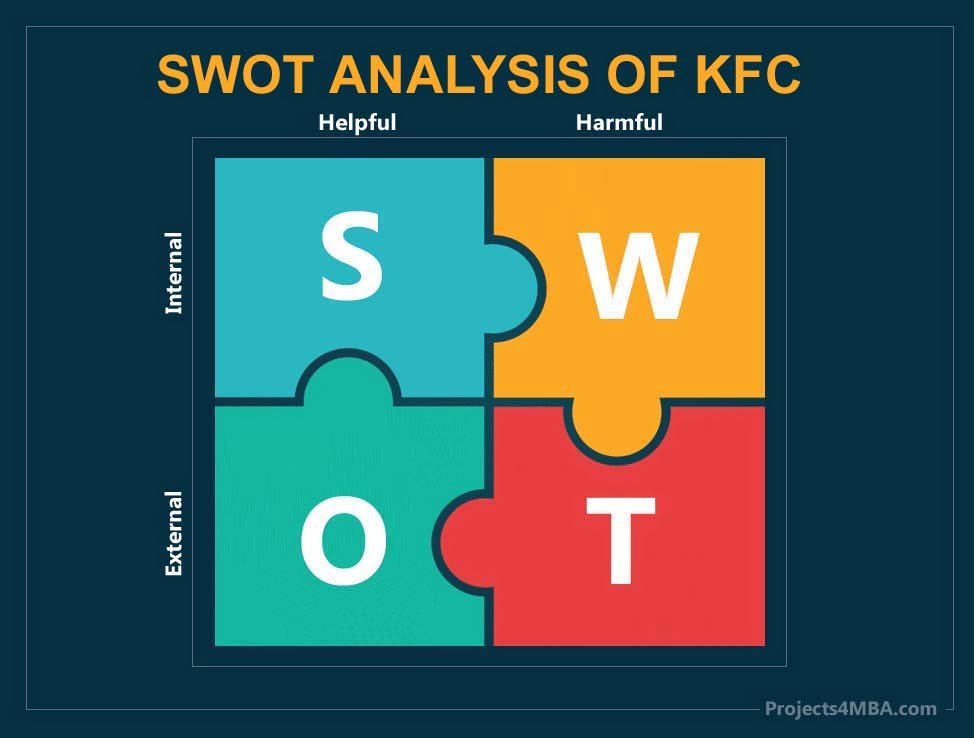 Strengths in the SWOT Analysis of KFC – KFC SWOT Analysis
Brand: KFC is a subsidiary of Yum!brand. Yum!Brand is a fortune 500 group. It is one of the biggest fast food chain in the world. It is very famous brand for its fried chicken.
International Presence: KFC is operating in 150 countries and has 22621 outlets through out the world. KFC is the 2nd largest restaurant chain in the world.
Marketing Strategy: A marketing strategy is good if a company is generating good profit and has a good brand image.
Modern Marketing Channels: Company is taking advantages of online marketing and marketing its products through Google Ads, Instagram, Facebook, and other social media and online platforms. Thus we can say that advertising & marketing plan of the company is good.
Use of Business Analytics: Analysis marketing strategy depends on the market situation. Company is always using market analytics to formulate marketing strategy. Marketing and strategic management practices of the company is good.
Food Offered: KFC offer veg and non veg foods. Meat and chicken are the most preferred food by customers world wide.
Branding Strategy : Company branding strategy is good and using aggressive promotional strategy to promote its products and services on Television and Radio Ads.
Secret Recipe: KFC is using 11 spices and herbs. KFC has a secret formula of spices. KFC is known for its uniform and mouth watering taste.
Weaknesses in the SWOT Analysis of KFC – KFC SWOT Analysis
Fat and Calorie Content: Fat and Calorie content in KFC Foods are high and people are shifting towards healthy options. And KFC is not having any healthy food item in its menu. KFC must include Salads and healthy drinks option in their menu.
Difficulty in Managing: Due to its vast reach it is very difficult for the company to manage and control franchise.
Opportunities in the SWOT Analysis of KFC – KFC SWOT Analysis
Innovative Menu: KFC will make sure to add fresh, creative items to their menu and help people prefer them instead of fresh fast-food chains. Introducing more such products according to local environments and communities will help McDonald's retain their appeal for a longer period of time.
Expansion: Developing markets and their evolving habits result in more family/friend trips, business parties would result in the industry's fast development. KFC has opportunity to expand in the developing marketing.
Increasing Trends of VEGAN Foods: Most of the big retail chain are offering specialized menus for Vegetarian People. KFC has the opportunity to create a full VEGAN Menu for Veg Customers.
Rise of health-conscious community: KFC can target health conscious people and launch Salads and health drinks.
Threats in the SWOT Analysis of KFC – KFC SWOT Analysis
Intense Competition: Pizza Hut and McDonalds is giving a tough competition to KFC. Pizza Hut and McDonalds has a wide range in its product line. These products are eating up the profitability of KFC.
Raw Material: Changing prices of Raw Material for food items can be a major threat to KFC.
Allegations: Company can face litigations in various markets. Laws related to product standards can cause litigation in the country of operations. This can be a major threat to the company. Thus company has to keep track of the laws in the country of operations and maintain product quality. There were allegations of not using Halal Chicken in its food item has tarnished the image of KFC.
Government of India is encouraging local brands and Make in India initiative. Many Foreign countries are also promoting their own infrastructure and local manufacturers. This can be major threat to KFC because of local competition.
Currency Fluctuations: KFC is a multinational company and operating its business in many countries. Any fluctuation in currency can directly affect the pricing and business of the company. This currency fluctuation can be a major threat in the SWOT Analysis of KFC.
New Innovative low cost product development by the competitors can also effect the profitability of the company. This innovative product development can create market pressure by influencing sales of the company. This can be a major threat.
If you like This Article Please Like our Facebook Page PROJECTS4MBA
Cite This Work
Referencing Style to cite this article:
[citationic]