This article presents a detailed SWOT Analysis of Pantene. SWOT Analysis of Pantene focuses on Strength, Weaknesses, Opportunities, and Threats. Strengths and Weaknesses are internal factors and Opportunities and Threats are external factors. SWOT Analysis provides a well-tested management methodology that enables Pantene to assess its business performance in comparison with its competitors and industry.
Pantene is the ace in the Procter and Gamble category in personal care and hair care. It is one of the brands contributing to the largest sales for P&G. Pantene is a star Product of P&G. For its trendy collection of shampoos that offer hair nutrition such that the hair becomes shiny and silky, Pantene has been popular for years.
Pantene was first launched in 1945 and was an independent brand. But it was acquired in 1985 by P&G. There are many types of Pantene hair care products, but shampoos and hair conditioners are in the product lines.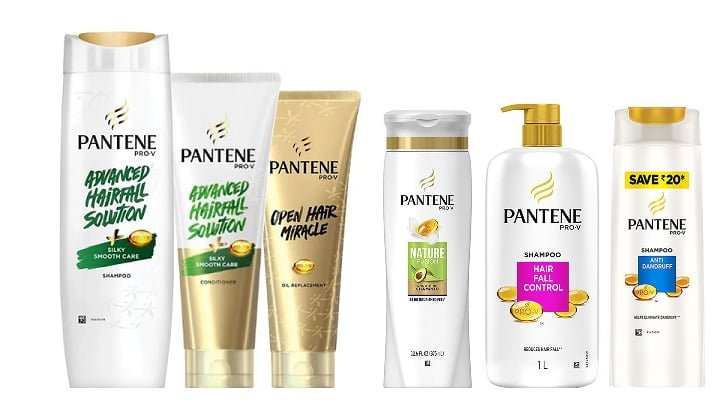 Let's Discuss SWOT Analysis of Pantene.
Strengths in the SWOT Analysis of Pantene – Pantene SWOT Analysis
Sales: Pantene Shampoo is the highest-selling brand in the US. Pantene is a billion-dollar sales contributor of P&G in the hair care market. It has a presence in more than 100 countries and has a great product range in its portfolio of over 100 products.
Pantene was the first mover in the hair care market and it had excellent targeting and positioning for segmentation. Pantene was the preference of all who wanted smooth and balanced hair. Pantene is advertising its products heavily. Pantene used proper marketing to sell its products. It started out in the 1980s with a commercial that said "Don't hate me because I'm beautiful," which was an immediate success and from there on, people liked Pantene.
Good Brand Image: Pantene is recognized in the hair care market for its brand equity and outstanding brand recall.
Product Line Enhancement: Pantene aims to boost the product line with some new items that can guarantee movement off the shelf. It is not easy to add a hundred shampoo and hair conditioner varieties and still give benefit to customers. Pantene is able to do this with products such as Hairsprays, Dry Shampoos, Detox Shampoos, Gels, Creams, Mousse, 2-in-1 shampoos, Heat Shield Shampoos, etc.
Wise and Integrated Marketing: Products such as Pantene require both Push and Pull strategies. Pantene uses effective and coordinated promotions to increase sales of Pantene Products.
Research and Development: Each Variant of Pantene offers a different function. There are at least 100 different kinds of shampoos, conditioners, creams, and whatnot, as described above, each of which is aimed at serving a function. So, naturally, Pantene has an exceptional department of market research and design and development. It must envision items that the buyer wants and then present the customer with the finished goods. Pantene is spending an extensive amount of money on Research and Development to fit everyone's needs.
Weaknesses in the SWOT Analysis of Pantene – Pantene SWOT Analysis
Saturated Market: The saturation of the market is a challenge affecting both personal care and hair care products in particular. There are 100 items on a haircare shelf and the only one can be preferred by a customer. This is a strong saturation sign. And Pantene is also facing this saturated market situation.
Allegations and Dissatisfaction: Some online forums are full of frustration with Pantene shampoos claiming that the shampoos are too hard or that they respond often causing hair loss. Consumer dissatisfaction is increasing. To convince these customers, Pantene needs to have an online staff managing such grievances.
High Brand switching: Due to available options people are switching their brands for shampoos. Pantene sales is also declining due to this switching.
Pricing: It is impossible to handle too many products and sustain their prices at an optimal positive level, and therefore price control for Pantene becomes tedious. Pricing is direct affected by the distribution network, fuel prices, promotion costs, etc.
Opportunities in the SWOT Analysis of Pantene – Pantene SWOT Analysis
The number one thing Pantene wants to do right now is to listen to its clients on its web forums and discuss the challenges they are facing. First of all, this would avoid further concerns from coming into or influencing the brand. This will also contribute to new product innovations.
Focusing on customer needs and desires: Pantene has very much addressed the needs component of customer demand and has many items in the area of desire. But in addition to the usual line of consumer goods, it needs to join the demand segment and launch its own like of products like L'oreal has L'oreal lux, the premium range. This would drive even more brand equity.
Expanding with additional product ranges, consumers in the hair care sector want the items to be rejuvenated and fresh at all times with the old basics on the shelf. Pantene would also aim to broaden its product ranges while reinforcing the products it has in its existing portfolio.
Market Opportunity: The market opportunity for hair care and personal care items is rising and it has a great deal of demographic and regional potential. With more and more individuals using hair care products on a regular basis, the demand opportunity is more all the time.
Growing marketing spending: Pantene will recover the momentum it has lost by increasing its marketing spending. Marketing expenses would, of course, be made to get the brand back to its original standards and to boost excellent brand value and brand recall.
Pantene can also launch products like Neem Shampoo, and Shampoo with natural ingredients like satretha, Amla etc.
Improve rural penetration: Packaging plays an important role in rural penetration where the size of the product is large and should be available in sachets of 1 rupee. Where urban areas require discounts on larger purchases, rural areas may make purchases of 1 sachet once a week. By penetrating Rural India, P&G has implemented several strong measures and reaped benefits.
Maintaining the brand image: Because Pantene is in a great position, this in itself can bring more sales. If it exists like this for a few more years to come, it will drive a lot of money for itself to make it a failure-proof brand with deep pockets.
Geographical expansion: As new nations continue to grow and emerge from poor economic zones, this creates new opportunities for brands that want to move from saturated economies to developing economies. This keeps the business in an ever-growing stage. Geographic expansion is a sure-fire way to minimize your risks.
Threats in the SWOT Analysis of Pantene – Pantene SWOT Analysis
Competition eroding the bottom line: Bottom lines are being undermined with saturated segments and price competition in the industry. This is a serious challenge to Pantene and in exchange, to P&G.
Extra Promotions- In the hair care category, there is so much noise that it takes extra imaginative measures or too much effort to stand out. All the companies are taking extra efforts to promote their products. This can be a major Threat to Pantene.
Competition: Sunsilk is Pantene's rival for decades. Both brands are good competitors and competing with new variants and pricing.
If you like This Article Please Like our Facebook Page PROJECTS4MBA
Cite This Work
Referencing Style to cite this article:
[citationic]