SWOT Analysis of Kelloggs helps the company to analyze its strength, weaknesses, opportunities, and threats.
SWOT Analysis is a proven tool to which will help the company to analyze its business performance compared to its competitors. SWOT Analysis also helps to do internal and external analysis of the business. This SWOT Analysis of Kelloggs will help the company to design its strategies effectively.
Kellogg Company is a multinational American food company in United States of America. When it comes to eating, Kelloggs cereals are one of the top brands. They are so popular that they are used in many countries as breakfast and people do love these cereals. Kelloggs has a wide range of products and has a very good marketing strategy.
Let's us discuss SWOT Analysis of Kelloggs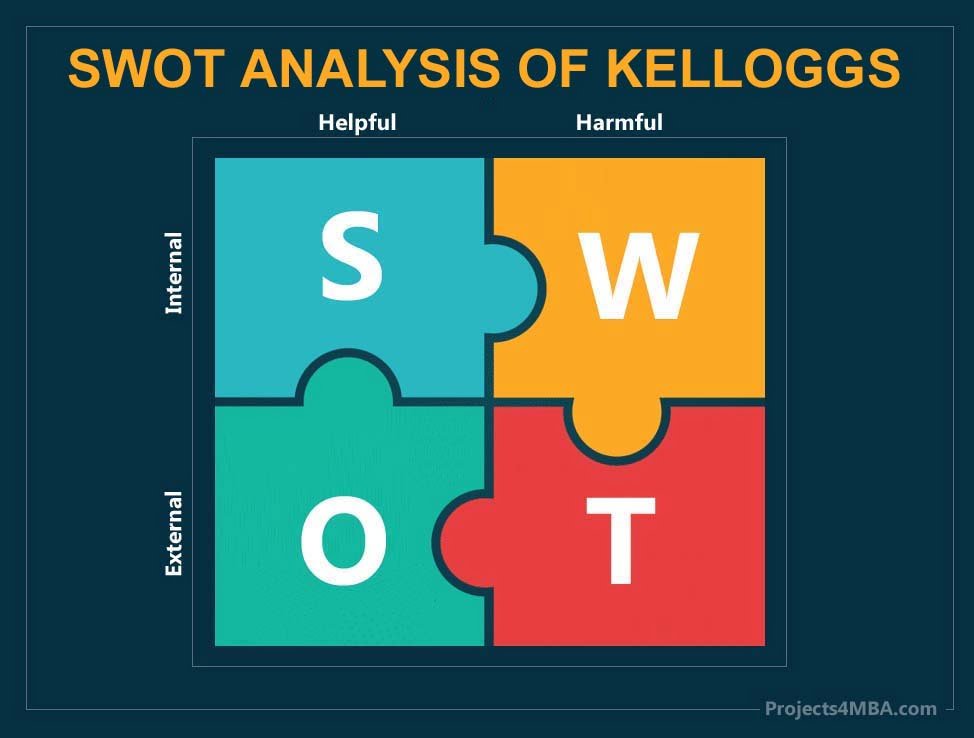 Strengths in the SWOT analysis of Kelloggs – Kelloggs SWOT Analysis
Worldwide presence: The products of Kellogg are produced in 18 countries. Kellogg's has its reach in about 180 countries.
Largest Snack Manufacturer: Kelloggs has acquired Pringles Chips. Kellogg's is now the second-largest snack company in the world.
Renowned brand: In developing economies, Kelloggs achieves in building awareness. Kelloggs is the biggest selling cereal manufacturer in the world, spending a lot of money on promotions. Kelloggs is the official sponsor for many games and tournaments.
Distribution: The distribution channel is also good. Kelloggs is able to reach the masses with its effective distribution network. Distributors and retailers are getting a good margin to promote and sell their products.
Acquisition of Strong Brands: Kelloggs has acquired a number of brands to enhance the use of its business and profits. Kellogg's has acquired famous brands like Cheez-It, Crackers, Austin cookies, etc. Kelloggs is expanding its business by acquisition of good brands.
Marketing Initiatives: Kelloggs has established itself as a brand intended primarily to combat hunger. It is promoted as a breakfast food. Due to an aggressive promotional campaign, the company is able to gain the customer's wallet share. The company has also tie-ups with retail chains like Walmart, Reliance Mart, Jio Mart, D-Mart, and many other modern retail chains to sell its products. Kellogg's has promoted with the help of good in-store promotional campaigns at big retail stores and is now the most preferred breakfast food all over the world.
People: Highly Trained Employees are employed by the company to increase its production with minimum wastage.
Weaknesses in the SWOT analysis of Kelloggs – Kelloggs SWOT Analysis
Innovation: Although the market for cereals is overcrowded with national, regional, and international brands, Kellogg seems unable to gain market share in developing markets despite this level of competition.
Controversial Marketing Tactics: Some of the promotion of Kellogg and was criticized by the press and bloggers, this results in creating a negative brand image among the customers.
Calorie Content: Calorie content and fructose content in Kelloggs is high this can be a major weakness of Kellogg's products.
Opportunities in the SWOT analysis of Kelloggs – Kelloggs SWOT Analysis
Penetrating New and Emerging Markets: The organization would help to grow its revenue by penetrating deeper into the existing market and entering other emerging markets.
Target Hotels and Restaurants: Kellogg's can tie-up with Restaurants and hotels to generate business from this segment.
Busy Life Style: With both the rise of the population, people search for several easy meals with their busy, stressful & evolving lifestyle to put down their hunger and save some time, which is the driving force for the cereal industry's growth.
Brand Extensions: Kellogg's is following brand extension strategies to expand its brands. Recently Kellogg's has Launched Kellogg's Upma for Indian Customers. Some of the Variants of Kellogg's are Kellogg's Muesli with Fruit and Nut, Kellogg's Corn Flakes Real Almond and Honey, Kellogg's Corn Flakes Original, Kellogg's Crunchy Granola Almonds and Cranberries, Kellogg's Upma Nutty Rawa and Kellogg's Upma Veggie Masala Burst,.
Kellogg's Can Launch Aloo Chaat and Bhel Variants of Corn Flakes this can be a great opportunity for the company.
Threats in the SWOT analysis of Kelloggs – Kelloggs SWOT Analysis
Competition: One of the key trends impacting the sector as a whole is inside and outside competition in the Industry. Ready-made foods, Local food, and restaurants are the factors that limit the development of Kellogg's.
Lifestyle Change: Due to changing lifestyles people are busy and they prefer to take away foods as compared to Kellogg's and other readymade foods.
Food and Cereal prices: Global Food and Cereal Prices may directly on indirectly affect the pricing of Kellogg's.
Government Rules and Regulations: Government policies regarding the quality, preservatives, and ingredients used in cereals are becoming a significant obstacle to the development of Kellogg's.
If you like This Article Please Like our Facebook Page PROJECTS4MBA
Cite This Work
Referencing Style to cite this article:
[citationic]