SWOT Analysis of Godrej Consumer Product Limited focuses on Strengths, weaknesses, opportunities, and threats. Strength and Weakness are the internal factors and Opportunities and Threats are the external factors which influence the SWOT Analysis of Godrej Consumer Product Limited.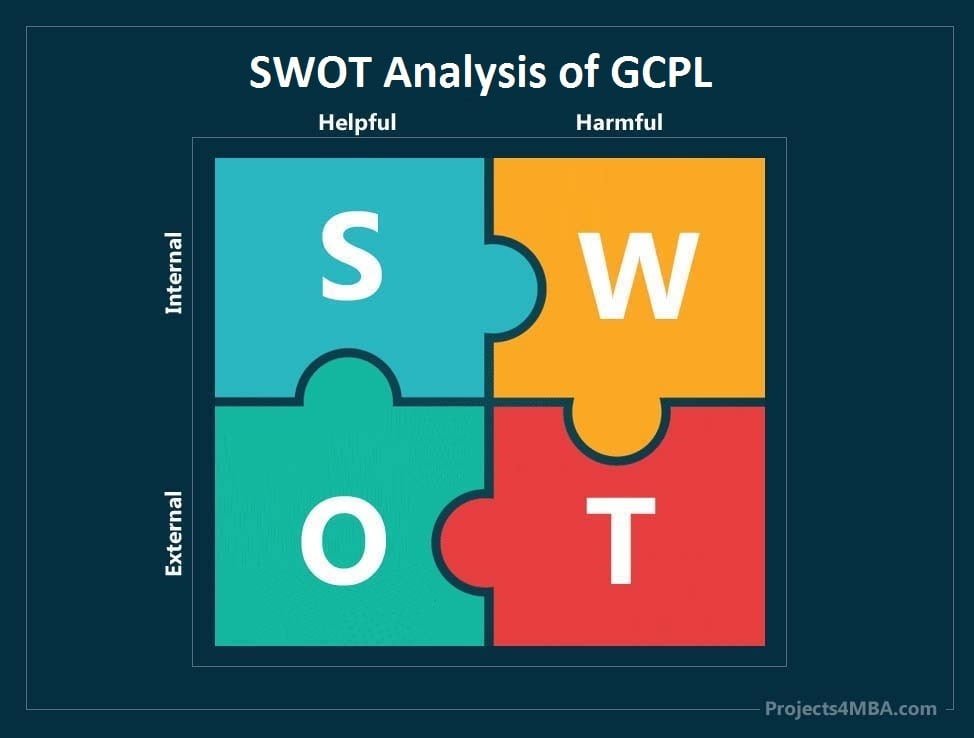 Godrej Consumer Products (GCPL) is a leading consumer goods company in India. Godrej Consumer Products Limited registered office is located at Mumbai, Maharashtra. GCPL's has a wide range of products i.e. soaps, liquid detergents, toiletries, beauty, home care, hair colors, hair care and fabric care products. GCPL works in more than 60 separate countries all around the world. GCPL has reported solid growth in the last few years. GCPL is operating from 7  locations. GCPL employs 21000 employees.
Strength in the SWOT Analysis of Godrej Consumer Product Limited – GCPL SWOT Analysis
Product Profile: GCPL is a popular FMCG business with a large variety of goods. Godrej goods are used by over 600 million people every day. The brand range of the business means that it serves several different customers.
Competitive Advantage: GCPL has good competitive advantage in many categories. GCPL is an industry pioneer in the group of hair colours, insecticides, soaps, and liquid detergents. GCPL appears to be a leading name in the soap group.
Brand Power: Understanding the need for a powerful brand identity, GCPL has been able to build strong labels such as Good Knight, Godrej No.1 and Cinthol. Because of good promotion and delivery campaigns, GCPL brands have been received well and enjoy high brand recognition.
Product Innovation: GCPL is still innovating. This is supported by the company's engineers and machinery which allow GCPL to improvements in quality, cost reduction, packaging improvements and higher efficiencies.
Foreign Footprint: GCPL has a strong foreign footprint. GCPL is on the hunt for foreign markets to boost its sales sources. Foreign sales accounted for around 47.5% of GCPL's overall revenue.
Distribution Network: GCPL has a strong distribution network of 142 Stockist, 3175 sub stockists and 33 C&F Agents. Company has a coverage of 6.5 Lakh retailers in India. Sales Team of Godrej Consumer Products Limited is about 250 employees across the country.
Good ROI: GCPL is relatively successful at the execution of new products and it generates good profits through its existing business and established products. Company is generating good Return on its investments.
Good Training for its Employees: High level personal skills can be acquired through training and development programmes. GCPL Inc is providing continuous training and development of its employees resulting in an enthusiastic and motivated team.
Research and Development: GCPL has a separate Research and Development Department. GCPL is investing a lot of money on Research and Development of New Products.
Weaknesses n the SWOT Analysis of Godrej Consumer Product Limited – GCPL SWOT Analysis
Increasing Product Cost: One of the major problems faced by GCPL as a brand is the increase in the cost of transport, labour and other distribution and operating costs of the brand over the years. That naturally affects the pricing of the product.
Less Earning due to Competition: A lot of competition means more and more price discounts and therefore lower margins result in price struggles. This is an overall problem in the market for Consumer products.
Rural Market Penetration: The rural penetration of GCPL is much less due to the lack of awareness of the importance of consumer products in rural areas and also to the comparatively higher price of products compared to rural products.
Spend New Technology: GCPL needs to spend more money on technology to increase efficiency across the globe. Investing into technologies right now is not a wise decision for the company.
Opportunities in the SWOT Analysis of Godrej Consumer Product Limited – GCPL SWOT Analysis
Increasing Global Presence: GCPL joined the worldwide marketplace. GCPL can tap global markets of developed and developing countries to increase its presence and generate more revenue.
Acquisition: GCPL is accelerating its growth by acquiring global and local companies. This helps the company's business penetration.
Increasing Spending Power: With a rise in buying power and improving lifestyles, the personal care sector is projected to develop. There would be positive effect on personal care industry due to rise in demand of personal care goods.
Social Media Marketing: Social Media Marketing and Online Marketing is creating good opportunities for the company.
Threats in the SWOT Analysis of Godrej Consumer Product Limited – GCPL SWOT Analysis
Consumer piracy: Brand security is impaired by the existence of counterfeit goods. In the Indian market, spurious goods impact a large portion of revenue.
Intense Competition: Competition is so high that brands defend there core strength and attack weaknesses of competitors. GCPL is also facing intense competition from other brands.
Changing Prices: Changing Prices by competitors can be a major threat to the company.
Government Rules and Regulations: Government rules and regulations can be major threat and can directly or indirectly affect the business of GCPL.
Raw Material Prices: Rising raw material prices can threaten GCPL profitability.
Imported Products: Increases in minimum wages and prices of imported products in China could spell serious threat for GCPL.
Macro Economic Factors: Because of the volatile world financial markets, GCPL is exposed to volatile international macro-economic indicators.
If you like this article you can recommend your friends about PROJECTS4MBA.COM
If you like This Article Please Like our Facebook Page PROJECTS4MBA
Cite This Work
Referencing Style to cite this article:
[citationic]