SWOT Analysis of Lakme focuses on Strength, Weaknesses, Opportunities, and Threats. Strengths and Weaknesses are internal factors and Opportunities and Threats are external factors.
SWOT Analysis provides a well-tested management methodology that enables the Lakme brand in comparison with competitors and industry to assess its business performance.

Lakme is one of the world's leading brands of cosmetics from the Hindustan Unilever group. Interestingly, Lakme was named after the French opera, Lakme being another form of the Lakshmi goddess, better known for her wealthy blessings. At least in India, Lakme is an Old and well-known brand and was launched in 1952.
Strengths in the SWOT Analysis of Lakme – Lakme SWOT Analysis
Brand Awareness: Lakme is a popular brand in the beauty and cosmetics industries. The organization was made conscious of its high profile by aiming at beauty salons and even sponsoring modeling shows and solid promotions.
Fantastic line of products: Lakme adds to the attractiveness of women by providing a fantastic line with impressive product depth. Lakme is now well-known for introducing a collection of groundbreaking cosmetics that are exclusively known to women's cosmetics.
A large-scale parent company delivery system: HUL is the parent company that bought it from TATA Group. As HUL is already an established FMCG brand, it uses a wide channel for selling the products of Lakme on the market. It also uses unorthodox delivery mechanisms as well as traditional networks to allow pharmacists, beauty salons, and showrooms to sell the products.
Promotion: Lakme is ideally placed in the minds of potential customers, with the goal of appropriate celebrities representing their company.
Strong Parent Company: HUL is a proven member of the FMCG industry, which is well-known for its group labels and has a stable financial role.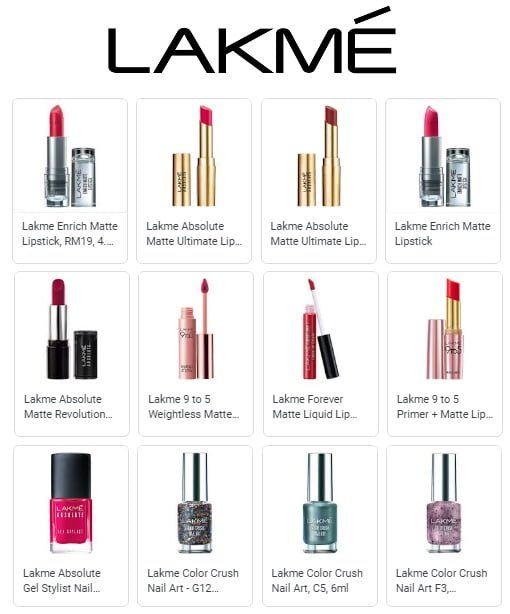 Weaknesses in the SWOT Analysis of Lakme – Lakme SWOT Analysis
Small presence in the premium market: Lakme is famous because it is a value for money brand. Lakme is the market leader for Color Cosmetics with a wide variety of products and prices, but Revlon is the dominant player for premium items that grow at 30%.
Differentiation problem: the wide variety of goods can also cause uncertainty in consumers ' minds. Certain goods are well recognized, but others are overlooked because they do not have any differentiation.
Lakme Salons Quality: the loss in quality in Lakme Salons leads to negative word of mouth that can impact the company's sales and development in the future.
Opportunities in the SWOT Analysis of Lakme – Lakme SWOT Analysis
Changing the way life has been: The relocation of people and the saturation of industrialized economies, the shift in taste, and tastes have resulted in development in the rising segment of the emerging economies. They want to look sharp, intelligent, and optimistic now.
Growing premium segment: demand for premium segment products is growing, to which the cleaning industry is no exception. With the rising demand for Lakme, it will allow it to become a pioneer in the toilet industry as it expands its presence in this market.
Creating development plans together: creating more inclusive & participatory group events would allow the organization to develop a brand image and co-create growth opportunities.
Threats in the SWOT Analysis of Lakme – Lakme SWOT Analysis
Competition: the main challenge to participants in the sector impacting the market as a whole is the intensive competition between state, national, and foreign actors on price and availability factors.
Fake Products: Bogus products impact the company's market value directly.
International brands expanding through other countries: International brands such as Revlon with hundreds of household brands will impact Lakme's business in selected markets or minimize its growth rate.
Increasing cases of allergies: due to dietary changes, the skin becomes more vulnerable because of the possibility of sacrificing the sale of companies in the personal care sector for allergic reasons.
If you like This Article Please Like our Facebook Page PROJECTS4MBA
Cite This Work
Referencing Style to cite this article:
[citationic]