SWOT Analysis of DHL focuses on strengths, limitations, opportunities, and Threats. DHL is one of the largest Logistics companies. The strengths and weaknesses of DHL Swot are internal factors, while opportunities and risks are external factors.
SWOT Analysis is a validated management tool that enables a company like DHL to measure its business performance with competitors and the industry.
DHL is a German express mail, parcel, and courier service provider. DHL is a subsidiary of Deutsche Post DHL. DHL delivers about 1.6 billion parcels/year. DHL was established in the year 1969 and expanded its business throughout the world. DHL has now 380000 employees.
Major Competitor of DHL are FedEx and UPS. DHL uses 5 airline subsidiaries and 271 Aircrafts to deliver parcels. DHL has a very fast delivery network.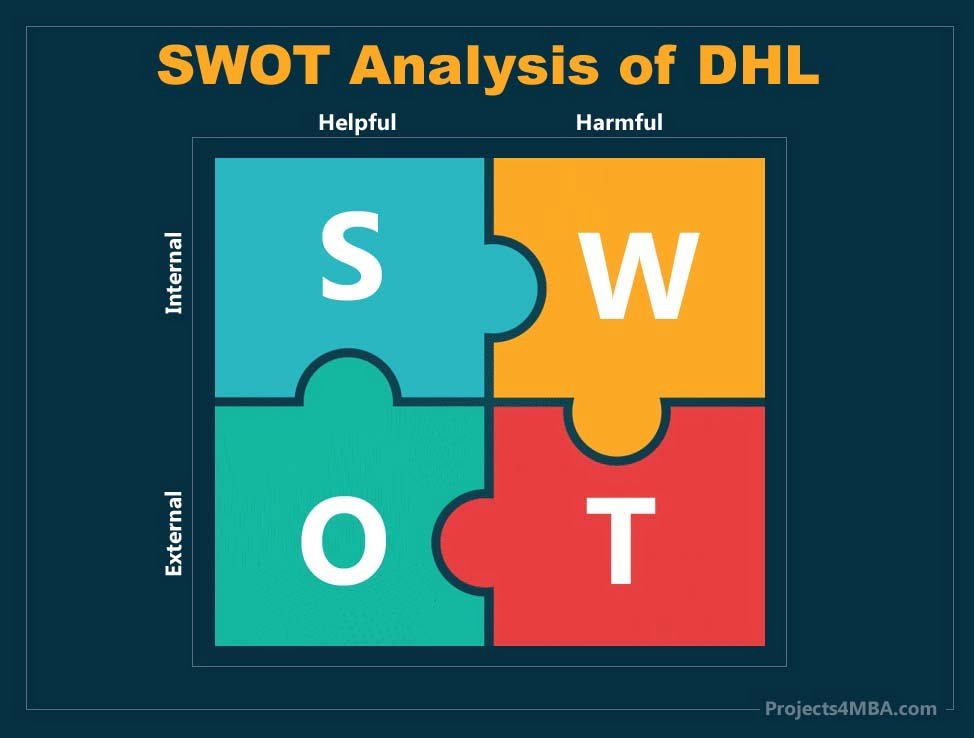 Strengths in the SWOT Analysis of DHL – DHL SWOT Analysis
DHL has a wide network operating in 220 countries. DHL is the world's largest Logistic Provider in the world. This offers an edge for DHL over the other international players. DHL has been supported by good contact and outstanding in-house consulting to expand its reach.
DHL is ranked among the best global brands with high brand equity.
DHL is growing its business in developed countries. In order to have a broad presence in emerging economies, DHL has invested extensively in developing nations to set up and extend their facilities.
DHL has a very strong financial record and it is considered to have enough finances to back it up. As a consequence, more and more enterprises trust DHL and its services. This financial status also lets DHL grow its year-on-year business.
DHL projects itself as a leader in Logistics. It has structurally engaged in the creation of pattern analysis and solutions and has created a DHL Innovation Hub that offers a forum for consumers and partners to connect with DHL experts. Resillience360 and Smart Sensor were popular initiatives for logistics systems that originated from the center of creativity.
DHL has good customer support.
DHL has a good grievance redressal system for its customers.
DHL has a large employee base. DHL is spending a lot on the training and development of its employees. This will help the employees to work more and the productivity of the company is increasing.
Weaknesses in the SWOT Analysis of DHL – DHL SWOT Analysis
Logistics industry requires huge investment to set up operations and grows. DHL also require heavy investment to grow its business and to generate return on investment.
DHL is expected to act in compliance with regulatory guidelines and local authorities. Regulations can be different in the source and destination locations, and so it can be impossible to obey different rules.
Logistic Market is filled with many local and international players and the market growth is distributed among all the players and due to high pricing strategy DHL market share is restricted in developed and developing economies.
Due to a very large market and a large network of delivery partners are required. DHL also depends on small and local entities for delivery. And this has a direct influence on DHL efficacy, and so teamwork becomes very necessary.
DHL has less marketing cost as compared to Fedex or UPS and does not spend much on advertisement and branding practices. This impacts the success and recognition of brands.
Opportunities in the SWOT Analysis of DHL – DHL SWOT Analysis
In order to extend its reach, DHL has the opportunity to acquire local payers in the target market.
In almost all emerging markets, DHL has set its footprints but needs to grow to take advantage of the opportunities in those markets. They need to concentrate on their foreign supply chain, which is customer-focused.
Expanded electronic shopping also offers an incentive to expand into this market. E-commerce is known as the future of retail, thus it is important for DHL to expand its logistic services for E-Commerce companies.
Threats in the SWOT Analysis of DHL – DHL SWOT Analysis
Fedex and UPS are the biggest competitors of DHL and are giving DHL tough competition in all markets. Numerous local brands are also a major threat to DHL.
Logistics is one of the most hard-hit sectors in the area of an economic slowdown.
A big challenge to DHL is that the brand suffers from lower and penetrating costs against local courier players. They are also able to offer excellent service to these local players.
Due to the introduction of technologies in industrialized and emerging countries, traditional services, such as letters and posts, have deteriorated.
Government Rules and Regulations can directly or indirectly affect the delivery and revenue of DHL.
Reference
https://wikimili.com/en/UK_Mail
https://thereaderwiki.com/en/DHL_Express
https://issuu.com/reganahmed/docs/dhl_business_ltd
If you like This Article Please Like our Facebook Page PROJECTS4MBA
Cite This Work
Referencing Style to cite this article:
[citationic]