SWOT Analysis of Ponds focuses on Strengths, weaknesses, opportunities, and threats. Strength and Weakness are the internal factors and Opportunities and Threats are the external factors which influence the SWOT Analysis of Ponds.
Ponds is one of the leading brands for skin care and has an ancient history. Ponds is one of the brands under the umbrella of HUL. It was established by Mr Pond's research in 1840. Pond's has various skincare products, the most prominent of which are Pond's Talcum powders, anti-aging products, beauty products, cold cream, and recently launched men's care products.
Let's discuss SWOT analysis of Ponds.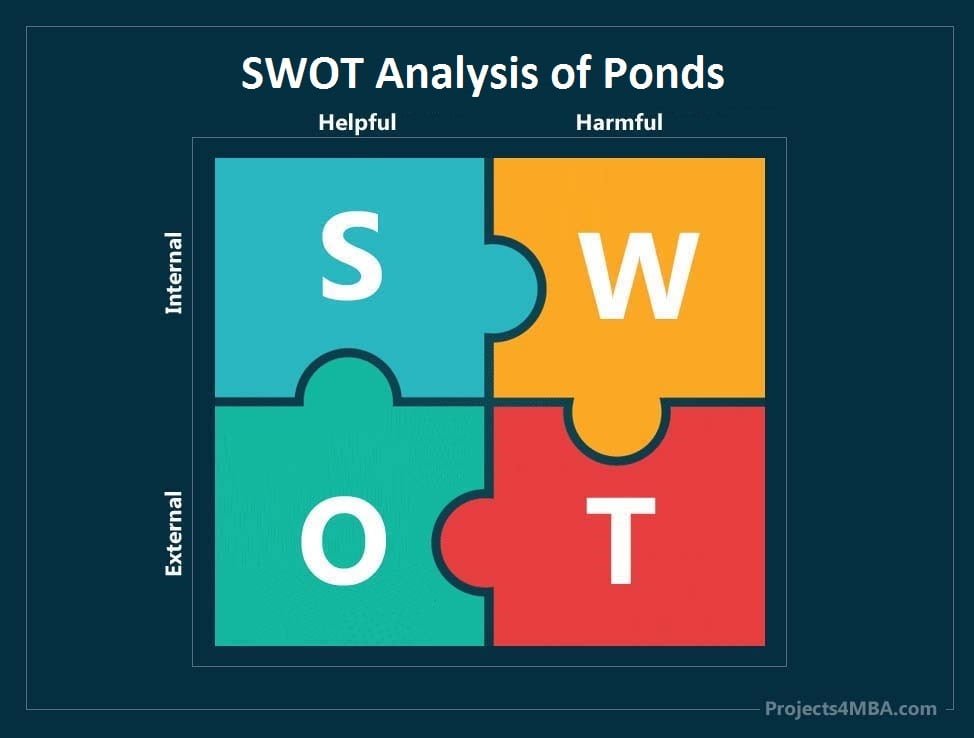 Strengths in the SWOT Analysis of Ponds – Ponds SWOT Analysis
A leader in the Skin Care Market: Pond's is a leading player in the Skin Care segment. Due to the affordable pricing strategy of Ponds, it is the choice of most of the customers. It has a powerful mass appeal. Ponds Powder is the main strength of the segment due to its history.
Target Women & Men: Women have been the core target market of Ponds since its inception. All of its products as well as its advertising have been focused on women. Pond embellishes women in all its advertisements. Ponds has also launched products like a facial scrub, Face Wash for men. These products are also gaining popularity among youth.
Product Line & Brand Extension: Ponds has a strong product line and has repeatedly launched a product that has kept the life cycle of the brand in a mature phase. Ponds market consumption is also increasing. HUL has extended Pond's Brand Name for Moisturizers, Face Creams, Cleansers, and other skincare products.
Good Financial Backing from HUL: Ponds is one of the Star brands from HUL. Ponds has good Financial backing from HUL. 
Strong and Deep Penetrating Distribution Network: Ponds has the advantage of having excellent distribution as they can use the same distribution channel of HUL that is present across the FMCG channel.
Appealing Marketing Strategy: Ponds has a very good appealing marketing strategy that attracts the masses. Ponds have launched various advertising campaigns. Ponds brand ambassadors who have promoted products and promoted market acceptability. Even the point of purchase material was used very well, and now the pull is far more powerful than the push for the Ponds on the market.
Good Training and Development Programmes for its Employees: High-level personal skills can be acquired through training and development programs. HUL is providing continuous training and development of its employees resulting in an enthusiastic and motivated team.
Strong Advertising Strategy: Ponds has a good advertising strategy and promotional policies. Customers are able to recall Ponds. Ponds has a strong market appeal.
Social Media Presence: Ponds has a strong presence on Social Media Platforms and also advertised through Youtube and Google Ads.
Weaknesses in the SWOT Analysis of Ponds – Ponds SWOT Analysis
Increasing Product Cost: One of the major problems faced by Ponds as a brand is an increase in the cost of transport, labor, and other distribution and operating costs of the brand over the years. That naturally affects the pricing of the product.
Less Earning due to Competition: A lot of competition means more and more price discounts and therefore lower margins result in price struggles. This is an overall problem in the market for skincare.
Rural Market Penetration: The rural penetration of Ponds is much less due to the lack of awareness of the importance of skincare in rural areas and also to the comparatively higher price of products compared to rural products.
Spend New Technology: HUL needs to spend more money on technology to increase efficiency across the globe. Investing in technologies right now is not a wise decision for the company.
Opportunities in the SWOT Analysis of Ponds – Ponds SWOT Analysis
Increased penetration: Increased penetration is a major challenge for Ponds, as the brand has found increased penetration in urban areas but poor penetration in rural areas. In order to increase awareness, the challenge faced by all FMCG brands needs to be improved.
New Trends: The new trends in consumer behavior will open up new markets for Ponds. Brand Extension of Ponds in new product range can also increase the profits of the company.
Emerging and Expanding Markets: Not only India's FMCG market, but the market expansion potential of international markets is also fantastic, as Skin Care as a market is expanding more and more as many countries worldwide are improving their economy. Developing economies are opportunities for companies where developed markets are becoming saturated.
Skin Care Market for Men: Ponds Men's Skin Care Products are a good opportunity for HUL. HUL can generate more revenue in this segment.
The company can Target Cold Cream Segment: Ponds can penetrate the cold cream market by following an aggressive advertising strategy. This will result in higher turnover and therefore higher margins.
Ponds Age Miracle: Pond's age miracle is in a long time fighting with Olay's anti-aging cream and both are going toe-toe with each other on the market. The pond had the upper hand at the beginning, but Olay soon took over smarter marketing tactics. Ponds is also a star brand under the umbrella of HUL.
Threats in the SWOT Analysis of Ponds – Ponds SWOT Analysis
Intense Competition: Competition is high in the skincare segment every competitor is looking for the weaknesses of the other brand. Ponds also facing intense competition by Cinthol, Nivea, Yardley, and several other brands.
Changing Prices: Changing Prices by competitors can be a major threat to the company.
Government Rules and Regulations: Government rules and regulations can be a major threat and can directly or indirectly affect the business of Ponds.
Raw Material Prices: Increasing prices of raw materials can be a major threat to the profitability of the company.
Imported Products: Increases in minimum wages and prices of imported products in China could spell serious danger for Ponds.
Macro-Economic Factors: Because of the volatile world financial markets, Ponds is exposed to volatile international macro-economic indicators.
If you like This Article Please Like our Facebook Page PROJECTS4MBA
Cite This Work
Referencing Style to cite this article:
[citationic]