SWOT Analysis of Hindustan Unilever Limited focuses on the Strength, Weakness, Opportunities and Threats. Strength and Weakness are the internal factors and Opportunities and Threats are external factors.
SWOT Analysis is a tool to analyze HUL Market Position. SWOT Analysis is very helpful for the companies to formulate their present and future strategies.
HUL or Hindustan Unilever Limited is a market leader in FMCG Segment. HUL has its headquarter in Mumbai. Unilever is the parent organization of HUL. HLL was renamed to HUL in the year 2007. HUL has the largest market share among the FMCG Companies in India.

Strengths in the SWOT Analysis of Hindustan Unilever Limited (HUL)
High Demand and Preferred Brand : HUL forms the lives of 1.3 billion people every day, from soap & detergents to mineral water. Being on the market for consumer goods with its 20+ consumer segments such as soap, detergents, tea, shampoo etc. & each with wide assortments, HUL helped to dominate the wide shelf space of grocery / department stores, which explains the acceptance / demand of their items on the market itself.
Market Leader in FMCG Market: Two out of three Indian customers use HUL products, according to Nielsen. To emerge as a market leader in the Indian market, HUL has used a targeting approach.
Creative FMCG Company: Hindustan Unilever Research Center (HURC), was established in Bangalore. Employees in this facility constantly work and improve products and manufacturing processes technologies that allow HUL to set it as the front-runner in the market for consumer goods.
Comprehensive and automated delivery chain: HUL products are now a household name that can only be used because of the four-tier distribution system.

Direct coverage within a town with a population of fewer than 50,000 residents by a popular stockist.

Indirect coverage: The targets were villages closer to broader commercial markets.

Streamline: take advantage of the rural wholesale market to enter markets which are inaccessible by road.

Shakti project: Shakti project targets pre-existing SHG (self-help groups) for women in small villages. Based on their accessibility & business opportunities, markets have been segmented.

High brand awareness: HUL generated positive word of mouth over the years by signing famous celebrities for the ads of their brands, which allowed them to socially embrace their brands that were intelligently tailored and intended for various income classes.
Product line: It includes product categories with wide range of product categories, including oral care , personal care, household surface, fabric care, and pet feed, etc.
Financial position: HUL holds a strong financial position. HUL has over 80 years of experience in the FMCG industry & sponsored by Unilever, which holds a 67 percent majority stake in HUL.
Market share: HUL has continued to maintain its market share in various product segments by high market penetration.
Wallet Share: It would go to the pockets of HUL if one buys surf / wheel / Rin detergent. HUL 's approach to sell diverse goods (selective targeting) for different income levels was effective in getting a consumer's share of the wallet.
Brand Extensions: HUL is using brand extension to give identity to its new products. Like Dove Soap, Dove Shampoo, Dove Moisturizer etc.
Dealer Community: HUL has a good partnership with its dealers which not only supplies them but also focuses on promoting the products and training of the company.
Return on Capital Expenditure: In the past, HUL was able to effectively produce positive returns on the capital expenditure it spent on different ventures.
Automation: has enabled more effective resource utilization and cost reduction from various stages of production. It also enables its goods to be consistent in quality, and offers the flexibility to scale up and scale down production as per market demand.
Trained labor force: HUL has invested heavily in its workforce training, which has resulted in it hiring a significant number of professional and motivated workers.
Has a diverse workforce, with people of many ethnic , racial, cultural and educational backgrounds who help the organization bring in various ideas and methodologies to do things.
Entering new markets: Creative teams from HUL have helped it to come up with new products and reach new markets. In the past it was successful, in most of the initiatives it took in new markets.
Social Media: HUL has a strong social media presence with over millions of followers on the three most prominent social networking platforms : Facebook , Twitter and Instagram. It has a high degree of customer engagement with low customer response time on those channels.
HUL 's geography and location give it a cost advantage in servicing its customers as compared with the competition.
HUL has a well-established IT system which ensures its internal and external operations are successful.
HUL has many intellectual property rights including trademarks and patents. This require exclusivity of their products and rivals are unable to copy or reverse engineer it.
HUL is a company that has been on the market for years and that people recognize. That makes it highly aware of its brand.
Over the years, its goods have retained consistency and are still respected by consumers, who regard it as good value for the price they spend.
Relationships: HUL develops strategic partnerships with its manufacturers , distributors, retailers and other interested parties. This helps it to use them in the future if need be.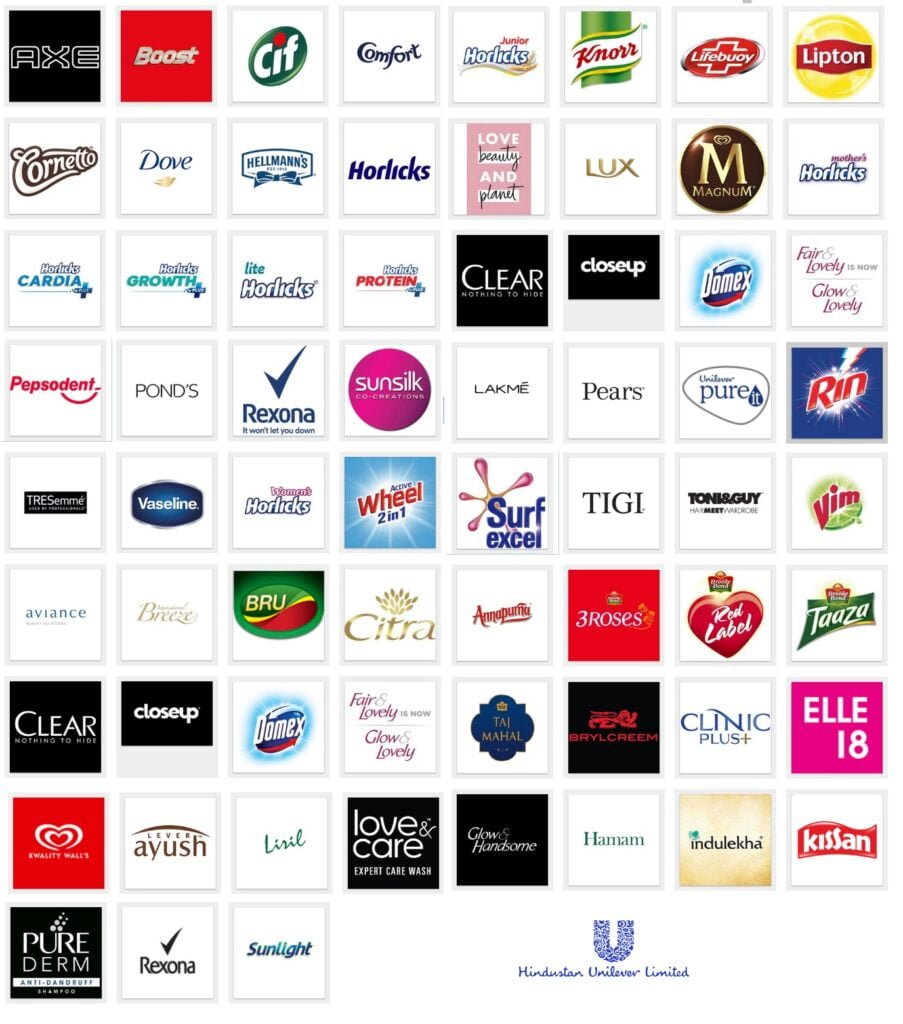 Weaknesses in the SWOT Analysis of Hindustan Unilever Limited (HUL)
Declining market share: rivals concentrating on a single product & eating up HUL 's share, eating up HUL 's wheel detergent market share, such as Ghadi & Nirma detergent.
Large range of brands in various categories of products: Often having a big portfolio of brands will lead to mistaken positioning. Price placement in some segments makes for low price rivalry, such as Kwality's market share gained by Amul.
No Ayurvedic Products is marketed by Hindustan Unilever Limited.
Opportunities in the SWOT Analysis of Hindustan Unilever Limited (HUL)
Market expansion: Through entering more rural markets through the Shakti initiative and by transforming from an unorganized sector to an organised one, the consumer goods market would further grow.
Consumer goods use price awareness: Through ads / word of mouth / doctor recommendation, people becoming more conscious and aware of the use. This may result in a rise in the usage of products.
Growing income levels: Because of a stable political situation, increased literacy rate and regulated inflation, people's discretionary income rises, resulting in demand increases and their lifestyle changes.
Ayurvedic Products: Can Start Manufacturing or Marketing Ayurvedic Products under the brand name of HUL
Threats in the SWOT Analysis of Hindustan Unilever Limited (HUL)
Market competition: With the rising number of local and national competitors, it is becoming increasingly difficult for businesses to separate themselves from others. There is also a concern that counterfeit goods will kill the market's brand name.
Price of raw material: The rise in the price of raw material will lead to a further increase in the price of commodities.
Buyer control: Consumer goods companies are increasing at a rapid pace. They are offering various offers and discounts to the consumers. Thus it is very difficult for customers to stick to a single brand and hence results in brand switching. Customers have the option to choose a brand depending on many factors, such as availability, the suggestion of comparison group, choice & price.
Changing Norms and Regulations by the Government can also directly affect company policies and practices.
If you like This Article Please Like our Facebook Page PROJECTS4MBA
Cite This Work
Referencing Style to cite this article:
[citationic]