SWOT Analysis of Goodyear Tyres focuses on Strengths, weaknesses, opportunities, and threats. Strength and Weakness are the internal factors and Opportunities and Threats are the external factors which influence the SWOT Analysis of Goodyear Tyres.
Goodyear Tyres is a major US-based tyre-manufacturer. Goodyear produces, distributes, and markets tyres for trucks, buses, two-wheelers, cars, farm equipment, and aircraft. The organization has operations in 48 facilities across 22 countries with close to 64,000 workers. The firm also produces rubber-based chemicals for a variety of commercial and industrial applications. Good Year has a presence in India from the past 90 years.
The company reported an annual turnover expects a growth rate of more than 12 per cent in the coming years. The business envisages concentrating on the demand for premium tyres, which is expected to expand in the coming years. The company sells its tyres to almost every country in the world and its main focus is on the United States and Europe, from which it receives much of its sales. Goodyear also has the distinction of being the top suppliers of tyres for the famous Formula 1 motor racing event.
Competitors of Goodyear Tyres are :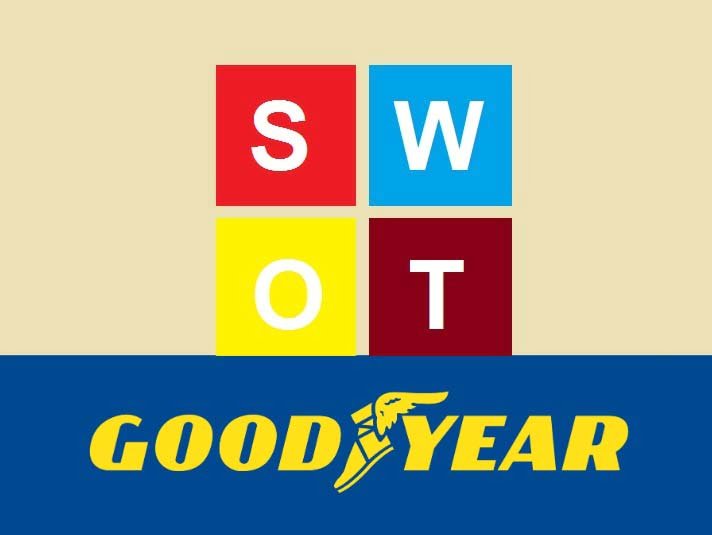 Strength in the SWOT Analysis of Goodyear Tyres
Goodyear is the oldest player in the Tyre Industry.
Strengths are defined as what each business does best in its range of operations that can give its competitors an upper hand. These are Goodyear 's strengths:
Focus on high growth segments: Goodyear has aligned their product portfolio to high growth segments that are profitable for them, such as Wrangler SRA, Eagle F1 All-Season, and the Assurance Fuel Max. This accounts for a good return on investment.
Alignment with a strong vision: Goodyear aligns its goods and service with a vision that includes building a strong and sustainable brand, innovating in all of its goods, targeting the specific markets and providing complete commitment to all of its stakeholders, including consumers, distributors or OEMs.
Seamless product integration: Each of their categories from the NASCAR category to the commercial tyres run in full synergy. Both consumer and commercial companies are in good harmony with each of both divisions having a separate tyre- and service network.
Clear knowledge of consumer needs: Goodyear's positioning is backed by deep research on consumers. Goodyear has also been focused on listening to the voice of the consumer and most of their items are tailor-made to suit customer needs. They also recognized the demand from each market and produced tyres, to match the needs of the individual customer.
Focus on new products: Goodyear aims to invest in new products and concentrate on the 17 "and above premium market. The company is preparing to introduce the Goodyear Assurance Climate Ready Tyres which is high grip and high traction tires ideal for all roads and all weather conditions.
Association with sporting activities: The tyre brand has always been affiliated with top racing events like Formula 1 and Nascar and the tyres are favoured on the racing circuit which is one of their main businesses.
Weaknesses in the SWOT Analysis of Goodyear Tyres
Weaknesses are used to refer to places where change is required on the company or brand. Any of Goodyear 's primary failings:
Inventory control: With demand volatility, Goodyear has sought to reduce prices and monitor inventory. All these policies work on Goodyear product pricing and quality and can potentially adversely impact the branding strategy.
Big size: Goodyear is actually the world's largest company with about 64,000 staff and 52 production facilities. With the growing financial uncertainty across the globe maintaining the momentum for such a high empire would prove to be a costly business for the company.
Pricing: The bulk of the raw material used in the manufacture of tyres are oil-based derivatives and their value is influenced by volatility in oil prices. But handling tyres' prices considering that consumers already find Goodyear to be a luxury tire brand is going to be a big problem in the future.
Opportunities in the SWOT Analysis of Goodyear Tyres
Opportunities apply to those environmental avenues that surround the company on which it can focus to raise its returns. Among the possibilities are:
The high market opportunity for premium tires: demand for luxury tyres in the 17 inch and above range is on the rise in Europe and the USA. The customer survey reveals they prefer high-value-added tyres from both a performance and style perspective. This could be a potential area for prospecting luxury tyre makers.
Increase in demand in emerging markets: in emerging economies, there is a demand for tyres, as the car and two-wheeler market is on the rise. Research also suggests that in these countries there will be a surge in the demand for replacement tires which is something Good Year will capitalize on.
Threats in the SWOT Analysis of Goodyear Tyres
Threats are those environmental factors which can be detrimental to business growth. Those risks include:
Competition: The organization faces strong competition from Bridgestone, Michelin and Cooper as well as from local players in each regional market in which they work.
Price fluctuations: The cost of raw materials for tyres, including prices of synthetic rubber, carbon black, chemical solvents, etc., are all extremely unpredictable, posing immense challenges for tyre firms.
Government Policies: Change in Government policies can adverse effect on the company.
Competitors Pricing and Discount offers can be a major threat to the company.
Cheaper Tyres in China: Imported Chinese tyre goods are cheaper and thus pose a tough market competition. Imports by the Chinese will adversely affect the profitability of Goodyear Tyres.
Volatility in rubber production: Indian rubber production is volatile and generally lower than the demand produced, and therefore the price of rubber fluctuates in light of demand. It has an impact on the firm's pricing policy.
If you like This Article Please Like our Facebook Page PROJECTS4MBA
Cite This Work
Referencing Style to cite this article:
[citationic]