SWOT Analysis of Bridgestone Tyres focuses on Strengths, weaknesses, opportunities, and threats. Strength and Weakness are the internal factors and Opportunities and Threats are the external factors which influence the SWOT Analysis of Bridgestone Tyres.
For nearly two decades now, Bridgestone tyres have been present in India and have reported consistent production. A preferred manufacturer for Original Equipment Manufacturing (OEM) companies in India, Bridgestone also has strong customer satisfaction, though more costly than rivals. The reason for this is the responsibility of the tyre-makers to quality and their compliance with global standards.
The organization has undergone several quality certifications and received them from several of the best certification companies in the world. Bridgestone currently dominates India's passenger car market, and is preferred to most other rival brands. Bridgestone is the most suggested and top-selling cars tyre.
Competitors of Bridgestone Tyres are :
Let's discuss SWOT Analysis of Bridgestone Tyres.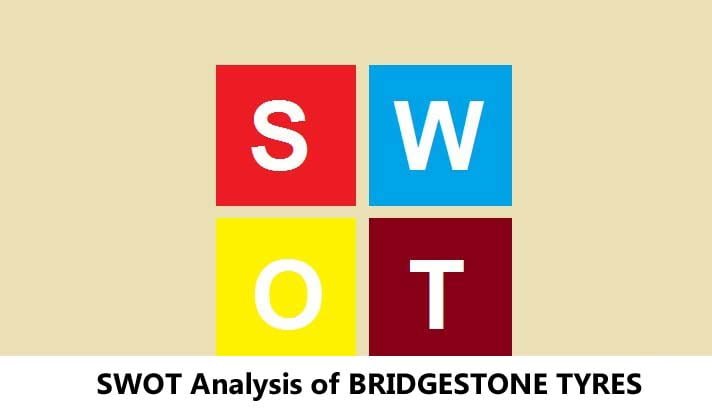 Strengths in the SWOT Analysis of Bridgestone Tyres – SWOT Analysis of Bridgestone Tyres
Strengths are defined as what each business does best in its range of operations that can give its competitors an upper hand. Those are Bridgestone 's strengths:
Most Suggested Tyres: Bridgestone Tyres are the most suggested and recommended tyres by automobile manufacturers and professionals.
Brand presence: Bridgestone is a tyre company that is global, with many consumers worldwide not only recognizing but also loving the company and enjoying high brand loyalty, good memory and mindshare. The businesses operate through a large network of dealers and distributors, with offices in about 24 countries around the world.
Largest tyre-maker: Bridgestone is actually the world's largest tyre-maker and its focus field is radial tyres.
Focus on OEM's: Bridgestone's main target market is the OEM's and the company has also made genuine attempts to establish close relations with OEM's The company has a new plan to now collaborate with various car companies to make them their favourite brand.
Special design: Bridgestone has many firsts and is home to many developments in tyre technology. One of the newest to join this list is the Drive Guard that can be fitted to any type or category of vehicles with a tire pressure monitoring device.
Run event association: Bridgestone has also been a strong presence in most important racing events like Formula 1 where it has been affiliated with many winning teams. It has increased the prestige and popularity of the brands as a choice for high performance and lasting tyres.
Good Distribution: Bridgestone tyres have a very good distribution network in the country.
Using Modern ways of Promoting Products like Social Media, Youtube Videos, Facebook, Instagram, etc.
Quality: Quality of Bridgestone tyres is trusted by a large population of customers.
Weakness in the SWOT Analysis of Bridgestone Tyres – SWOT Analysis of Bridgestone Tyres
Weaknesses are used to refer to places where change is required on the company or brand. Bridgestone's main weaknesses include:
Increased focus on India: Bridgestone has increased their dependence on the Indian automobile market with much impetus given to OEMs here. In the long run, this may affect its focus in other, more lucrative, markets.
Expensive: Bridgestone perceived to be an expensive tyre, and it may not be preferable for customers looking for value for money tyres. That can mean lower margins for the tyre business in a price-conscious market.
Variety of terrains: Bridgestone makes tyres for countries all over the world which means that these tyres must be suitable for a wide variety of terrains. This dramatically increases the need for a diverse product portfolio as well as mandates a lot of research which may be very expensive to fund.
Complex customer behaviour: Each customer may have a different set of needs from the tyres, therefore listening to the customer's voice is extremely important. Work therefore has to start right from the customer level and this has to be made a continuous operation. It provides the company with a great many problems.
Opportunities in the SWOT Analysis of Bridgestone Tyres – SWOT Analysis of Bridgestone Tyres
Opportunities apply to those environmental avenues that surround the company on which it can focus to raise its returns. Among the possibilities are:
High demand for replacement tyres: Over the next few years, the market for replacement tyres is expected to increase. This is a phenomenon that has been prevalent for several years now, and increasing production costs and increasing rubber and fuel prices will keep this alive for some longer.
Rising vehicle sales in emerging economies: Countries such as India, China, and Brazil will be automakers' top destinations in the coming several years. Growing population income statistics and increased driving safety awareness will make people prefer more cars than double-wheelers. This will cause the demand for tyres to increase proportionally.
Improved market orientation: Tyre companies look favourably on vertical integration and even offer value-added services at an extra price. It includes GPS monitoring, digital infrastructure, wireless application protocol and, among others, mobile device monitoring infrastructure. Each of these may be future targets for tyre-makers.
Threats in the SWOT Analysis of Bridgestone Tyres
Threats are those external factors which can be detrimental to business growth. Some of the Threats are :
Competition: Competition from leading tyre companies and from local market companies can be a major threat.
Costs: The rising technology and raw material costs will also pose a potential threat.
Changing Government laws for Rubber and Tyre companies is a major threat.
New Entrants can be a major threat.
Discount and attractive offers
If you like This Article Please Like our Facebook Page PROJECTS4MBA
Cite This Work
Referencing Style to cite this article:
[citationic]