SWOT Analysis of Ceat Tyres focuses on Strengths, weaknesses, opportunities, and threats of the company. Strength and Weakness are the internal factors and Opportunities and Threats are the external factors which influence the SWOT Analysis of Ceat Tyres.
Ceat Tyres Limited is a company founded in Turin, and currently based in Mumbai. Ceat Tyres manufacturing and selling automotive tyres, tubes, and flaps. Ceat Tyres is one of the top radial producers for multiple types of vehicles. The company manufactures, among others, tyres for light commercial vehicles (LCVs), two-wheelers such as motorcycles and scooters, passenger cars, farm vehicles, and trailers, off the road (OTR)/specialty vehicles and trucks.
The company has reported an annual turnover of close to USD 1 billion, with a production capacity of about 95,000 tyres per day.
Competitors of Ceat Tyres are :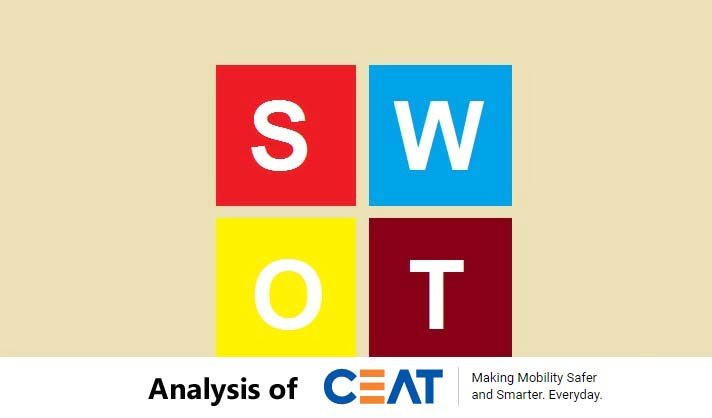 Strengths in the SWOT Analysis of Ceat Tyres – Ceat Tyres SWOT Analysis
Strengths are defined as what each business does best in its range of operations that can give its competitors an upper hand. Ceat's strengths are as follows:
Large product portfolio: CEAT is popular for its motorcycle tyres that are sold under the CEAT Zoom, F85, F67, CEAT Zoom Tubeless, Secura Sport, Milaze, and Secura Zoom labels, etc. The company has also manufactured tyres for scooters under the labels Zoom D and Gripp and passenger car tyres under the names Czar HT, Czar AT, Rhino and Rhino TQ. Their range of tyres for commercial vehicles is Buland and Buland Mile XL RIB, while for three-wheelers it is Anmol SL and Buland Mile XL.
High visibility of the brand: Ceat Tyres is a popular Indian brand with high recall and recognition of marks. The company has been consistent in its advertisements and has always communicated both value-driven proposition as well as technical know-how.
Focus on consumer needs: Ceat has always focused its products on customer reviews and has always adjusted its products to the customer's preferences. The company's new focus is on goods that are technically superior and on driving safety.
Model FMCG distribution channel: The company has based its distribution chain on FMCG companies quite unlike other tyre manufacturers. Rather of selling tyres directly to the customer, they have added an intermediary layer of dealers who market it to sub-dealers.
Advertisements: Lately, the business has conducted a lot of promotions and some of the new ads such as the Nimbu Mirchi one have been able to grab the customer's attention.
Ceat Tyres is providing an exchange for any wear and tear of tyres for 3 Years which makes it the first choice of the customers.
Best CRM Practices: CRM practices of Ceat Tyres is very Good. Ceat uses every possible way to connect with customers.
Very Good Distribution and Dealer Network in the country.
Good focus on after-sales operation: Ceat Tyres has many customer service channels, service quality is high. Ceat has improved a lot and gives customers the best services in the industry.
Equipment: State of Art Equipments for CEAT Shoppe makes it no 1.

Weaknesses in the SWOT Analysis of Ceat Tyres – Ceat Tyres SWOT
Analysis Weaknesses are used to refer to places where change is required on the company or brand. Some of Ceat's primary shortcomings are:
No market leadership: although Ceat is present in multiple categories such as two equipment and specialty tyres, it is not a market leader in any of these categories although it has a strong presence in the brand.
High margins: Ceat's primary focus field is on radial tyres, and the rivalry is strong in this sector because of selling rates and high margins.
Focus on too many segments at a time: The organization is focused on too many segments at a time, which has resulted in diluting its position in all segments and rendering them unable to fight the competition, diluting the scarce resources already available.
Opportunities in the SWOT Analysis of Ceat Tyres – Ceat Tyres SWOT
Opportunities apply to those environmental avenues that surround the company on which it can focus to raise its returns. Among the possibilities are:
High growth potential: The country has around 60 big and small tyre producers, some of which are regional players. The tyres market's growth trend between 2015 and 2021 is about 9 per cent per year. The highest growth for the two-wheeler tyres is expected.
Changing consumer needs: the needs of the customer are constantly changing and the demand is currently for safety and comfort driving. This creates a massive demand for high grip tyres.
Rising passenger car market: In India, the passenger car industry is growing and many multinationals are setting up shop in India. This will lead to increased demand for the OEMs.
Threats in the SWOT Analysis of Ceat Tyres – Ceat Tyres SWOT
Threats are those environmental factors which can be detrimental to business growth. Those risks include:
Competition: The firm faces tough competition from brands such as JK Tyres, Apollo Tyres, Dunlop, Bridgestone, Michelin, Strong Year and Cooper Tyres in India.
High material costs: materials used in tyres such as synthetic rubber, carbon black, steel reinforcement, chemicals and so on are highly fluctuating and this will invariably affect the final product pricing;
If you like This Article Please Like our Facebook Page PROJECTS4MBA
Cite This Work
Referencing Style to cite this article:
[citationic]