This article is on SWOT Analysis of Puma. Puma is one of the largest sports shoe and sportswear manufacturers in the World.
SWOT analysis of Puma helps the company to analyze its business performance in comparison with its competitors. SWOT is a validated management tool that helps the company to formulate its strategies. Strengths and weaknesses are the internal factors and opportunities and threats are the external factors.
Puma is a multinational company based in Germany. Puma manufactures casual and athletic apparel, footwear, and accessories. Puma is ranked as the 3rd largest manufacturer of sportswear in the world. Puma was founded by Rudolf Dassler in the year 1948.
Puma has revenue of 5.51 billion Euros in the year 2019 and has an operating income of 440 million euros. Puma has 14332 employees. Puma has a wide range of products for football, Training, Basketball, Running, motorsports, sport style, Golf, and Fitness. Puma has its presence in 120+ countries. The biggest competitor of Puma is Nike.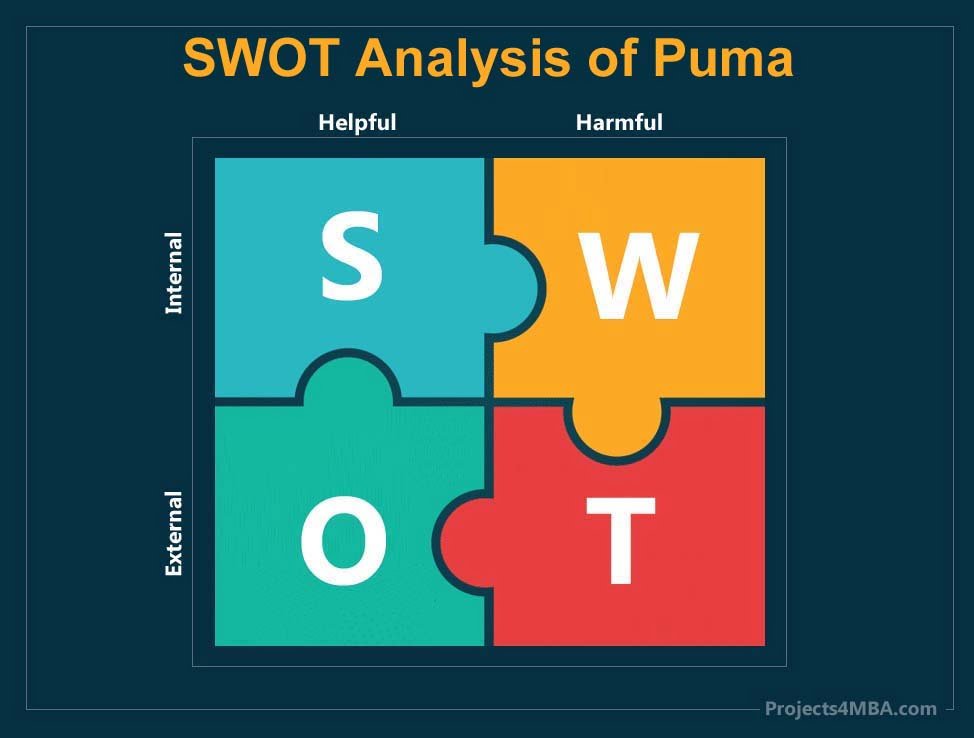 Strengths in the SWOT Analysis of Puma – Puma SWOT Analysis
Fast Growth: Puma has revenue of 5.51 billion Euros in the year 2019 and has an operating income of 440 million euros. This indicates a good growth rate for the company. Puma has aggressive marketing and advertising strategy that is very useful for the faster growth of the organization.
Research and Development: Puma is investing a huge amount of money in its research and development. Puma is concentrating more on comfort, design, and usability. Puma is using screws in their running shoes to reduce frictions.
Games and Player Sponsorships: Puma invests aggressively in marketing and promotions. Puma has invested in sponsoring a number of athletes including Johan Cruyff, Clyde Frazier, Lothar Matthaus, Jim Hines, Boris Becker, Joe Namath, Tommie Smith, Linford Christie, Pelé, Diego Maradona, etc. Puma is also sponsoring the FIFA World Cup, and various sports around the world.
Celebrity Endorsement: Celebrity endorsement not only improves the image of the brand but also increases its profits. Kareena Kapoor Khan and Virat Kohli are new brand ambassador of Puma. Puma is investing a lot for its product endorsement.
International Presence: Puma has about 14332 employees and operating in 120 nations. Puma has stores all over the world. Puma has also tie-up with Modern Trade Retailer to increase its visibility and sales.
Products for Women: Puma has realized that women and girls can be their main customers. Puma is focussing on Female customers. Puma has used international celebrities for promoting its products for females. Kareena Kapoor Khan is their brand ambassador for women sportswear and shoes.
Use of Modern Methods for Promotion: Puma is aggressively promoting its products on various online and social media platforms. Some of the popular social media platforms like Twitter, Facebook, Instagram is used by Puma for its promotion. Puma is also promoting its products by GoogleAds and Facebook Ads. On social media and in the newspapers, Puma gained a lot of coverage.
E-commerce Platform : Puma has its own Shopping Site which makes it easy for the customers to buy Puma Products worldwide. Its sales is also increasing due to this.
Weaknesses in the SWOT Analysis of Puma – Puma SWOT Analysis
World Wide Presence: Puma is present in 120+ countries and it is very difficult for the company to manage marketing activities in all the locations. Puma can increase the employee strength to monitor this activity.
Financial Strength: Financial performance of Puma is less than its competitors thus they have less capital for promotions and growth. This can be a major weakness of the company. Puma can search for investors and can take financial assistance from the companies.
Market Share: Nike has a market share of 32%, Reebok has a market share of 7%, Adidas has a market share of 16% and Puma has a market share of 9%. Puma has to increase its market share by following new strategies of marketing.
Disputes Related to Salaries: Puma has salary conflicts among its employees that often lead to strikes and hardship in production. It is important to solve this and fix it accordingly.
Opportunities in the SWOT Analysis of Puma – Puma SWOT Analysis
Developing Markets: Puma can concentrate on increasing its business from new developing markets in Asia. Trends are changing and companies can use these changing trends to improve their business in developed and developing economies and markets. Puma is concentrating on India, China, Vietnam, Mexico, etc. to increase their global footprints.
Product Diversification: Due to its presence in sportswear goods and demand for sports equipment is also increasing. Puma can also diversify its business in sports equipment segments. Puma can also launch new developing accessories to diversify its business. Puma can also diversify its business by launching Deodorants, Soaps, and Shampoos.
The demand for Fitness Goods: People want running shoes and want to be immune and fit. The demand for Fitness wear is increasing due to pandemics. Puma can take advantage of this and advertise its goods.
Premium Goods: Increasing the income level of the people can increase sales of premium goods. Puma will tap this prospect and transform this new consumer base.
Threats in the SWOT Analysis of Puma – Puma SWOT Analysis
Intense Competition: Nike is giving a tough competition to Puma. Nike has a wide range in its product line. These products are eating up the profitability of Puma.
Allegations: Company can face litigations in various markets. Laws related to product standards can cause litigation in the country of operations. This can be a major threat to the company. Thus the company has to keep track of the laws in the country of operations and maintain product quality.
Counterfeit Products: The imitating of counterfeit and low-quality products is also a threat to the company particularly in the emerging and moderate markets.
Innovative Low-Cost Products: New Innovative low-cost product development by competitors can also affect the profitability of the company. This innovative product development can create market pressure by influencing the sales of the company. This can be a major threat.
Currency Fluctuations: Puma is a multinational company and operating its business in many countries. Any fluctuation in currency can directly affect the pricing and business of the company. This currency fluctuation can be a major threat in the SWOT Analysis of Puma.
If you like This Article Please Like our Facebook Page PROJECTS4MBA
Cite This Work
Referencing Style to cite this article:
[citationic]