SWOT Analysis of Nike focuses on strengths, weakness, opportunities and threats. Strength and Weakness are internal factors. Opportunities and threats are external factors. This SWOT Analysis will give us a holistic view into the potential prospects of Nike and will allow us to understand both their current and future business decisions.
Nike is a market leader in the footwear and athletic apparel industry, Nike's iconic phrase "Just Do It" and influential celebrity endorsements have made the sportswear giant a household name across the world.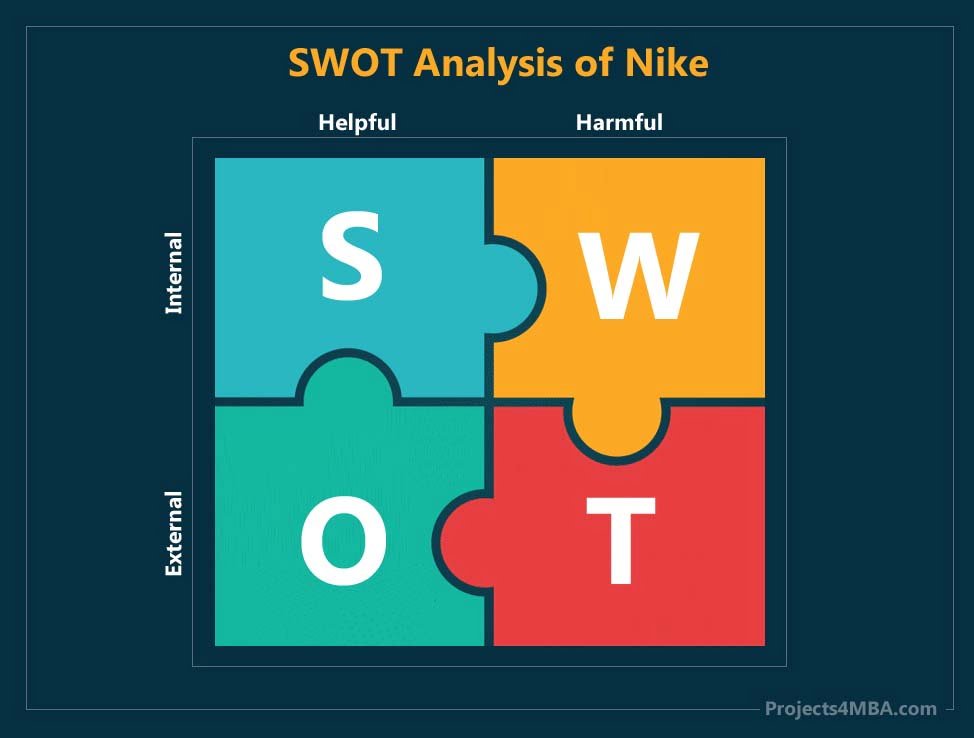 Strengths in the SWOT Analysis of Nike – Nike SWOT Analysis
Nike has a range of strengths, as do most major corporations. Some of the major strengths of Nike are :
Powerful Core Brand: One of the strongest — if not the strongest — names in the entire sportswear industry is the Nike brand itself. Nike is one of the first brands around much of the world to come into the minds of the public as they think of trendy, sporty apparel. Overall, this incredibly strong core brand is one of the main assets of Nike and every year you can bet that it helps them pull in billions in additional sales.
Diverse Brand Portfolio: The Nike brand itself is extremely strong, but the organization has a diverse range of products beyond that. This brand range includes most notably Converse as well as hundreds of other Nike-centric sub-brands including Nike Shox, Nike Blazers, and Nike Tiempo. This indicates that Nike has well spread its roots around the footwear industry , enabling it to give priority to painless weather shifts.
Low Production and labor Cost: Nike has relatively low labor costs as many of Nike 's products are produced in developing South East Asian countries such as Indonesia and Thailand. Moreover, for many of its shoes, Nike uses relatively cheap materials too. Together, these two factors — the labor cost and the cost of materials — allow Nike to produce its footwear at extremely low prices.
Nike is no. 1 shoemaker worldwide. For a range of sports, it manufactures and sells shoes like baseball, golf, cheer leading, volleyball , basketball, and football.
Nike operates shoe and sportswear stores in Nike City, factory outlets in Nike, and shops in Nike Women. Nike sells its goods in more than 180 countries and throughout the World.
As shown by its growing and creative product collection, Nike is good at research and development. They then manufacture at the lowest possible price, anywhere they can produce high quality goods.
Weakness in the SWOT Analysis of Nike – Nike SWOT Analysis
As you would imagine, there are also some flaws in Nike. It depends on the US economy, its producers and the footwear industry.
Dependence on the US market: More than 40 per cent of Nike's sales came from the US market in 2018. As you can imagine, this as part of Nike's business strategy shows an immense reliance on the US market. If American tax or legal laws were to shift it would dramatically harm the income of the sportswear giant, in some way impacting Nike's ability to sell on the US market.
Outsourced Production: Despite the low cost of producing goods overseas, there are in reality downsides to that. For one thing, manufacturing abroad involves either setting up dedicated manufacturing operating in your country of choice or outsourcing the work to existing manufacturers. Nike prefers to do the latter, meaning their goods aren't necessarily of high quality.
Footwear Focus: While Nike within the footwear industry itself is relatively diverse, Nike has not diversified much into other industries. Although the footwear industry is probably here to stay, Nike may consider expanding its horizons.
The enterprise 's revenue is also highly dependent on its footwear market share. This could leave it vulnerable if its market share erodes for some reason.
Retail is a very price-sensitive market. Yet much of its revenue comes from marketing to retailers. Retailers tend to give customers a somewhat similar experience. Thus margins begin to get squeezed as retailers attempt to move some of the pressure on Nike from the low price rivalry.
Opportunities in the SWOT Analysis of Nike – Nike SWOT Analysis
Thanks to healthy customers and affluent countries Nike has a growing demand in all countries. Some of the opportunities in the SWOT Analysis are :
Demand Rising : There are only growing numbers of people in this world and many of them (especially in developing countries) are gradually becoming more involved. These two factors combine together to establish a continuously rising market for footwear. If played correctly, Nike should be able to catch more of this growing market 's revenue, enabling the company to expand its profits even further.
Markets in the making : When nations around the world become wealthier and wealthier, developing-country people have more disposable income. Rising disposable incomes in areas such as South East Asia provide an opportunity for new markets to sell goods in. If Nike can market itself in these emerging markets, it will expand its presence and reduce reliance on the US market.
Responsible Suppliers: There is a growing interest in many Western countries to know where goods came from, and how the environment and staff were handled. This provides Nike with yet another chance. If they can identify themselves as a responsible supplier of sportswear products, they will be able to increase their market share among customers who are more ethically and environmentally aware.
Threats in the SWOT Analysis of Nike – Nike SWOT Analysis
Nike needs to look at all directions for threats: tax, market volatility, and counterfeiting of goods.
Tax tightening: Like many other major corporations, Nike has streamlined its fiscal plans down to the dollar. That has helped Nike to avoid paying large amounts of tax for many years, even on its profits in the billion dollars. However, there is growing debate about the amount of leeway large corporations are given when it comes to tax matters, which could one day come to an end their right to pay low amounts of tax. That would afford considerably lower net profits for Nike.
Competitors: In the highly competitive sports apparel industry, Nike is competing with other major names like Adidas , PUMA and Reebok ready to pounce on any new opportunities. As such, Nike needs to tread exceedingly carefully to ensure it is not replaced by one of these, or — somewhat less drastically — is not missing out on future sales.
Falsification: Nike clothing is subject to massive quantities of counterfeiting, as are many popular branded products. There are counterfeit Nike products everywhere — even on the internet. Nike needs to develop a plan to ensure that the counterfeiting of its products does not influence its core business model, either by taking legal action against counterfeiters or through a creative marketing campaign that allows customers to purchase the real thing.
Nike is exposed to commercial foreign character. It buys and sells in various currencies and so costs and profits over long periods of time are not constant. Such an exposure may result in the Nike being forced to manufacture and/or sell at a loss. This is a challenge facing all of the global brands.
Conclusion:
Nike is a massive company that competes in a challenging industry, but it is doing extremely well. Nike has been able to net several trillions of dollars annually, with its highly strong brand and low cost. Unfortunately, Nike is highly focused on the US market, and is little diversified outside the markets for footwear and sports apparel. Nike needs to be concerned about risks associated with these vulnerabilities, among others such as tax clampdowns or counterfeiting. Fortunately, Nike has many opportunities to develop its business, including capitalizing on the rapidly growing sportswear market.
If you like This Article Please Like our Facebook Page PROJECTS4MBA
Cite This Work
Referencing Style to cite this article:
[citationic]