SWOT Analysis of Bisleri focuses on Strengths, weaknesses, opportunities, and threats. Strength and Weakness are the internal factors and Opportunities and Threats are the external factors which influence the SWOT Analysis of Bisleri.
Bisleri is a well-known brand of mineral water in India. Bisleri is the market influencer in the bottled water segment. Bisleri water is available in various sizes their 20-liter bottle containers are used in most of the offices around the world. The second is a 1-liter Bisleri bottle of water that sells through shops. And the third is a tiny container of 500 ml that is used in parties or activities. Bisleri was also awarded as the best Iconic Brand in the year 2020.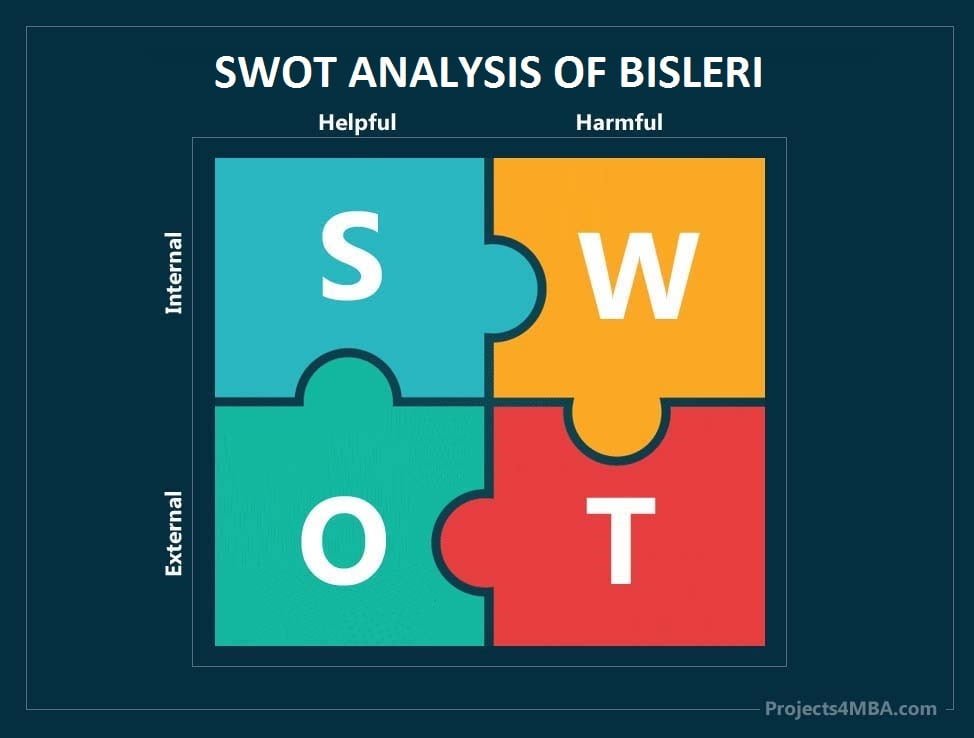 Biselri was established by Mr. Jayantilal Chauhan and Felice Bisleri in 1969. A major part of Bisleri's business comes from India. Bisleri sells flavored drinks and packaged drinking water.
In this article we will discuss about the SWOT Analysis of Bisleri.
Strengths in the SWOT Analysis of Bisleri – Bisleri SWOT Analysis
Recall: Bisleri is very known for its water packaged drinking water across the world. This has made it easier to maintain a very strong brand recall in the minds of the consumers. This brand is so famous that it has become associated with mineral water. This is a huge achievement for the company, as its ideals and ideologies have strongly resonated with the consumers. This has also gained the confidence of the consumers in the product.
Quality: Bisleri has always insisted on the quality of water and has never sacrificed it. According to the company, Bisleri water is 100% healthy. They also introduced a breakaway seal to ensure purity.
Innovation: They have always been dedicated to developments within their goods. They were the ones that switched from glass bottles to PET bottles to ensure consistency. The PET bottles are 100% recyclable. In order to preserve purity, they introduced the breakaway seal. They also introduced hexagonal bottles for improved storage, balancing, and use. They introduced large family packs for use in households and workplaces.
Market Share: Bisleri is the market leader in India with 24.6 percent. Bisleri has already established itself as an addition to Aquafina and Kinley, Bisleri enjoys a rather comfortable place in the market share of the region.
Effective Way of Branding: Bisleri is the most preferred brand among customers. Bisleri is branding its products through wall paintings, Hoardings, Banners, posters in Retail Outlets. In addition, the colors used are such that they are visible even on the highways as the cars travel far. As a consequence, the branding operation helps in a high average turnover.
Wide Network and Plants: Bisleri has 135 Plants and 3000 distributors and above 5000 trucks for distribution.
Use of Modern Methods of Selling: Bisleri has its own E-Commerce Platform and also available through Flipkart, Big Basket, Amazon, Grofers, etc.
Weaknesses in the SWOT Analysis of Bisleri – Bisleri SWOT Analysis
Route Selling System: The route-selling system used by Bisleri is more costly than the traditional method. This raises prices, reduces profits and market share.
Repacking Bisleri Bottles: A number of locals collect Bisleri bottles and refill them with local unclean water and sell them. This decreases Bisleri's brand value and can prove dangerous during consumption.
Human Error in Testing: Since water is tested by humans there can be human errors in manufacturing. This hurts the image and credibility of Bisleri. Bisleri has lost their permission to manufacture and pack mineral water in Noida Unit due to Production Errors.
High Demand: Bisleri is unable to fulfil the total demand of the country. Demands are very high and production capacity is less. Bisleri is unable to reach the market potential of South India as well as of the different pockets of India. Hence this weakness can be converted in to profits if they will increase their production capacity.
Opportunity in the SWOT Analysis of Bisleri – Bisleri SWOT Analysis
Expansion: In order to raise market sales and earnings, Bisleri will grow its reach to various new emerging markets. Europe and the Middle East are a profitable choice for Packaged drinking water.
Growth Trends: Bottled water rose by 23-25% relative to last year, almost twice the growth rate of carbonated beverages. This demonstrates that there is still a tremendous opportunity in the region.
Premium Segment: Premium filtered water may be introduced for 5-star hotels and high-end clients. It can also diversify its target audience and cash in this market.
Matching demand and supply: The daily supply and refueling capability of Bisleri is a huge challenge for any supplier to switch to products other than Bisleri. The more volume Bisleri has, the more competition it can dominate, and the more it will be able to balance demand and supply. This is going to boost its sales massively.
Threats in the SWOT Analysis of Bisleri – Bisleri SWOT Analysis
Intense Competition: Indian markets are becoming crowded in packaged drinking water segment. Giants such as Pepsi, Coca-Cola, and Tata Global Beverages have introduced bottled mineral water in the region. This will influence Bisleri's market share and therefore reduce its earnings and sales.
Local Players: Since the barriers to entry for the bottled drinking water market are very tiny, there are several entrants that have grown up in different areas. Since they have a smaller business than Bisleri, they are in a position to offer consumers better prices and to win the demand in their pockets.
New Entrants: There are many other giants monitoring India's lucrative mineral water industry. Tata, Nestle, and HUL are all looking at this sector. It will boost competition to the next stage.
RO & Water Purifiers: The rise in sales of water filters, purifiers, and ROs in the nation can directly affect the business of Bisleri. People like their home water when they go to purchase filtered water from a retailer. And as the rates of such filters are declining, the threats are increasing.
Counterfeiting: Illicit and unauthorized producers package their products close to Bisleri and distribute them around various destinations. This can be  a major threat to  Bisleri.
Government Rules and Regulations: Government Norms for Packaged Drinking water and use of Plastics can directly affect the business of Bisleri.
If you like This Article Please Like our Facebook Page PROJECTS4MBA
Cite This Work
Referencing Style to cite this article:
[citationic]