SWOT Analysis of AXE Deodorants focuses on Strengths, weaknesses, opportunities, and threats. Strength and Weakness are the internal factors and Opportunities and Threats are the external factors that influence the SWOT Analysis of AXE Deodorants.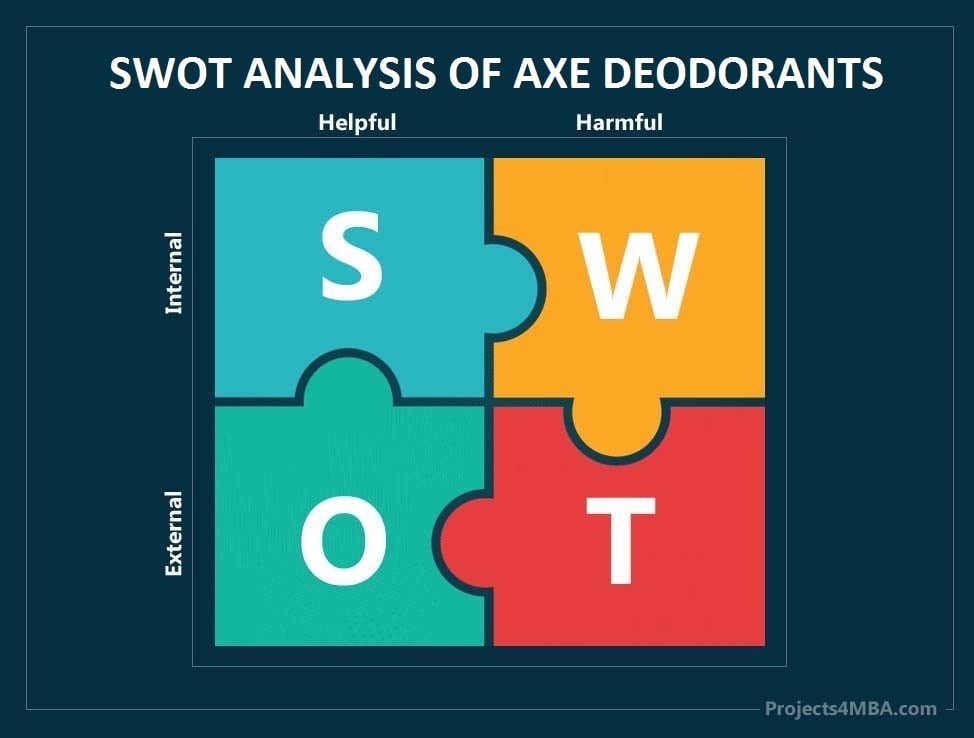 AXE Deodorant is a product of Unilever. It is marketed under the name of Lynx in the United Kingdom. AXE Deo's are specifically for young male customers. AXE is a successful brand due to its youth-centric advertising. AXE is present in more than 90 countries across the globe.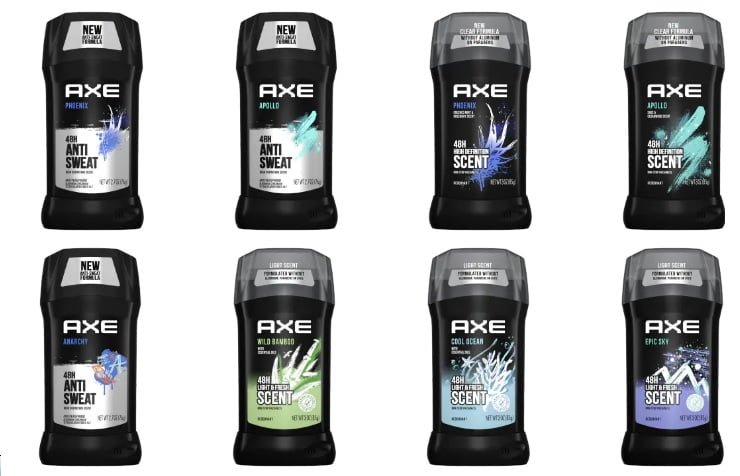 Strengths in the SWOT Analysis of AXE Deodorants – AXE SWOT Analysis
Strong Branding and Commercials: AXE has been effective in generating buzz with its youth-centric commercials and has achieved attention through them.
Strong Brand Recall: Due to aggressive advertising and promotional strategies AXE has a great brand recall. AXE frequently comes up with creative eye-catching and attractive campaigns.
Large Product Variants and Brand Extensions: AXE has a large number of variants. AXE talcs are the brand extension of AXE Brand.
Large Distribution Network: Since it comes from the HUL, AXE has a great distribution network and is sold in addition to all other HUL products.
Association with Ann Gottlieb: All AXE deodorants are developed by Ann Gottlieb, a popular international fragrance maker.
Research and Development: HUL is giving special emphasis more on Research and Development for AXE Deodorants.
Affordable prices: AXE has often had a low pricing policy to cover a wider market share rather than a higher price and niche market goal.
Packaging: In addition to the recall of the item, the packaging of the deodorant with its persistent black colour is another plus for AXE deodorants. When you go to a grocery store or medical shops, AXE is shown as a line of Black Deodorants, from which you may select the one of your choosing.
HUL support: AXE is a brand of HUL which makes it a highly demanding product.
Product Line Extension: AXE has successfully extended the brand name for products like shaving gel, After-shave lotion and Talc.
Market share: AXE has continued to maintain its market share in the deodorant segment by high market penetration.
Social Media: AXE has a strong social media presence with over millions of followers on the three most prominent social networking platforms: Facebook, Twitter and Instagram. It has a high degree of customer engagement with low customer response time on those channels.
Weaknesses in the SWOT Analysis of AXE Deodorants – AXE SWOT Analysis
Less Rural Penetration and Popularity: The advertisements and promotions only attract the urban youth. Advertisements of AXE are not able to attract rural youth and thus this weakens the sales. Rural Reach of AXE is also less as compared to other fragrance brands.
Controversy: Brand value of AXE is decreasing due to its advertisement controversy.
AXE is for young Male Groups : AXE has a Limited Target Market, i.e. age group 16-25, which restricts the sales of AXE.
Opportunities in the SWOT Analysis of AXE Deodorants – AXE SWOT Analysis
Expanding Market: AXE should look forward to expanding its target market to cover all age groups and genders. To increase its sale, AXE should look forward to tie-up with Gyms, to increase sales and promotions.
Tap Emerging Nations and Urban Markets: Urbanization has been increasing in the emerging nation and hence it is an opportunity for AXE to capture.
Gifting Packs and Limited Editions: AXE should ideally launch Limited edition deodorants and perfume just like FOGG has done in India (a gifting package). This will give more of an exclusive appeal to AXE.
Social Media Promotions: AXE must give special emphasis on Social media Promotions.
Threats in the SWOT Analysis of AXE Deodorants – AXE SWOT Analysis
Seasonal Demand: In summers sales of deodorants increases and this seasonal demand and variation in the business is difficult to manage.
Intense Competition: AXE is facing intense competition from global brands such as Old Spice, Fogg, Burberry, etc. and needs to constantly promote so as to maintain its market share.
New Local Entrants: Local entrants like Fogg are giving a tough competition to AXE Deodorants.
Competition from Existing Players: Big Players like Nivea, Adidas, Reebok, and many others have entered the Deodorant market. They cannot be classified as new entrants because they have existed in the market since ages and Deodorant is just a new addition. Due to strong brand image of these brands sales of AXE has affected a lot.
Government Regulations can directly affect the sales and manufacturing of AXE.
Price of raw material: The rise in the price of raw material will lead to a further increase in the price of AXE Deodorants. Active Ingredients of AXE Deodrants are Cyclopentasiloxane, Aluminum Zirconium Tetrachlorohydrex GLY(17.8%), Stearyl Alcohol, PPG-14 Butyl Ether, PEG-8 Distearate, Hydrogenated Castor Oil, Talc, BHT and Fragrance (Parfum).
If you like This Article Please Like our Facebook Page PROJECTS4MBA
Cite This Work
Referencing Style to cite this article:
[citationic]