SWOT Analysis of Zara focuses on strengths, weaknesses, opportunities, and threats. Strength and Weakness are the internal factors and Opportunities and Threats are external factors.
SWOT analysis is a strategic method that can be used by Zara management to do a strategic analysis of the company. It is an effective approach to figure out the present Strengths, Weakness, Opportunities, and Threats.
Zara is an Arteixo based Spanish retail chain. Zara was founded in the year 1975 in Spain. Zara is one of the stores that offer advertisers lessons about how to attract clients coming in. Zara is a subsidiary of Inditex Group. Inditex group has 8 subsidiaries in its array. Zara is the best brand in Inditex Umbrella which is generating good profits for the group.
Zara is renowned for its new concepts and designs. Zara is constantly changing designs and patterns of clothing. And whenever customers step into the showroom, they will get fresh designs. As a result, Zara has very less promotional expenditures. Zara is among the world's most powerful fashion brands. Zara is always known for its quality and its approach to new designs is the best part of Zara.
Zara is among the leading companies in its field. Zara retains its leading place in the industry by objectively evaluating and reviewing the SWOT analysis. SWOT analysis an immensely collaborative mechanism that needs good collaboration across different departments within the organization such as – marketing, finance, supply chain, and strategic planning.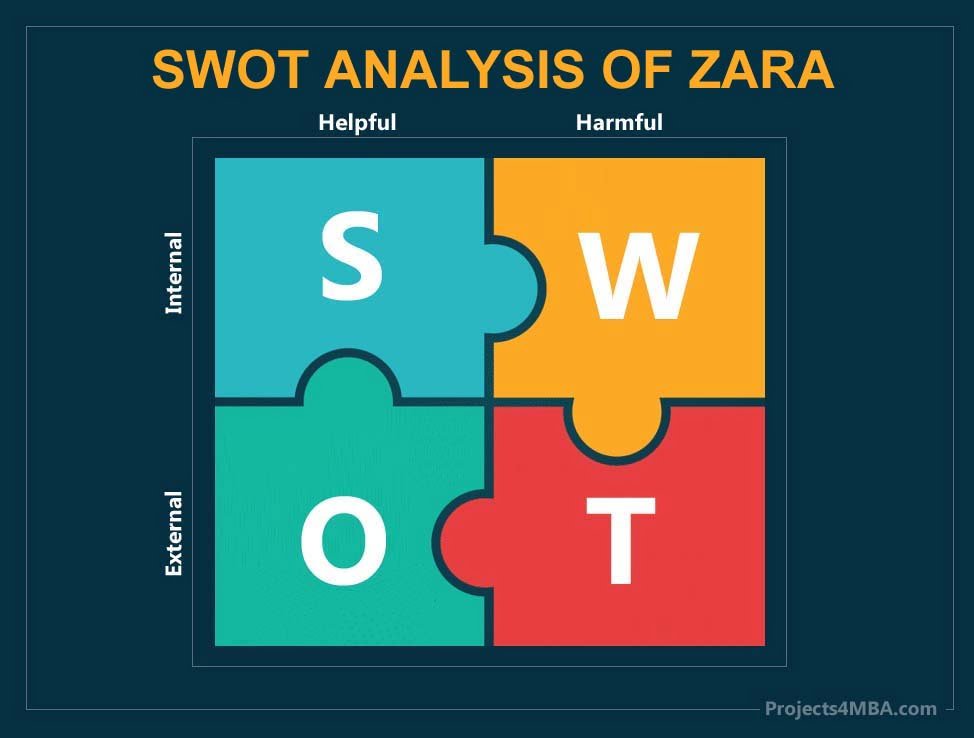 Strengths in the SWOT Analysis of Zara – Zara SWOT Analysis
Trendy and Unique Designs: One of Zara's first and foremost benefits resides in its production skills. It has a good designer on board who very well recognize the brand Zara and the psyche of the consumers visiting Zara. The clothes are elegant, with outstanding design and exceptional finishing. They come in a variety of varieties, business wear, party wear, children's, men's and women's, and casual. Zara has clothes for everyone. Accessories are an important part of Zara's collection. Zara manufactures nearly 40000 designs, of which about 12000 innovative designs are carefully chosen and created annually.
International Presence: Zara has started to grow its presence around the world. Zara has 2270 stores worldwide with an estimated revenue of 18,021 million Euros per. Zara is expanding its footprints to thrive in retail. Zara is present in 96 Countries.
Brand valuation: Zara is ranked number 53 by Forbes in terms of design and business. There are some positive points pointing to Zara's impressive brand equity. In recent years Zara has achieved success and continuous consistency in products has given a boost to the company's profits.
Innovative Designs: It takes about two weeks to bring a new Zara Collection to its retail outlets. Each year on average, Zara designs 450 million products. Naturally, this forces shoppers to frequently shop at Zara. Customers are visiting Zara because they are aware of the innovative and new designs from Zara Stores
Low cost and higher profits: Zara is spending a very little amount of money on its advertising. Zara is getting its innovative design strategy to promote its products.
Large Retail Outlets: Zara utilizes a large and deep shop layout to allow shoppers to wander around the store while picking up their favorite designs and checking them out.
Visual Merchandising: Zara is spending much on Visual Merchandising in the store. This gives an added advantage to Zara.
Toxic-free Manufacturing: Zara is the world's largest store to increase awareness of the Detox campaign and moved to entirely toxic-free manufacturing.
Weaknesses in the SWOT Analysis of Zara – Zara SWOT Analysis
Advertisements: Zara is spending very little on its advertisement. If Zara follows an aggressive advertising strategy it can double its profits and revenue.
Designs: Zara is selling unique designs and does not follow a standard design concept. This can be a weakness of the store.
Opportunities in the SWOT Analysis of Zara – Zara SWOT Analysis
E-commerce: Zara will certainly take advantage of Online Shopping. Online Shopping is a new trend today. Zara can increase its revenue by selling its products online either on Amazon, Flipkart, or on its own shopping site.
Consumer Potential: Zara is becoming more and more popular wherever it is present. Zara is a sign of prestige that customers want to wear. Therefore, Zara wants to focus on the current markets' rising market opportunities.
Expanding Business: Emerging opportunities would still provide Zara with new customers and more lucrative business. Zara has to keep an eye on developing markets and potential buyers of Zara. Zara can expand its business in new and developing countries and markets.
Backing certain flagship designs: One of the common features of top labels is that they have some designs that are their stores' flagship designs. In Zara, something is missing and thus there should be certain designs that should still be available from a Zara shop, generating great demand for these designs and developing yet more market identity for the brand.
Threats in the SWOT Analysis of Zara – Zara SWOT Analysis
Low advertising: Zara is not promoting its products through advertisements and other competitors who are promoting their products can drive customers away from Zara Stores by offering promotional discounts and offers. Promotional strategies of competitors can be a major threat to the company.
Intense Competition: H&M, Vero Moda, and Mango are giving tough competition to Zara. H&M, Vero Moda, and Mango have a wide range in their product line. These products are eating up the profitability of Zara.
Currency Fluctuations: Zara is a multinational company and operating its business in many countries. Any fluctuation in currency can directly affect the pricing and business of the company. This currency fluctuation can be a major threat in the SWOT Analysis of Zara.
Allegations: Company can face litigations in various markets. Laws related to product standards can cause litigation in the country of operations. This can be a major threat to the company. Zara has previously faced litigations related to child labor and Copyright Infringements. Thus the company has to keep track of the laws in the country of operations and maintain product quality.
Government Initiatives for Local Products: The government of India is encouraging local brands and the Make in India initiative. Many Foreign countries are also promoting their own infrastructure and local manufacturers. This can be a major threat to Zara because of local competition.
Imitation: The imitating of counterfeit and low-quality products is also a threat to the company particularly in the emerging and moderate markets.
New Product Development: New Innovative low-cost product development by the competitors can also affect the profitability of the company. This innovative product development can create market pressure by influencing the sales of the company. This can be a major threat.
If you like This Article Please Like our Facebook Page PROJECTS4MBA
Cite This Work
Referencing Style to cite this article:
[citationic]