SWOT Analysis of Walmart – Walmart SWOT Analysis focuses on (S) Strengths, (W) Weakness, (O) Opportunities, and (T) Threats. Internal Factors in the SWOT Analysis are Strengths and Weaknesses and External Factors in the SWOT Analysis are Opportunities and Threats.
SWOT Analysis is a proven management tool that helps Walmart to assess its market and its success against rival companies. Walmart is one of the largest retail store in the world.
Walmart is one of the favorite Retail Store of a large number of population in the world. Walmart is the largest retail company in the world that sells groceries, electronics, clothes, office supplies, home, and kitchen accessories. Walmart stores have a recorded footfall of 270 million customers for purchasing, while many make purchases online through the website of Walmart.
Walmart opened its first discounted store in Arkansas in the year 1962. With over 11,200 stores in 27 countries and websites (e-commerce) in 10 countries, it has now grown into the largest retailer for 50 years. Walmart 's new Executive Director is Doug McMillon.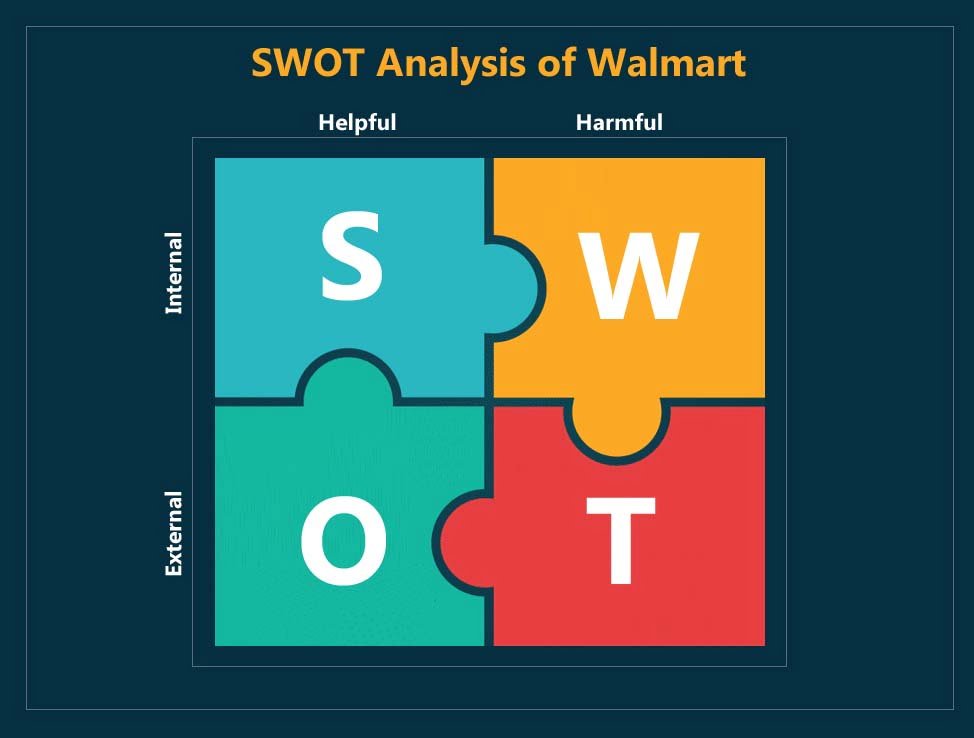 Strengths in the SWOT Analysis of Walmart – Walmart SWOT Analysis
Product awareness – With millions of consumers visiting Walmart every day, it is the world's best supermarket store. The online store of Walmart has more than 60 million items available.
Global Expansion – Walmart has a stake in ASDA, UK. ASDA is a UK based retailer. Walmart has recently increased its stake in Indian e-commerce giant Flipkart. In addition, it has established a joint venture with Bharti, India's largest retail store. Such global acquisitions have proven to be a major success for the company.
Global presence – Walmart opened 47 new stores in Central America in 2017, 15 in Chile, 11 in Great Britain, and 4 in China. Its foreign activities expanded its global footprint and revenues.
Strategy for 'Every Day Low Prices'-Walmart is focused on policy economies of scale, which is why it can deliver low prices. This has thousands of goods at fixed costs. Therefore it is one of the world's cheapest shopping destinations.
International logistics and supply chain network-Walmart 's main competencies are the distribution and logistics networks. This uses information technology to track the output of each commodity in each store in each nation in an efficient manner.
Human Resource Planning-Walmart 's main assets are its employees. It spends large sums of its time and resources in creating and maintaining a good working environment for its employees and workers. According to Business Insider, nearly about 1 percent of America's population is working at Walmart.
Good resource management – Walmart handles its resources effectively through information systems, distribution centers, good supply chain networks, expertise, and other competencies. Walmart's operating procedure and management of the store are excellent.
Clear market control over suppliers and competitors – Walmart has been capable of exerting market influence over suppliers and competitors due to its wide organizational scale and global scope.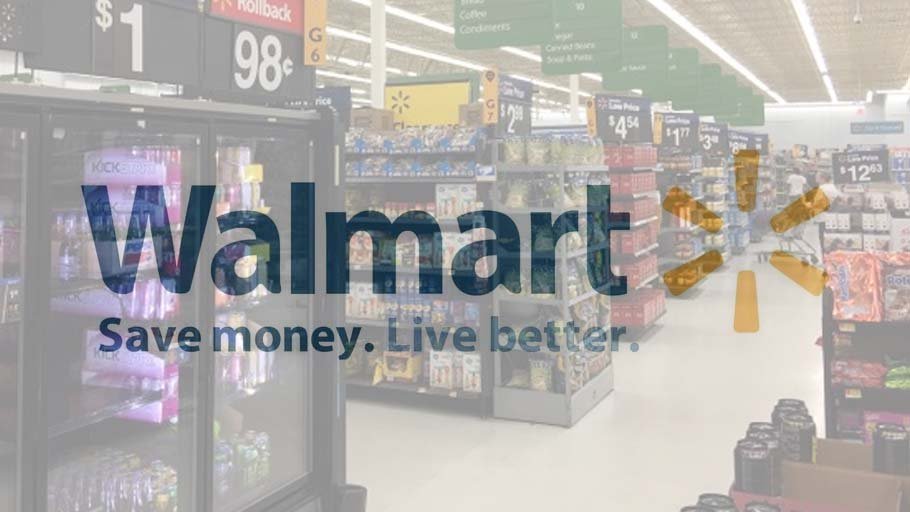 Weaknesses in the SWOT Analysis of Walmart – Walmart SWOT Analysis
Wide control System – Walmart may be vulnerable in some places because of its organization size and its control system.
Thin profit margins-Walmart is focused on a plan for cost leadership. This results in the company having thin profit margins.
Gender discrimination – In 2007, a lawsuit was filed against Walmart allegedly claiming gender discrimination in Walmart employment opportunities. As regards pay scale and appraisal of female employees are discriminated against according to this complaint.
The imitation – The business model of Walmart can easily be copied. The company has no particular competitive advantage over its competitors except for its big and widespread stores in various countries.
Opportunities in the SWOT Analysis of Walmart – Walmart SWOT Analysis
Expansion to other countries – Walmart should take advantage of the ability to extend its business to countries that have not yet explored. These might include China, countries in Latin America, and the Middle East.
Strategic Alliances – Walmart has the opportunity to establish strategic partnerships or merge with other global retailers with major companies. Small business acquisitions can also reflect a lucrative opportunity for Walmart.
Improving human resource practices – Introducing advanced changes to human resource practices will provide Walmart with a beneficial opportunity. Given that it depends heavily on its workforce, adding creativity to the management of human capital is a critical opportunity.
Improving quality standards – Low-cost products sometimes render low quality. Walmart has the opportunity to improve quality standards for its products to address consumer health concerns.
Threats in the SWOT Analysis of Walmart – Walmart SWOT Analysis
Controversies related to employees, products can be a major threat.
Controversy over fake craft beer – Walmart was sued in 2017 for selling fake craft beer. Though produced by WX Brands, the beer was labeled and marketed as 'Trouble Brewery,' a non-existent manufacturing firm.
Competitors policy regarding discounts and offers – Walmart is on the target of most of the retail giants in the world and hence established players can give tough competition to Walmart.
Political and legal problems – It, too, is a challenge to political and legal matters that can also prevent the organization from working in other countries.
Small-scale online e-commerce firms – Some small-scale and individual online retailers have entered the market selling identical items on their websites at competitive rates. It may pose a challenge to the future status of the company.
Technical issues on the website – Consumers have frequently complained that Walmart 's website has some technical problems. The products are not listed on the website in an organized way and are running slowly. However, Amazon is known for its fast, efficient, and organized website making customers excellent online shopping experience.
Government Policies can also be a major threat to Walmart. Changes in FDI Policies can affect the profits of Walmart.
Recommendations for Walmart
Following suggestions Walmart will strengthen its weak points and enhance its potential market position:
Improving HR performance quality and addressing the issues of the employees. The successful HR program would discourage Walmart from making any potential assumptions regarding its employees.
Expansion of business to new markets – Walmart needs to pursue prospects for improving its role and growing market share in emerging markets.
Advancing the global supply chain and distribution network – It will strengthen its vast retail empire.
Addressing contentious topics at the earliest opportunity. Walmart needs to improve the website for online sales and offer only legitimate items to prevent more public scrutiny.
Upgrading of its e-commerce pages online. Walmart needs to solve technical problems that hinder the progress of the websites and offer the customers satisfying shopping experience.
Strengthening marketing and promotional efforts – it will help the organization boost its brand identity and attract new clients.
Walmart should also play an active role in environmentally friendly activities to give the company a positive picture.
If you like This Article Please Like our Facebook Page PROJECTS4MBA
Cite This Work
Referencing Style to cite this article:
[citationic]