This article presents a detailed SWOT Analysis of Vaseline. SWOT Analysis of Vaseline focuses on Strength, Weaknesses, Opportunities, and Threats. Strengths and Weaknesses are internal factors and Opportunities and Threats are external factors. SWOT Analysis provides a well-tested management methodology that enables Vaseline in comparison with competitors and industry to assess its business performance.
Vaseline is a very common medication for both children and adults and is used to make the skin smooth, as well as for diaper rashes and for cuts and burns. Vaseline was invented and originally called Wonder Jelly by Mr. Robert Chesebrough in 1859.
Vaseline is petroleum jelly. The Vaseline brand is the generic name of petroleum jelly. Vaseline is a very successful product. HUL has acquired Vaseline and HUL has done brand extension of Vaseline. Vaseline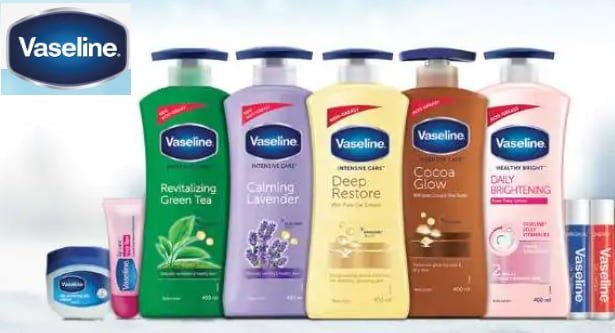 Strengths in the SWOT Analysis of Vaseline – SWOT Analysis of Vaseline
Strong Brand Image: Since 1859, Vaseline remains, and few brands can hold such an ancient legacy. Since its inception, Vaseline is a famous brand.
Brand Extension: HUL has used the brand name of Vaseline and extended its product line under the name of Vaseline. Some of the Products include Lip Care products, Derma Lotions, Lotions, and Moisturizers, Protecting Jelly
Product Need: Petroleum jelly is needed especially during cold or even during dry weather and it is often used as a cream to control skin burns. Petroleum jelly is used in many ways and plays an important part in skin forming. Thus, in every home, it is found as a protective precaution in the bathroom or the medical office.
Good promotion and presence: Vaseline has been present in more than 70 countries and HUL recognizes that promotions of the brand can help increase the sales of the company.
Brand growth: Vaseline used to be made with a few products such as petroleum jelly and one or two sponsored products, but it has at least 15 different products in its product range now, and you can find the products vary as you get there in different countries. Thus, Vaseline has promising effects in these plans to grow the formula.
Limited Competiton: Vaseline is almost a generic brand, and Vaseline's success is not similar to any other brand. Currently, Nivea and Vaseline are close rivals. However, Vaseline is limited to cold cream and can also be used as a diaper rash cream in various applications. The competition for the core Vaseline commodity is very less due to its various applications.
Vaseline has intelligently used its power – Vaseline is a brand of skincare that relies solely on the cutaneous and little else. Its brands have been smartly introduced and if a customer buys a Vaseline brand he or she loves it since there are many connected skincare products in Vaseline.
Available in Various small and big pack size. Vaseline has a pack of Rs. 5 which means it is available for everyone who needs Vaseline.
Weakness in the SWOT Analysis of Vaseline – SWOT Analysis of Vaseline
Expansion happens in very competitive segments – while the core segments of Vaseline are strong, with greater brand equity, expansion of both saturated and competitive segments is expected. A number of brands is present in the Skin cure market, such as Nivea, Johnson and many others.
Infringements of counterfeits and trademarks – Vaseline face a dilemma of violation of counterfeiting and trademarks in different countries and cannot monitor them. The processing of petroleum jelly is simple and inexpensive, making it also easy to falsify.
Compared to rivals, brand coordination is weak – If competitors have good correspondence during the year due to their retail promotions, Vaseline communications are intermittent and not necessarily continuous. This causes a dilemma as the items other than the main products are pulled.
Opportunities in the SWOT Analysis of Vaseline – SWOT Analysis of Vaseline
Increase marketing communications – Vaseline must broaden marketing communications in order to win over the business because the skincare segment is competitive. Although competition is strong, this sector's consumption is also high. The winner thus gets many rewards for his investment.
Differentiated Product – Through its R&D department, Vaseline is the best organization to encourage creativity, patents, and the launch of products that shake the industry. These inventions and patents can contribute to Vaseline in the skincare industry and hence produce a significant amount of revenue for the parent company – HUL.
New Markets can be tapped in new countries and locations.
Threats in the SWOT Analysis of Vaseline – SWOT Analysis of Vaseline
Missing year-round revenue – Vaseline sales shrink all year round and which change seasonally due to the very existence of the main goods. The time most definitely is when the income is strongest in the winter season. This sales shortfall will affect operations.
Few brands but little space for growth – Vaseline petroleum jelly has very few brands. Two of them are Nivea and Johnson and Johnson. However, the scope of production growth is limited since the main product cannot be innovated.
Government Regulations for the production of Petroleum Jelly and Skin Care Products can directly influence the sales and manufacturing of Vaseline.
If you like this article please like our Facebook Page PROJECTS4MBA
Cite This Work
Referencing Style to cite this article:
[citationic]