SWOT Analysis of Toshiba Corporation focuses on Strengths, weaknesses, opportunities, and threats. Strength and Weakness are the internal factors and Opportunities and Threats are the external factors that influence the SWOT Analysis of Toshiba Corporation.
Toshiba Corporation is a Japanese company headquartered in Tokyo, Japan. It has a presence in numerous sectors and has operations in several different countries. The company was founded as Tokyo Shibaura Electric K.K. in 1938. In 1977, it actually received the name "Toshiba Corporation."
Toshiba is in digital goods, mobile devices, home appliances, social infrastructure, and the nuclear power sector. One of Toshiba's main accomplishments is that it is the world's seventh-largest semiconductor manufacturer. Toshiba Products are of good quality and people have complete trust in its performance.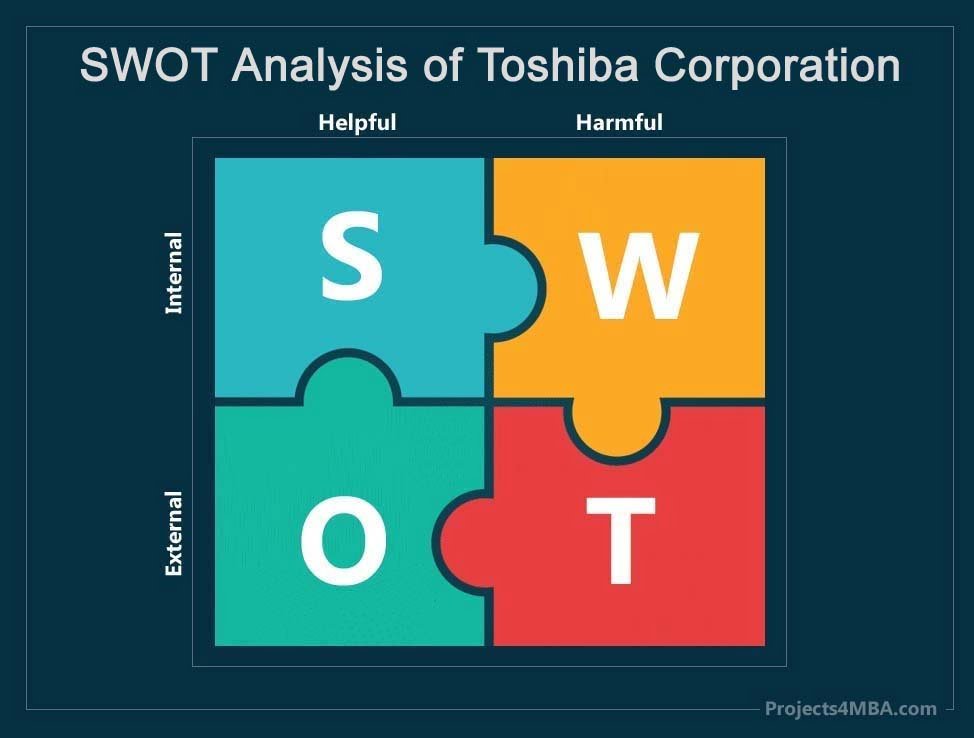 Strengths in the SWOT Analysis of Toshiba Corporation – Toshiba SWOT Analysis
Good Brand Image: Toshiba is able to create trust among the minds of the customers. Toshiba products are known for their quality and brand name.
Diversified Business: There is a saying that Diversified Business will give more profits. The saying seems to have been meant for Toshiba. In a broad range of industries, including consumer durables, telecommunications, IT, power systems, appliances, and many others,
Diversified WideRange of Product Portfolio: Naturally, since Toshiba is present in a broad range of sectors, Toshiba has a wide product portfolio. It has a wide range of products that primarily include televisions in consumer durables. It is also known in the field of IT for its semiconductor and storage services. Toshiba has a wide presence in services, including IT and telecommunications, in addition to goods. Toshiba is giving a tough competition to Seagate for Storage Devices.
Research and Development: Toshiba has a large number of patents. It invests heavily in Research and Development and thus comes out frequently with groundbreaking technology and products. Toshiba has an investment of over $320 billion in Research and Development and more than 2,500 patents in its home country, the US.
Brand Value: Toshiba has a brand value of $9.4 billion, making it a powerful brand in the industry. It is ranked 727 among all global brands in terms of brand rating, as per Forbes.
Employee Base: Toshiba has 141256 employees worldwide. Toshiba is giving emphasis on training of employees. Toshiba employees are motivated and work in the growth of the organization.
Strong Financials: Toshiba has an operating income of 35.4 Billion Yen, Total Assets of 4.297 trillion Yen.  Profits of the company are increasing year by year which is a good sign for the company.
Good Marketing Channels: The Company has a consistent marketing performance and has over the years. Toshiba is using various marketing channels. With ads, Toshiba has not bombarded the markets but has used marketing sparingly. The messages, however, have always been fine, crisp and direct.
Social Media and Modern Marketing Methods: Toshiba is using modern marketing and advertising platforms like Google Ads, Facebook Marketing, Marketing on Youtube, Instagram and other social media and content marketing platforms.
Weaknesses in the SWOT Analysis of Toshiba Corporation – Toshiba SWOT Analysis
Losses: Toshiba is facing losses in its nuclear. This has contributed to a downgrade in the financial rating of businesses by several financial agencies. Several financial rating agencies in US and Japan have downgraded Toshiba Corporation due to these financial losses.
Development is stagnating: If we look at the past figures we can say that the overall sales growth of the brand has been almost stagnating. The flow of income is constant and there is no consistent growth.
Weak Marketing Strategy: A major weakness in Toshiba's marketing strategy is that while it is advertising and investing in marketing communications, communications are not regular enough and therefore adversely affect the brand equity. Spend more on brand building. In order to see the conclusions, Toshiba needs to invest even time on its branding activities.
Opportunities in the SWOT Analysis of Toshiba Corporation – Toshiba SWOT Analysis
New Opportunities in Consumer Durable Segment: An excellent opportunity for Toshiba is to increase its footprint in total consumer durable industry. There is a lot of scope in consumer durable industry and Toshiba can easily become a star. With the expansion of the product line and length, and promotional and branding investments, Toshiba will expand its market reach. The market is broad enough for Toshiba to get its ROI from it.
Medical Equipment Market: The healthcare industry is a market that requires continuous breakthroughs and innovation. As its technology is the main competitive advantage for Toshiba, it can therefore easily extend its presence in this industry where technological advances have a lot of importance. In the medical equipment market, major technology-inclined companies such as GE and Siemens have a fantastic presence.
Growing Storage and Semi Conductor Market: Semi conductors and storage media are the future market and the support role for many other firms, such as computers, servers, machines and others, to have breakthrough products in semi conductors. Therefore, continuous R&D in this segment would enable the company to retain its market share.
Expanding markets: Toshiba can expand its market in Developing Countries by launching competitive priced products.
Threats in the SWOT Analysis of Toshiba Corporation – Toshiba SWOT Analysis
Technological Change: A change in technology is clearly a big challenge for any business that is technology-oriented. With every new shift in technology brought about in the industry, Toshiba has to realign itself. Toshiba itself has implemented many of these technical improvements. But in nature, it needs to be versatile and must keep changing at all times. When the external or internal market climate prevents the company from innovating, this can be a challenge to the business itself.
Intense Competition: Competition from both sides often adversely affects the organisation. Although the company is a leader in many sectors, in almost every sector where Toshiba is present, competition is still present. This competition can be a branded competition, multinational competition or localized competition. Nevertheless, due to its technological advancements, the market is increasingly eroding the margins and skimming rates that Toshiba will request.
Increasing Financial Debts: The debt structure and the risk it has taken in its presence in the nuclear industry is a major factor that can impact the company's growth internally. It had to write off some properties and funds in the nuclear arm, which really badly affected the whole company. Owing to sub par results, the company is unable to remove this debt and the debt is pulling the company down. By pursuing a specific plan, Toshiba needs to come out of debt, or it would face a serious challenge in its lifetime.
Economy: The economy is one of the main external influences for any corporation, and it could affect all businesses equally if it goes into a downturn. The effect on Toshiba, however, may be worse, because Toshiba is still in debt. A poor economy is also a big threat to Toshiba.
Government Laws and Regulations: Government Laws and regulations in different countries of operations can adversely affect the business of Toshiba.
References
https://www.ventureradar.com/keyword/Electrical%20Products
https://link.springer.com/article/10.1007/s10676-017-9438-0
https://ca.finance.yahoo.com/news/toshiba-ceo-kurumatani-shouldn-t-010009856.html
https://en.linkfang.org/wiki/Toshiba
https://hbr.org/1992/07/technology-fusion-and-the-new-rd
If you like This Article Please Like our Facebook Page PROJECTS4MBA
Cite This Work
Referencing Style to cite this article:
[citationic]