The purpose of this comprehensive SWOT analysis of Tide is to analyze Tide's internal and external factors. It's about looking at the Tide's strengths and weaknesses. This article also seeks to discuss the opportunities that Tide should grab and the possible threats that it should keep an eye on.
Tide is a powdered detergent that is manufactured by (P&G) Procter & Gamble. Tide Detergent was launched in the year 1946. Tide was the first detergent to be sold nationwide. The P&G has 6 detergent powders range and one liquid detergent range under Tide brand name.
Lets discuss SWOT Analysis of P&G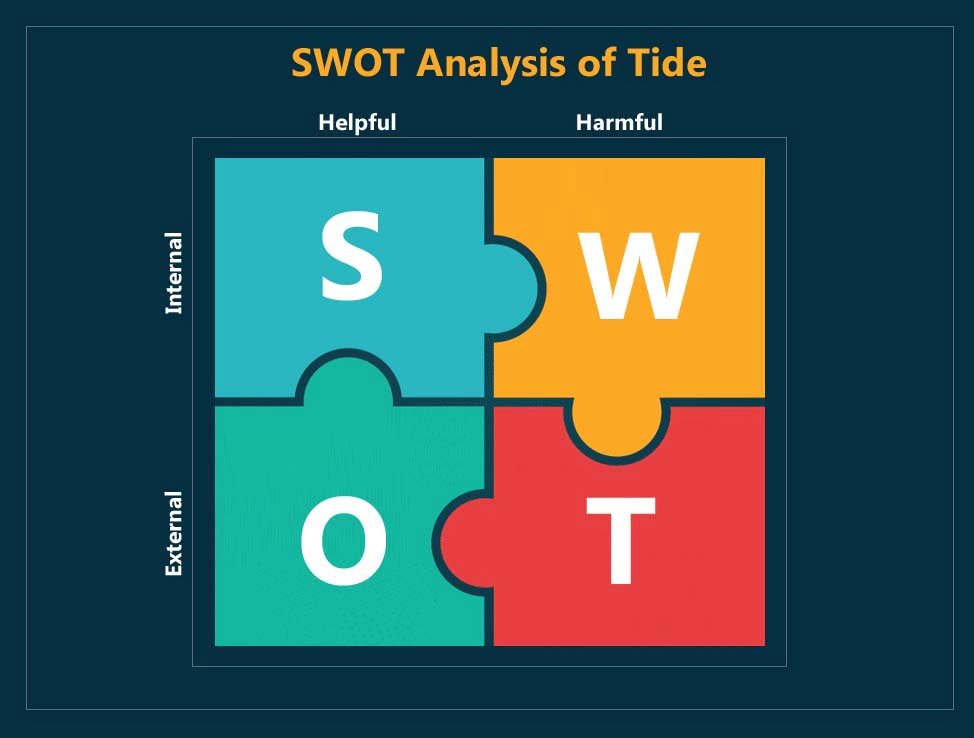 Strengths in the SWOT Analysis of Tide – Tide SWOT Analysis
The flagship brand P&G – Tide celebrates the luxury treatment of being the flagship company of P&G. P&G also enhances the brand in order to build itself in the minds of consumers.
High-quality detergent at a lower price – Tide is playing on the USP to offer a higher quality product at a lower price and the company has so far been successful in achieving its objective. Customers are pleased with the quality of the goods and the costs are comparatively cheaper than those of the traditional rivals.
Current logistics and sales networks of P&G have been tremendous support – through the years, P&G has established good delivery and sales networks, and Tide profits tremendously from maintaining the same network without needing to spend any time in manufacturing and procurement activities.
Leading market share – Tide has gained from one of the largest brands of detergents, making them an additional bonus in exploring and innovating new goods to further boost their market position.
Strong emphasis on the value of whiteness – Both of Tide's ads expresses the whiteness idea that they have been able to maintain effectively. That has also allowed them to concentrate on the USP that people wanted.
Solid brand recognition and awareness – Tide has become a household name and needs no introduction. They have been successful in targeting the company to the right audience, which has allowed Tide to retain high brand awareness on the market.
Tide is broadly distributed in all countries – the presence of the product in both rural, semi-urban, and industrial regional areas allows it the preference of every commodity that continues to keep consumers faithful to the brand.

Weaknesses in the SWOT Analysis of Tide – Tide SWOT Analysis
Old major rivals – The rivalry is massive and among the large corporations of the world, which is why Tide can not cause such big-name players to sacrifice their competitiveness in the market.
Similar or alternative goods are sold locally at much cheaper prices – as Tide sells itself as a low-quality detergent and more high-cost detergents are sold on the local market. This low price approach also serves as a negative influence on the company.
The industry is already established – the demand for detergents is now established and consumers want businesses to come up with something different. In order to offer this little difference, the player will often be totally removed from a competitive market like this one.
Opportunities in the SWOT Analysis of Tide – Tide SWOT Analysis
Introducing new products with advanced technologies and creativity – this is what our consumers are searching for and with mainstream goods such as detergents. There's something Tide can explore in this place.
Rural markets have a strong opportunity – rural consumers are changing to use these new detergent goods at a very fast rate. This is a chance for a company like Tide to make good use of this chance.
Can Tide find a niche consumer audience on its own – any commodity is priced on the USP and for Tide, it is white at a lower price. It would be fascinating to see how they could discover and find for themselves a niche market that could establish a monopoly for them.
Shifting people's habits – this is also an advantage. Put the best analysts in there to find out what this group needs and plan it. That will only happen if an organization will consider and respond effectively to the can needs of customers.
Seek new markets – While Tide is still present in many countries of the world, spreading deeper into new geographies is rarely a bad move, given that it is carried out with due care.
Threats in the SWOT Analysis of Tide – Tide SWOT Analysis
Imitation products – It is very simple for detergents to market fake items with identical names and labeling for a drug like detergent.
Market wars with rivals – Because competitors in the industry are all major corporations, often price wars prove lethal to one or the other.
Rival Ambush Marketing – Many businesses also use ambush marketing to tarnish the reputation of another company with such consumer goods. It is critical for a brand like Tide to always be at the forefront of these threats.
Changes in tax policies – Items like this, where a company battles for only the slightest advantage, a shift in tax policy will prove to be a big challenge.
Is the drug safe – the detergent is a substance where a lot of additives are used in the manufacturing of the product. In this situation, Tide will guarantee that, by all means, they comply with all the laws required to ensure that they are safe and environmentally sustainable.
Government Policies against Surfactants and chemicals can be a major threat.
If you like This Article Please Like our Facebook Page PROJECTS4MBA
Cite This Work
Referencing Style to cite this article:
[citationic]