SWOT Analysis of Sunsilk give emphasis on strength, weakness, opportunities and threats. Strength and weakness are the internal factors opportunities and threats are external factors.
SWOT Analysis is a validated framework that enables a brand such as Sunsilk to evaluate its business & performance against competitors and the industry.
Sunsilk is one brand that is known to love your hair. Sunsilk helps get hairs straight, curly, smooth and silky or just the way you like it. Sunsilk is also known as hair care experts of the century. Sunsilk is a leading hair care brand of Hindustan Unilever Limited and works with different brand names. It is known in Latin America as Sedal, in Turkey as Elidor, and in Brazil as Seda. The Sunsilk brand was founded in 1964 and is a multinational brand with a footprint in 80 countries. Sunsilk brand offers a wide range for hair care solution and acts as a three – step combination of washing, nourishing and manageability.
Let's discuss SWOT Analysis of Sunsilk:

Strengths in the SWOT Analysis of Sunsilk – Sunsilk SWOT Analysis
One of the main fact of Sunsilk is its marketing campaign. Sunsilk bring in hair care specialists to develop each form of their shampoo and a global hair care specialist endorses each of their shampoos. In addition, the advertisements are so designed that each expert in hair care is naturally, though they have used a special marketing approach, they are known as the hair care specialists around the world. They are known as the specialists in hair care. The term "Expert" holds a weight and thus, as they wash their hair with Sunsilk Shampoo, people really look forward to a good experience. And Sunsilk does not, more often than not, disappoint.
High Brand Recall- Sunsilk is well ahead of its brand recall than its rivals due to its repetitive ads and glitz and glamour in its ads. Sunsilk has colourful packaging and on the shelf, which is appealing because it comes out with different price benefits that get it off the shelf faster.
Industry Leader: Sunsilk is the industry leader in many countries. In Asia , the Middle East and Latin America, it is very strong and is number 1 in India , Brazil, Pakistan, Bolivia, Bangladesh, Argentina, Sri Lanka, Indonesia , and Thailand. It is, in reality, the top brand in the eyes of billions of individuals.
Good Marketing Strategy: Sunsilk uses both Push and Pull Strategies to market its products. Sunsilk's point of purchase advertising is fantastic and you'll usually also find demonstrators in modern retail outlets. Sunsilk has used neighbourhood plans to shape a neighbourhood focused on its goods, such as gangs of children.
Use Celebrities for Brand Endorsement: Many of Sunsilk's brand ambassadors are top celebrities such as Madonna, Shakira, Priyanka Chopra, etc. Sunsilk uses hair experts they creates brand image of sunsilk as a best product available in the market.
Variants: Sunsilk has different shampoo brands and matching conditioners. A different purpose is served by each of them. Others will instil vitality in your hair, some will smooth out your hair, others will fix your dry hair issues, and eventually, others will struggle with poor hair or split ends. Sunsilk offers wide range of shampoos for thick and long hairs, soft and smooth hairs. Sunsilk also provide solution for hairfall and damage repair and Sunsilk also has blackshine shampoo.
Large distribution Network: Sunsilk has widespread distribution because of the combination of items that are supplied by every HUL dealer. It is sold digitally via E-commerce as well as online grocery stores. Sunsilk is sold through modern small and big retails and traditional channels. HUL has also managed to reach in rural areas to give a tough competition to its competitors.
Deep pockets: Sunsilk has deep pockets because of HUL 's support. In many regions, the brand is still the industry leader, driving strong sales as a result.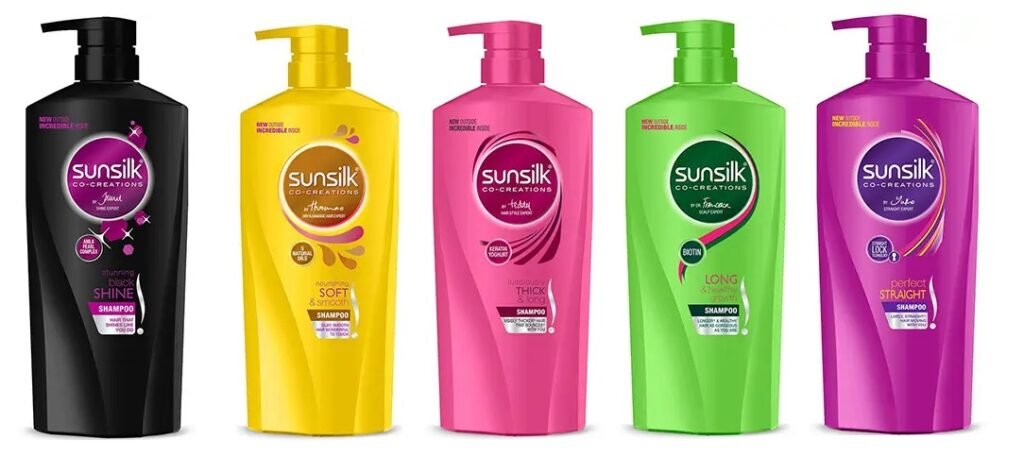 Weaknesses in the SWOT Analysis of Sunsilk – Sunsilk SWOT Analysis
Competition: While sales are very high for Sunsilk, competition and the relentless need to produce noise are eroding the bottom line of all brands in the Skin Care market. When we trace the BCG matrix of the Hair Care segment, Sunsilk is a bright and shining star. However, in order to retain a significant market share in a wide market, advertising must be sustained, and it is where the significant costs are incurred. Distribution is the second cost, in addition to advertising, which eats up margins a lot.
Differentiation becomes difficult-The distinction in the hair care segment is becoming difficult due to the numerous product lines present from HUL, P&G, Godrej and other brands. Thanks to the idea of co-creation and thanks to the uniqueness of using hair care professionals, Sunsilk still owns its own. But soon the novelty will wear off and the use of brand ambassadors will be back to square one. Differentiation, however, would again become troublesome.
Brand switching- In the hair care market, there is high brand switching, thereby resulting in higher consumer acquisition costs. Because the customer could quickly shift to another brand once you acquire a customer. As distinction is complicated, brand loyalty is dropping.
Opportunities in the SWOT Analysis of Sunsilk – Sunsilk SWOT Analysis
Sunsilk is targeting women's Sunsilk can also target the market for men's shampoo.
Gang of girls is a group idea by Sunsilk to get people together and form a community around the brand they love-Sunsilk. Improving penetration in the female category. In today's day and age of the internet, such ideas are sure to be a success and this would increase the brand's follow-up and will boost brand loyalty and thereby brand penetration. Due to the excellent quality of Sunsilk shampoo, many women are brand loyal of Sunsilk shampoo.
Improve rural penetration-Packaging plays an important role in rural penetration where the size of the product is large and should be available in sachets of 1 rs. Where urban areas require discounts on larger purchases, rural areas may make purchases of 1 sachet once a week. By penetrating Rural India, HUL has implemented several strong measures and reaped benefits, something P&G is yet to do.
Maintaining the brand image-Because Sunsilk is in a great position, this in itself can bring more sales. If it exists like this for a few more years to come, it will drive a lot of money for itself to make it a failure-proof brand with deep pockets.
Geographical expansion-As new nations continue to grow and emerge from poor economic zones, this creates new opportunities for brands that want to move from saturated economies to developing economies. This keeps the business in ever-growing stage. Geographic expansion is a sure-fire way to minimize your risks.
Threats in the SWOT Analysis of Sunsilk – Sunsilk SWOT Analysis
Increased distribution and maintenance costs-The costs of distribution and activities often escalate as the costs increase.
Sunsilk faces the dilemma that it has internal as well as external competition from external and internal competition. Within HUL, it has competition from Dove, Transparent and Clinic Plus internally. Externally, it has competition from Head and Shoulders and Pantene.
Government Norms can also directly affect Sunsilk.
If you like This Article Please Like our Facebook Page PROJECTS4MBA
Cite This Work
Referencing Style to cite this article:
[citationic]