SWOT Analysis of Subway focuses on strengths, weaknesses, opportunities, and threats. Subway is one of the largest fast-food chains in the world. The strengths and weaknesses in the SWOT of Subway are internal factors, while opportunities and risks are external factors.
SWOT Analysis is a validated management tool that enables a company like Subway to measure its business performance in comparison to its competitors and the industry.
Subway is a leading American fast-food chain that serves submarine sandwiches, popularly known as "Sub." Subs and vegetables are mostly part of their menu. They are the fastest expanding chain in the world. In 112 nations Subway has 44850+ restaurants. It is the largest single owner of a chain of restaurants and the world's largest operator of restaurants. It was founded in the year 1965 by Peter Buck and Fred DeLuca. Subway's HQ is located in Milford.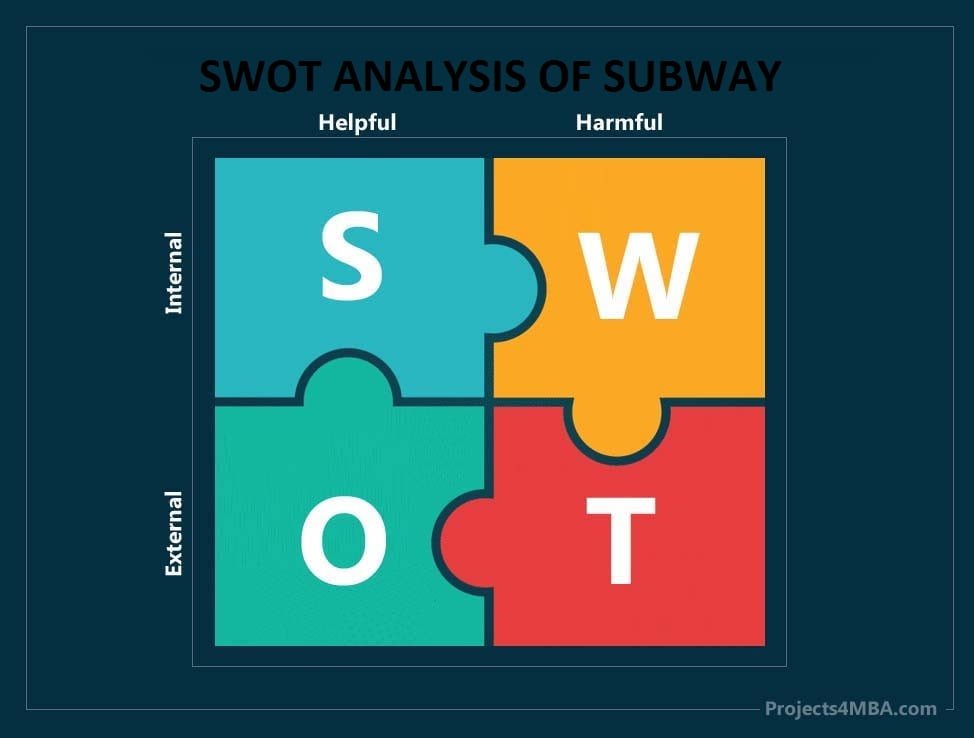 Strengths in the SWOT analysis of Subway – Subway SWOT Analysis
High Brand Loyalty: Subway has a good brand recall and customer follow-up. High-brand loyalists are all who eat here. Subway has a brand value of $10.314 billion.
Wide Range of Offerings: Subway is offering Salads, Sandwiches, flatbread, cookies, chips, tea, and coffee. Salads are for health-conscious people. This is perhaps the strongest strength in the SWOT analysis of Subway. This makes it different from its competitors McDonald's and KFC.
Largest Number of Outlets: Relative to its peers, Subway has 44852 outlets. McDonald's has 36615, Taco Bell has 7,000 restaurants, Burger King has 15243, and KFC has 19952 outlets. Subway has more reach as compared to other brands.
Differentiation: Subway sits uniquely in the world of several different burger and pizza franchises because it is a personalized sandwich. With the different materials on sale, you can create it the way you want it. If we take the customization perspective, no other brand of fast food has reached the degree of success achieved by the subway. This distinguishes the subway and makes it a favorite name among the various food franchises.
Easy Franchise Setup: Franchisee worker's training is organized, brief, and planned to ensure rapid start-up for new hires, as all of these are carried out by the Subway brand name recruitment department. This guarantees fast set-up at faraway locations of new restaurants and seamless running without any barriers to various regulations.
Marketing Strategy: A marketing strategy is good if a company is generating a good profit and has a good brand image. This is perhaps the strongest strength in the SWOT analysis of Subway.
Online Marketing: Company is taking advantage of online marketing and marketing its products through Google Ads, Instagram, Facebook, and other social media and online platforms. Thus we can say that the advertising & marketing plan of the company is good.
Analysis marketing strategy depends on the market situation. The company is always using market analytics to formulate a marketing strategy. The marketing and strategic management practices of the company are good.
Branding Strategy: company branding strategy is good and using an aggressive promotional strategy to promote its products and services on Television and Radio Ads. This is one of the strongest strengths in the SWOT analysis of Subway.
Weaknesses in the SWOT analysis of Subway – Subway SWOT Analysis
Satisfaction and level of service: Due to the recruitment of the workers being outsourced to those who have franchised, a general level of service satisfaction around all the Subway stores around the world is not assured. Across all restaurants, the dedication will not be the same.
Design of Outlet: Subway has not changed the designs of their outlet according to the changing times. This leads to low consumer loyalty, leading to consumers changing their tastes over time.
Brand value: While Subway has the highest number of operating locations in the world, compared to its biggest competitor McDonald's. It is less preferred by customers and has been rated after Mcdonald's.
Many Employees: The work of subway workers is a low-paid and low-skilled career. It leads in poor morale and high attrition, which raises recruitment expenses and contributes to the total costs of Subway.
Opportunities in the SWOT analysis of Subway – Subway SWOT Analysis
Delivery: Most of the popular restaurants provide services such as home delivery. Subway wants to catch up on this idea and start appealing to prospective customers who enjoy home delivery.
Health Consciousness: In today's world, people are becoming more and more health-conscious. So as a brand and restaurant, Subway will potentially leverage this and become more popular. Subway can launch a new Salad Menu for Health Conscious People.
Product Range: Subway has only been left with one form of commodity, i.e. Subs. Subway must increase the product range of healthier choices to remain in the market.
Vegetarian Foods: Subway mainly serves various types of nonveg food items, but vegetarians lack a diverse menu. On this front, it still needs to expand. Subway must start Fries and Pizza's to compete with its competitors.
Threats in the SWOT analysis of Subway – Subway SWOT Analysis
Competition: Subway is facing severe competition from McDonald's, KFC, Taco Bell, Wendy's, which have many loyal customers and followers.
Market Saturation: Using the same style as Subways, new restaurants are popping online. This will damage the customer base as they can better affect the local population and better serve their interests in the geographical base.
The shift in trend: As people begin to think more about their food (somewhat unhealthy) and may like more flavor to enjoy it they may prefer to move to other restaurants.
Government Regulations: In some countries, governments are imposing restrictions over restaurant chains which can directly affect the sales of Subway.
If you like This Article on SWOT Analysis of Bata Please Like our Facebook Page PROJECTS4MBA
Cite This Work
Referencing Style to cite this article:
[citationic]