SWOT Analysis of SBI – SWOT Analysis of State Bank of India focuses on (S) Strengths, (W) Weakness, (O) Opportunities, and (T) Threats. Internal Factors in the SWOT Analysis are Strengths and Weaknesses and External Factors in the SWOT Analysis are Opportunities and Threats.
SWOT Analysis is a proven management tool that helps organizations such as State Bank of India (SBI) to assess the market of SBI and its success against rival companies. State Bank of India (SBI) has been one of the leading Stationery companies.
SBI does have its origins in 1806, but was later converted under different names, and finally SBI was created in Parliament on May 1955. Around the year 1959, SBI took over 8 state-owned banks and, since then, has started to develop in the service of citizens at various economic rates.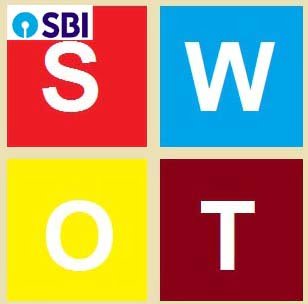 Strengths in the SWOT Analysis of SBI – SWOT Analysis of State Bank of India

SBI is India's biggest bank in terms of market share, sales, and reserves.
SBI has been ranked in the Fortune Global 500 list.
According to recent reports, the bank has more than 22141 branches and 58555 ATM's.
The bank is active in 36 countries involved in currency traders around the world.
SBI has the first-mover edge of commercial banking facilities.
SBI recently updated its vision and mission statements indicating an indication of inclination towards new-age banking services.
State Bank of India has a huge employee base of 257252 employees.
SBI has revenue of 143306 Crore rupees (20 billion US Dollars).
The owner of the State Bank of India is the Government of India.
SBI has many subisidaries:

SBI Cards
SBI Life Insurance
Jio Payment Bank
Yes Bank
Andhra Pradesh Grameena Bank
Kavenri Grameena Bank
Vikas Bank.
Weaknesses in the SWOT Analysis of SBI – SWOT Analysis of State Bank of India
The lack of adequate technology-driven infrastructure relative to private banks
Employees are hesitant to fix issues efficiently due to better job stability, and the turnaround period for clients is lengthy relative to private banks.
The banks pay a large sum on their leased houses.
SBI has the largest number of employees in the banking sector, which is why the bank spends a considerable amount of its income on employees ' salaries.
Despite the modernization, the bank still conveys the perception of the traditional bank to new-age clients.
SBI does not draw corporate payroll accounts, and any government employee's payroll accounts are now transferred to private banks for ease of service, unlike before.
Opportunities in the SWOT Analysis of SBI – SWOT Analysis of State Bank of India
The merger of SBI with five other banks, namely the State Bank of Hyderabad, the State Bank of Patiala, the State Bank of Bikaner and Jaipur, the State Bank of Travancore and the State Bank of Mysore, is at the approval stage.
Mergers would result in a rise in market share to protect its number one spot.
SBI aims to expand and invest in foreign activities due to a strong inflow of capital from the Asian economy.
As some of the banking activities are yet to be modernized, there is a greater opportunity for leveraging new technology and applications to enhance customer ties.
Young and talented graduate and B school pools are on the rise to open new horizons for the so-called "old government bank".
Threats in the SWOT Analysis of SBI – SWOT Analysis of State Bank of India
Net profit of the year decreased from 9166.05 in the year 2010 to 7.370.35 in the year 2011.
This indicates that the market share of its close rival ICICI is that.
Other private banks, such as HDFC, AXIS bank, etc.
FDIs permitted in the banking sector was increased to 49%, which is a major challenge to SBI as citizens continue to turn to international banks for better banking services facilities and technology.
Other government banks, such as GNP, Andhra, Allahabad Bank, and Indian Bank, are coming up.
Customers prefer to switch to private banks and financial service providers for loans and mortgages, as SBI involves strict verification procedures and takes a long time to process.
If you like This Article Please Like our Facebook Page PROJECTS4MBA
Cite This Work
Referencing Style to cite this article:
[citationic]