SWOT Analysis of Rado focuses on Strengths, weaknesses, opportunities, and threats. Strength and Weakness are the internal factors and Opportunities and Threats are the external factors that influence the SWOT Analysis of Rado.
Strengths are defined as the best thing every company does in its range of activities that can give it hold on its competitors. Weaknesses are used in areas in which improvement of the business or brand is necessary. Opportunities are the environmental avenues around the enterprise that can be used to increase its income. Threats are environmental factors that can adversely affect business growth.
Rado is a Luxury watch watchmaking company founded in 1917 at Lengnau, Switzerland. It released its first scratch-resistant watch in 1962. Currently, the company employs roughly 470 employees and produces approximately half a million watches every year.
Rado is a globally recognized brand known for its innovative design and use of cutting-edge materials to create appealing and long-lasting watches. Rado watches come in a range of shapes and colours. Rado watches are built of a range of materials, including Carbide, Ceramics, and Sapphire Crystal. For many years, Rado watches have embraced a high-tech ceramic approach, and it has played an important part in the watchmaking process.
The most significant pieces of art and craftsmanship in this collection are high-tech ceramic clocks. They have a smooth, beautiful surface that may be glossy or matte, and they come in a range of colours. Rado watches have a more understated approach to bling. They are light, hypoallergenic, and very comfortable to wear. The Rado brand has received many significant international design awards, and the business works with notable designers to produce new timepieces.
It also conducts Rado Star Prize awards for ambitious young designers all across the globe. Rado's various ground-breaking watches are based on innovation.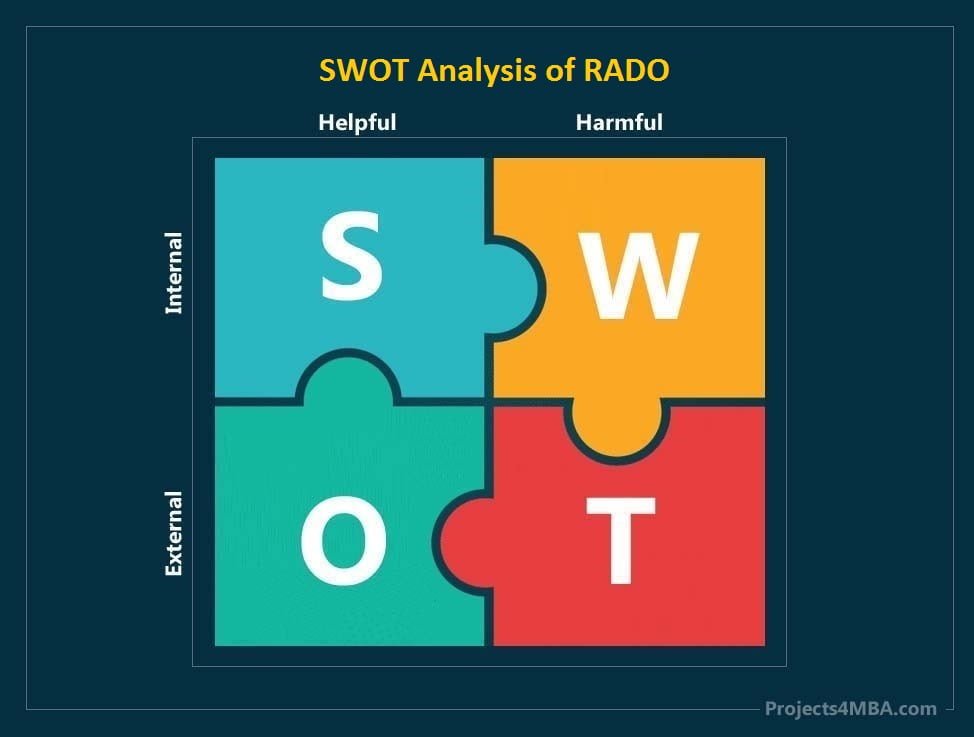 This article focuses on SWOT Analysis of RADO
Strengths in the SWOT Analysis of Rado – Rado SWOT Analysis
Awards and Recognitions: The Rado brand has received a number of renowned international design awards, and it also works with leading designers to create new timepieces. The business has received over 30 international design honours. Rado has entered the Guinness Book of World Records for the first time with the creation of a high-tech diamond. Its brand position as a technically proficient material user has improved.
Innovative Material: Rado timepieces are distinguished by their use of innovative materials. These materials are quite varied in nature and are not limited to a certain design, which is the primary selling point of Rado watches.
Sponsorships and Associations: The Rado brand has been associated with a number of athletic events, the most of which have been tied to tennis. This collaboration has benefited Rado in creating a worldwide presence.
Brand Ambassadors: The Rado brand has several brand ambassadors from the film and sports industries.
Aggressive Marketing Strategy: The Rado brand has an effective advertising and branding strategy that includes online ads, print media, television, and sponsorship of athletic events and concerts.
Increasing Earnings: In addition to rising earnings year after year, the company's turnover is also expanding. This is the brand's most important asset.
Build Quality & Technology: The Rado brand is well-known for its exceptional workmanship. It makes use of cutting-edge mechanics and technology.
Events and competitions: Rado regularly participates in contests across the globe as part of its dedication to watch design via its Rado Star Prize competitions. These prizes are meant to assist budding designers by providing them with the chance to show off their design work and creativity to experts.
Weaknesses in the SWOT Analysis of Rado – Rado SWOT Analysis
Intense Competition: The Rado brand confronts significant competition in the luxury watch sector, resulting in a minimal market share for the corporation in this area.
Counterfeit Products: Several complaints have surfaced about counterfeit Rado products being sold on the underground market. This has harmed Rado's brand image, and it represents a huge vulnerability for the corporation.
Opportunities in the SWOT Analysis of Rado – Rado SWOT Analysis
New Market in Developed and Developing Countries: To boost commercial possibilities, the corporation may enter a new booming luxury market with a large number of potential customers.
Expanding its Product Line: Because the Rado brand lacks a distinguishing design look, there are several opportunities to expand the product line without hurting the brand's positioning.
Collaborations & Associations: In order to boost the value of its brand, the company may partner with another luxury brand. It may also identify itself with a variety of celebrity events and entertainments to increase the value of its brand.
Product Development: Having a larger number of items offered boosts the company's potential to generate more unique products and so get market recognition.
Joint Ventures: In order to expand its commercial activity, the Rado brand may enter into joint ventures with other watch brands.
Threats in the SWOT Analysis of Rado – Rado SWOT Analysis
Intense Competition: In the luxury watch industry, the Rado brand confronts severe competition. This is a huge problem for the company since many other watchmaking businesses also produce high-end watches.
Economies: When the economy is in flux, people are less inclined to spend money on luxuries like jewelry and designer clothing. This is also a significant risk for the company, and it has an impact on its revenue.
If you like this article you can recommend your friends about PROJECTS4MBA.COM
If you like This Article Please Like our Facebook Page PROJECTS4MBA
Cite This Work
Referencing Style to cite this article:
[citationic]