This article presents a detailed SWOT Analysis of Ponds. SWOT Analysis of Ponds focuses on Strength, Weaknesses, Opportunities, and Threats. Strengths and Weaknesses are internal factors and Opportunities and Threats are external factors. SWOT Analysis provides a well-tested management methodology that enables Ponds in comparison with competitors and industry to assess its business performance.
Ponds is one of HUL's leading brands for skincare and has an ancient history. The firm has been in operation since the 1840s, as founded by Mr Pond's after whom the brand was named. Pond's has since been present with different forms of skincare products, primary powders from Pond, makeup products, anti-aging, cold creams as well as men's care products which are introduced recently.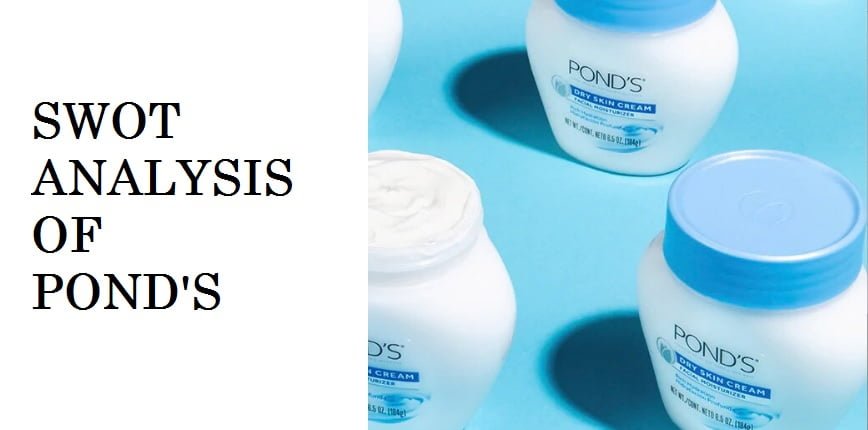 Let's Discuss the SWOT Analysis of Ponds.
Strengths in the SWOT Analysis of Ponds – Ponds SWOT Analysis
Market Leader in Skin Care Products: Pond's is one of the biggest Skin Care brand of HUL. It basically occupies the middle and upper-middle price segment and is a preferred commodity by the masses.
Women are Target Customers: Since the days of its inception, women's are using Ponds. Both the goods and ads have been aimed at women. All its advertisements focus on women as the target customers.
Products Range: Pond's has a solid product line and enhanced the income of HUL. It also has strong market capitalization and guarantees fast market consumption with the launch of new products.
Backed by Financial Support of HUL: Pond's is one of the labels in the HUL Umbrella, Ponds is backed by a lot of financial support from HUL. Ponds Powders and Ponds cold cream are the most selling products of HUL.
Excellent distribution: Ponds is a product from the house of HUL and HUL has an excellent distribution. Margins of Retailers are good. HUL has strong damage and credit policy. Ponds is reaching the masses by the distribution policy of HUL.
Marketing through the years – In order to launch a product that appeals to the public, you need a mass marketing campaign. And Ponds has over the years launched many above the line and below the line, promotions including with strong brand ambassadors, which have marketed the brands and have promoted consumer acceptability. HUL has a specialized team to promote its products.
Weaknesses in the SWOT Analysis of Ponds – Ponds SWOT Analysis
Increasing Product Cost: Due to the increase in fuel prices transportation and distribution cost is increasing, change in labor cost also impact the pricing of the products.
Reduced Margins due to Competition: There is a lot of competition in the skincare segment hence the company has to give discounts and offers this will reduce the margin of the product.
Opportunities in the SWOT Analysis of Ponds – Ponds SWOT Analysis
Rural Market Penetration: Rural People are not aware of skincare creams and powders. They don't use such products hence the company must use an aggressive marketing strategy in rural areas to promote their products.
Market potential- Market Potential for Skincare and Talcum Powders is growing. Developing economies are evolving as new markets for Ponds. Exploring these new markets would provide Ponds with greater revenue down the road than remaining in the same crowded markets.
Product Range: Expanding the product line as well as adding additional products in the product mix would result in the expansion of the full product mix-something that will also be the goal of HUL.
Care for men – Caring for men's skin is a successful investment for Pond, one of the only openings in the industry. Gillette and Nivea are already here and Pond's can also make their mark.
Cold cream – The cold cream market is another field that has a great deal of promise and one totally dominated by Nivea. Ponds must enter this market with further marketing and advertisements in order to maximize brand reclamation. This would translate to higher sales and therefore higher margins.
Anti Aging: Ponds is competing with Olay's anti-aging cream. Ponds had the upper hand in the beginning, but Olay quickly took over with intelligent marketing tactics. But Pond's can formulate strategies to capture this segment and use this as an opportunity.
E-commerce – Ponds has an E-commerce advantage over its competitors. A lot of its products are sold through E-commerce platforms. Due to this, consumers can easily find Ponds products online.
Threats in the SWOT Analysis of Ponds – Ponds SWOT Analysis
Competition – Competition is a big challenge today to any Skin Care brand so strong that each brand must protect its core strength and tackle the other vulnerabilities. Ponds is facing tough competition from Nivea, Cinthol, Yardley, and other national and international brands.
Use of Brand Ambassadors – In the Skin Care industry Ponds is a distinguished brand due to the wise use of brand ambassadors. But other players can use this strategy and easily compete with Ponds.
Competitors Pricing: Competitor's pricing and strategies can be a major threat to the company.
Government Policies: Government Policies and regulations can directly affect the manufacturing and sales of Ponds.
If you like this article please like our Facebook Page PROJECTS4MBA
Cite This Work
Referencing Style to cite this article:
[citationic]