SWOT Analysis of Pidilite Industries Limited – Pidilite SWOT Analysis focuses on Strengths, Weakness, Opportunities, and Threats. Internal Factors in the SWOT Analysis are Strengths and Weaknesses and External Factors in the SWOT Analysis are Opportunities and Threats.
SWOT Analysis is a proven management tool that helps Pidilite Industries Limited to assess its market and its success against rival companies. Pidilite Industries Limited is the market leader for Adhesives and glues.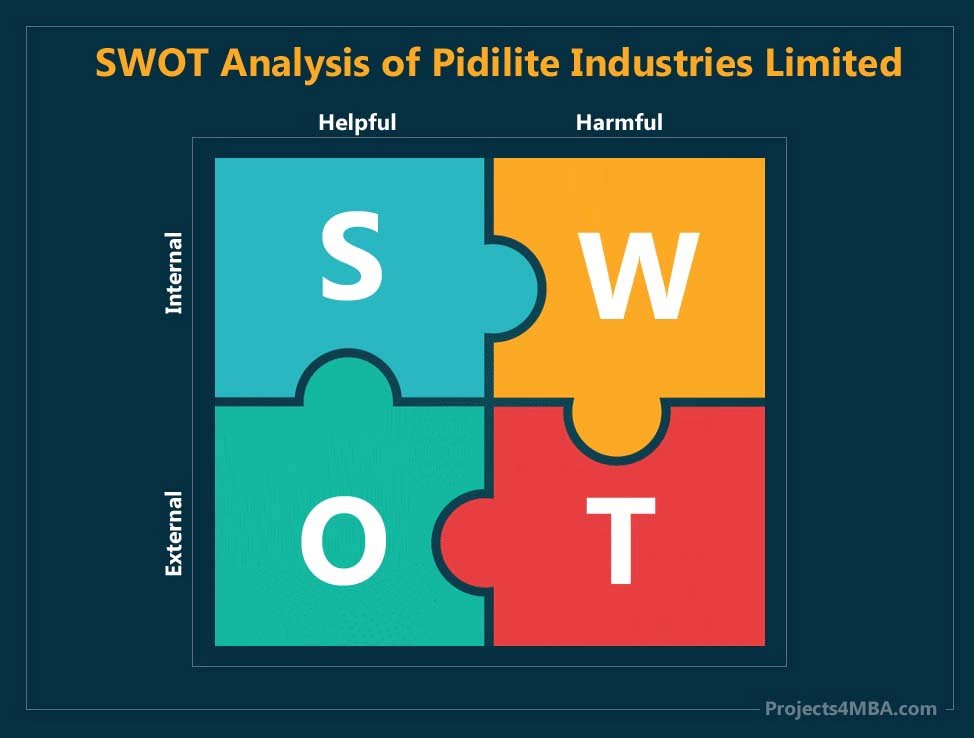 Pidilite Industries is a company based in India that operates in the Adhesive, Sealant and Water proofing solutions. Some of Pidilite's flagship products, a market leader in the adhesive products segment, include Fevicol, Dr. Fixit, Motomax, M-Seal, FeviKwik, and Fevistick. Fevicol adhesive is a popular brand in India. Fevicol is having the maximum market share in Adhesive Market and available in many variants.
Pidilite products include adhesives, waterproofing solutions, sealants, polymers, industrial resins, arts & crafts building materials, and more. The business has been operating since 1959 and company is growing year by year. Company has a monopoly market.
H.Q. of Pidilite Industries is in Mumbai and has manufacturing facilities at seven locations across India. The company markets its adhesive brands in different regions of South East Asia as well as in other parts of the world apart from its home country. Let's do SWOT Analysis of Pidilite Industries Limited.
Strengths in the SWOT Analysis of Pidilite Industries Limited – Pidilite SWOT Analysis
Strengths are the internal factors company posses for the growth. Strengths define the upper hand of the company over its competitors. Pidilite Industries Limited strengths are as follows.
Market leader in adhesives: Pidilite's greatest strength is its market supremacy in the adhesive field in India thanks to its flagship brand Fevicol. The adhesive market in India is growing at a rapid pace and India has a market of 5 Billion US Dollars. 68% Market Share is captured by Pidilite Industries Limited.
Strong Branding Strategy: The Fevicol brand has been able to place itself as a trustworthy brand in the customer's mind through various promotional methods. Via consistent messages sent across a wide range of channels the brand was able to gain Indian customer's trust and developed gradually into a household name.
Wide variety of products in the chemical sector: The Company has something to sell in most sub-categories of consumer chemicals such as adhesives , sealants, waterproofing solutions, building materials, industrial resins and even arts and craft materials.
Heavy emphasis on research: The product range is still continuously changing, with new products being frequently launched.
Deep Network of Suppliers and Distributors: The Company is well networked and has a broad distribution chain across the country that lets it reach out aggressively to clients. Even this works as a power.

Weaknesses in the SWOT Analysis of Pidilite Industries Limited – Pidilite SWOT Analysis
Weaknesses are used to refer to places where change is required in the company or brand. Some of the Weakness of Pidilite industries are:
Excessive emphasis on consumer chemicals: The Organization is mainly engaged in the consumer chemicals market, which can be viewed as a specialized field with a great need for research in order to promote innovation.
Over-dependence on Fevicol, M Seal & Dr. Fixit: The Company is disproportionately dependent on the Dr. Fixit, M-Seal and Fevicol for more than 75 per cent of its sales. But placing all the eggs in the same basket can, in the long run, be harmful to the company's financial health.
Work outsourcing to partners: The Company has a large research and development team in the field of construction materials, adhesives and sealants only. The remainder are turned over for businesses to purchase.
Increasing Reliance on Acquired Brands & Partners: In most other domains Pidilte looks for research support acquisition. This is a weakness in terms of creativity, as it greatly restricts the business and increases its reliance on acquired products.
Opportunities in the SWOT Analysis of Pidilite Industries Limited – Pidilite SWOT Analysis
Opportunities apply to those environmental avenues that surround the company on which it can focus to raise its returns. Opportunities for Pidilite Industries are:
Project Parivartan: The Organization has initiated a new Project Parivartan initiative that will update the supply chain system and aim to streamline costs from warehousing to transport.
New Branding Strategies: The Company has taken Amitabh Bachchan as its brand ambassador and this move is expected to boost its brand value, as this campaign will also be backed by strong digital and social media promotion.
Global Brands acquisitions: Pidilite has signed a contractual agreement with WD-40 Corporation, a multinational marketing agency, to oversee the selling and distribution of its WD-40 Multi-Use drug. This product has a variety of maintenance and repair applications and the company may also use WD-40's popularity to market their goods in the home building and adhesive verticals.
Threats in the SWOT Analysis of Pidilite Industries Limited – Pidilite SWOT Analysis
Threats are those environmental factors which can be detrimental to business development. Some of the Threats are :
Low growth in the adhesive sector: Pidilite is over-dependent on the adhesive and sealant market, which posted an annual growth of 4% and is expected to slow down as it has been affected by macroeconomic fluctuations.
Weak growth in the chemical industry segment: revenue growth has also decreased in other markets, such as paint chemicals and art & craft supplies, suggesting that the business will need to look at the current survival product categories.
Real Esate Slump: Revenue growth in the waterproofing solutions of domestic subsidiaries suggested a rapid decline due to the downturn in real estate.
Reliance on other low-growth sectors: Many of Pidilite's product segments are dependent on industries such as manufacturing and construction which have recently faced periods of low demand. This may ultimately become threats to the enterprise.
Government Policies are regulations: Change in Government Policies regarding use of chemicals can directly effect the manufacturing of the company.
Entry of Competitors: Company has a monopolistic market for its products but new entrants can be a major threat for the company.
If you like This Article Please Like our Facebook Page PROJECTS4MBA
Cite This Work
Referencing Style to cite this article:
[citationic]