SWOT Analysis of Pfizer focuses on strengths, weaknesses, opportunities, and threats. Pfizer is one of the largest medicine and vaccine producing companies. The strengths and weaknesses of Pfizer Swot are internal factors, while opportunities and risks are external factors.
SWOT Analysis is a validated management tool that enables a company like Pfizer to measure its business & performance with competitors and the industry.
Pfizer is the world's largest company involved in the pharmaceutical business. Pfizer is a fortune 500 company headquartered in New York. Pfizer is a manufacturer of vaccines and medicines. Pfizer has medicines for cardiology, oncology, endocrinology, immunology, and neurology diseases. In the year 1849, it was established. Charles F. Erhart and Charles Pfizer, are the founders of Pfizer. Pfizer started its business as a manufacturer of fine chemicals. SWOT Analysis of Pfizer will illustrate the internal and external factors which influence the business of the company.
Pfizer makes and distributes drugs and vaccines for a wide range of prescription products and satisfies a wide range of specifications.
Pfizer has won several honors and awards for its achievements. Pfizer was also awarded for the supply of revolutionary generic drugs and medicinal products.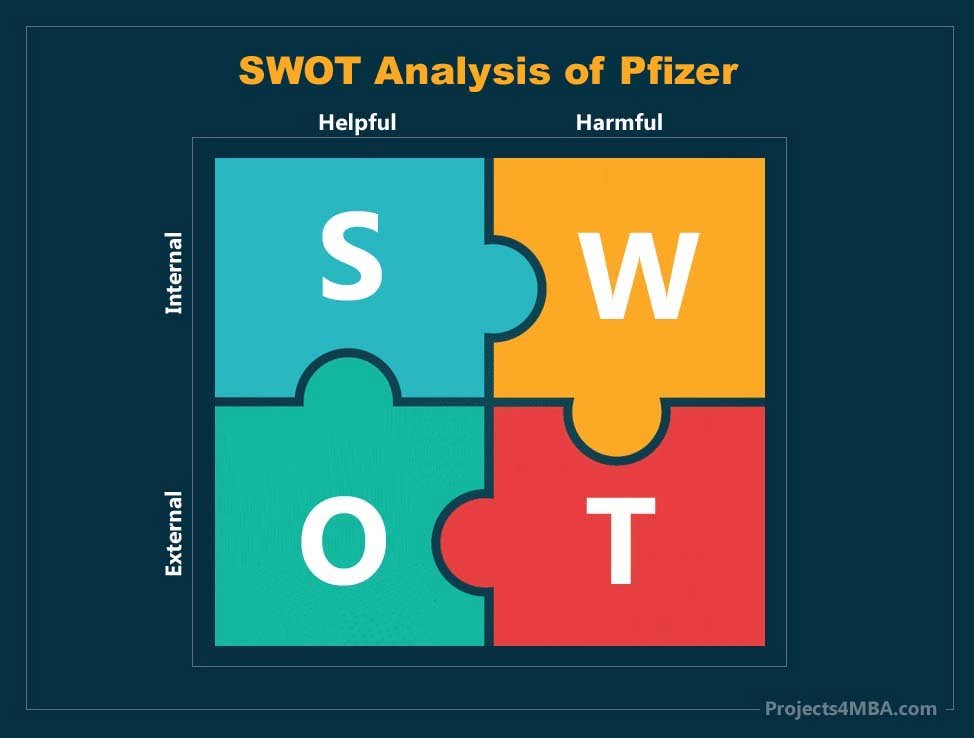 Strengths in the SWOT Analysis of Pfizer – Pfizer SWOT Analysis
Pfizer's operating divisions are Specialty Care, Primary Care, Emerging Markets, Oncology, Established Products, Nutrition, Consumer Healthcare, Capsugel, and Animal Health.
Pfizer has many patents. Prevnar 13 is the Pfizers best-selling vaccine in the world.
Pfizer is the biggest pharmaceutical company in the US pharmaceutical industry. It is one of the businesses in the Fortune 500.
One of the industry's market leaders. In 2019, it generated revenue of US$51.75 billion.
Pfizer is among the oldest pharmaceutical companies in the industry, it has developed a deep knowledge base in its markets.
Pfizer has a long historical tradition of manufacturing and distributing drugs for healthcare.
Staying on the market for a long time (founded in 1849), it gathered a broad knowledge base about the company.
The organization or promotion of drug makers is tied to the prestige it receives.
Pfizer has a large R&D department. Pfizer is spending approx 8.1 billion USD for Research and Development.
Pfizer is the second-largest Pharmaceutical company in the world. There are 180 countries where Pfizer works. Through doing this, it has ensured a strong global footprint.
Pfizer has around 88300 employees. Pfizer is spending a lot of money on training employees. Trained employees are motivated and help to increase the productivity of the company.
Pfizer has one of the largest distribution channels among pharmaceutical companies.
Weaknesses in the SWOT Analysis of Pfizer – Pfizer SWOT Analysis
Compared to its competitors Pfizer spending less in Research and Development. It can make Pfizer weaker as the Research & Development is the heart of a pharmaceutical company.
Not compromising on pricing is the main weakness of Pfizer.
Opportunities in the SWOT Analysis of Pfizer – Pfizer SWOT Analysis
Pfizer Products are high in demand across developed countries. People are becoming more health-conscious. This could boost healthcare sector sales.
To expand the business, Pfizer can acquire more companies.
Strategic alliance with other firms would create space for further business in developing countries where local pharmaceutical businesses are the key competitors.
Portfolio diversification can increase or further increase profitability.
Pfizer has developed a vaccine for the Coronavirus and this can be a great opportunity for the company to generate huge revenue and generate a good brand image in the world.
Increasing health awareness can be a great opportunity for the company.
Improvement in distribution network & brand building.
Increasing demand for immunity products can be fulfilled by the Company to generate more profits.
Sanitizers and germ killers can also be produced by the company.
Threats in the SWOT Analysis of Pfizer – Pfizer SWOT Analysis
FDA Regulations can be a major threat.
The fluctuation of Exchange rates can be a major threat.
The economic slowdown in the world can be a major threat.
Government Regulation can also be a major threat.
Competition with other companies can also be a major threat.
Increasing fuel prices may directly or indirectly affect the distribution network and pricing of the vaccines.
In the pharmaceutical industry, there is rising competition.
Price wars between competitors can lead to pressure being reduced by price. In the future, it will lower the profit margin.
In the healthcare market, there is intensive government regulation. So perhaps Pfizer is creating a new product, but in the region, a government regulatory board does not want to approve that product.
In developing countries, an economic recession can happen and there can be a decrease in sales.
Negative publicity for every company has always had a negative effect on the public identity.
Substitute products at a cheaper price can result in a decline in sales.
If you like This Article Please Like our Facebook Page PROJECTS4MBA
Cite This Work
Referencing Style to cite this article:
[citationic]