SWOT Analysis of Peter England focuses on strengths, weaknesses, opportunities, and threats. SWOT Analysis of Peter England is done to analyze the Internal and External Factors. Internal Factors are Strength and Weakness and External Factors are Opportunities and Threats.
Peter England becomes the popular fashion brand that was established in Ireland in 1889. At the time of the Boer War, it was introduced to supply British troops with fine khaki trousers. Over the years, the company has also made its entrance into the Indian industry. During the year 2000, this company was purchased by the Aditya Birla Group and became India's leading Menswear brand.
This company has been ranked among the top five most influential brands in the apparel industry for almost seven consecutive years. Holding a fashion trend in line, Peter England offers apparel that caters to every fashion opportunity in professional life. Having a deep interest in authenticity, this brand has become the most respected and responsible foreign brand to offer unmatched value to many young Indian people.
Having a strong presence in formal and casual wear for people, this company offers an creative range of specific clothing categories such as jeans, seasonal wear, linen, kurtas, accessories and more. The firm has its operating operations in around 150 cities and more than 700 brand outlets.
The company also offers comfortable workplace and casual wear across the numerous sub-brands of Peter England Products. The sub-brand Peter England Elite is the manufacturer of Luxury Formal Wear.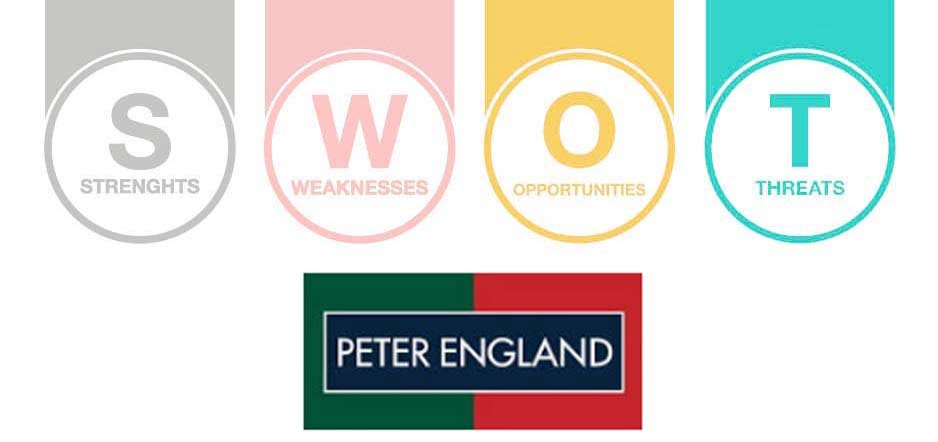 Strengths in the SWOT Analysis of Peter England – Peter England SWOT Analysis
Various types of apparel – Peter England offers apparel that is suitable for the workplace and people who want a sense of style in their clothes. It contains a number of lines, such as Peter England, the largest menswear brand, Peter England Components, which is casual office wear, and Peter England Elite, which is a luxury office wear.
Good Brand Image – The Peter England market is very successful and has a high brand recognition amongst the people.
Most Respected Clothing Company – the Peter England company has been named India's most popular clothing brand. The brand's clothing is a class in society.
Fashion Brand – Peter England offers luxury and international apparel to consumers and is available at all locations.
Occasion Driven Fashion – Peter England has attire that fits multiple events, such as formals, weddings, and parties.
Popular Menswear brand – Peter England is one of the biggest menswear companies and is expected to sell about six million garments per year.
Awards and Acclaim – Peter England also won several awards over the years, including Best Men's Performing Brand Formal, Casual Wear and Consumer Satisfaction Summit in 2017, Best Marketing Campaign in 2015, and Most Respected Company in 2014.
Greater number of purchasing orders – Peter England has a large number of purchase orders, which is a big boost to the company.
Clothing is always up-to-date – Peter England's clothing is always up-to-date with the new trendy trends to suit consumers ' needs.
Rewards Plan – Peter England has a creative and effective incentive system that helps regular buyers to receive points for any order.
Online Presence – The products of the brand are accessible online on their business website. This makes it convenient for shoppers to shop everywhere.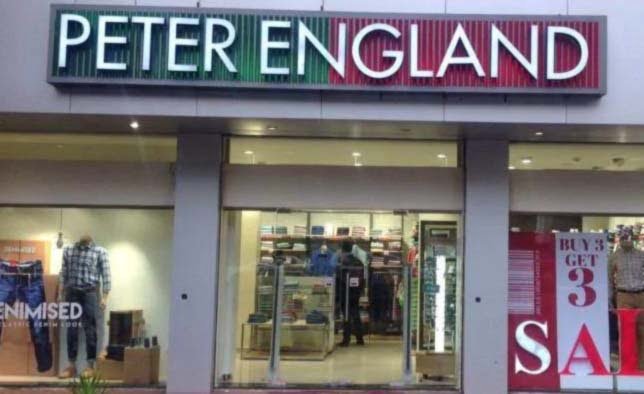 Weaknesses in the SWOT Analysis of Peter England – Peter England SWOT Analysis
Small Global Footprint – has a restricted global reach relative to the other multinational company.
Powerful competition – The Peter England brand has a lot of rivals in both Indian and foreign markets. Such brands give most to consumers and thus there is a strong chance of a change of name.
Opportunities in the SWOT Analysis of Peter England – Peter England SWOT Analysis
Indian Wear Growth Potential – Peter England can expand its business to further grow Indian wear. This will encourage them to service customers who have been looking to wear Indian clothing for a variety of occasions.
Peter England to expand High Price clothings – Peter England will look to expand the product line to the higher price category of fashion or textiles.
Increase Global Footprint – The company should consider opportunities to extend its overseas market that will boost brand growth.
Mobile App – The company should have a smartphone app on both channels that can help the business expand as more and more customers continue to use their apps to buy.
More Structured Business Suite – The organization should create more formal business suites to increase brand awareness.
Threats in the SWOT Analysis of Peter England – Peter England SWOT Analysis
Emerging Brands – Many different products that have come into posing a significant challenge to the Peter England brand due to a common form of pricing.
Local labels with common trends – Several identical trends are available at cheap rates in many other local or ethnic products. It's a major challenge for the company.
Imitation Product – Inexpensive imitation of the actual product is often a significant challenge to the company.
Socio-economic – The effect of the economic downturn is a significant threat to the company, as consumers may delay their transactions to cover increased costs.
Government policy – Shifting government policies will have a major effect on companies.
If you like This Article Please Like our Facebook Page PROJECTS4MBA
Cite This Work
Referencing Style to cite this article:
[citationic]