SWOT Analysis of Lux focuses on Strengths, weaknesses, opportunities, and threats. Strength and Weakness are internal factors and Opportunities and Threats are the external factors that influence the SWOT Analysis of Lux.
Lux is a 100-year-old soap brand that comes from the arsenal of Unilever, one of the world's largest FMCG companies. Lux is a multibillion-dollar brand that has risen to the top of many markets because of its distribution, promotion, and pricing policies.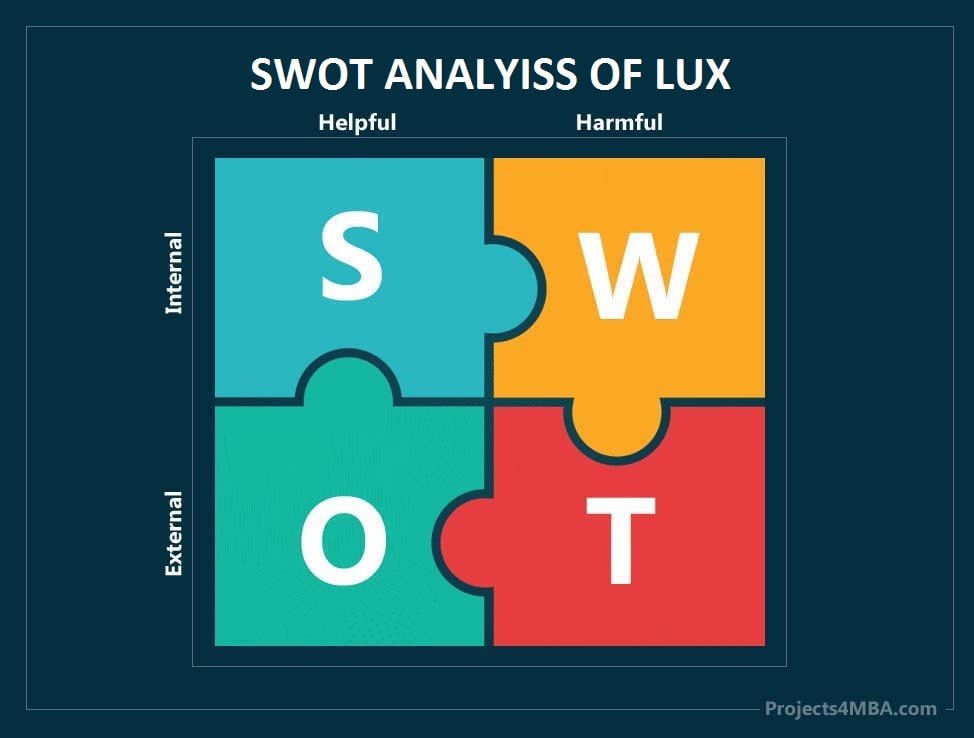 Strength in the SWOT Analysis of Lux – Lux SWOT Analysis:
Strong Global Brand: Lux is a global brand of Unilever. Lux was primarily promoted and marketed in India, Brazil, South Africa and Thailand.Lux is a 100-year-old brand that has survived for so long due to the trust and credibility it has earned from its customers. Unilever's Lux brand is one of its most powerful.
Large Market Share: Lux has captured a large market share in many countries and is a market leader in the personal care soap segment in countries such as India, Pakistan, Brazil, Thailand, and South Africa. Lux has negotiating power due to its strong market position.
Global Presence: Lux has a strong global presence, with a presence in over 100 countries and every diversified market on the planet. It has established key markets in emerging markets such as India, China, Brazil, and South Africa, among others, where consumer spending is increasing.
Good Distribution: Lux is driven by Unilever's global distribution system, which ensures that Lux is present in all parts of the markets in which it operates; Lux has focused specifically on increasing its presence in rural markets.
Variants: Lux is available in a variety of variants around the world, and it has recognised that preferences will change as geographies change, so it has also developed some localised variants for local markets.
Brand Extension: Brand Lux was extended by Unilever to shower gels, bath additives, shampoos & conditioners.
Strong Support of Unilever : Lux is under then umbrella of Unilever. Unilever is a huge supporter of Lux. Unilever provides a strong backing for finance for Lux.
Brand Ambassadors: There are many Filmstars and Celebrities who are endorsing Lux.
Weaknesses in the SWOT Analysis of Lux – Lux SWOT Analysis:
Unisex Appeal: Lux is positioned as beauty soap and is thought to be a soap only for women, so it lacks a unisex appeal to entice men to use it.
Less Penetration in Rural Market: Although Lux is attempting to expand into rural markets, it does not appeal to the rural market, owing to the way Lux's communication is designed.
Controversies: Some of Lux's advertisements have received criticism from viewers, particularly the one featuring Shahrukh Khan in a bath tub. Such controversies have an impact on Lux's brand image.
Opportunities in the SWOT Analysis of Lux – Lux SWOT Analysis
Growth of Personal Care Industry: The personal care industry is expected to grow in emerging markets such as India and South Africa. Lux is poised to benefit from rising consumer spending on personal care products, owing to its extensive global distribution.
Demand of BodyWash: The liquid body wash market is expected to grow globally, so Lux should focus on developing new body wash variants and expanding product penetration.
New Trends:The new trends in consumer behaviour will open up new markets for Lux. This has given a great opportunity for the organisation to expand revenue streams and to diversify into new product categories.
Offers and Schemes: In order to maintain its market leadership, Lux should introduce more sales and trade promotional schemes into the market.
Expand into rural markets: Lux has the potential to capture rural markets in India, Pakistan, and African countries. In order to capture the rural market, Lux must expand its product penetration into rural markets and develop a communication strategy.
Threats in the SWOT Analysis of Lux – Lux SWOT Analysis
In House Competition: As a Unilever product, Lux competes with in-house products such as Pears and Dove. Despite the fact that the products are all positioned differently, they are all cannibalising each other's market.
Intense competition: In the personal care industry, there is already a lot of competition from both local and multinational brands. In recent years, competition has increased rapidly, reducing Lux's market share. For example, Sri Sri, Himalaya & Patanjali's entry into India has had a significant impact on the personal care market.
Consumer Preferences: Consumer preferences around the world are changing, and brands are expected to adapt to these changes. Lux is overly focused on being a beauty soap, so shifting preferences may have an impact on Lux's market.
Lack of Skilled Staff: Lack of skilled staff is a threat to steady growth of profits of Lux in certain global markets.
If you like this article you can recommend your friends about PROJECTS4MBA.COM
If you like This Article Please Like our Facebook Page PROJECTS4MBA
Cite This Work
Referencing Style to cite this article:
[citationic]