SWOT Analysis of Kansai Nerolac Paints focuses on Strengths, weaknesses, opportunities, and threats of the company. Strength and Weakness are the internal factors and Opportunities and Threats are the external factors which influence the SWOT of Kansai Nerolac Paints. Kansai Nerolac Paints Ltd is a prominent chemical industry with headquarters in Mumbai, India, established during the year 1920. It is the largest painting company in the industry and in decor. It is a large manufacturer of coatings and paints. The Kansai Nerolac Paints products are Industrial Coatings, Automobile Coatings, Marine Coatings, Protective Coatings, and Decorative Coatings. The company produces and supplies paint systems added to the process, electrical component finishing lines, material handling equipment, containers, bus bodies, and furniture industries.
The company had around five production plants for painting and another six or seven production contracts. At Jaunpur in Uttar Pradesh, Bawal in Haryana, Lote in Maharashtra, Hosur in Tamil Nadu, and Sayaka in Gujarat, the company's own manufacturing plants remain. The organization has partnered with many other business leaders with much technological cooperation.
A wide variety of products-Kansai Nerolac Paints provides large types of products. The company's key brand is a revolutionary technology product. The business sells exclusive goods that are eco-friendly. Decorative paints – interior and exterior wall paints, wood and metal surface paints, automotive coatings – top, transparent coats, touch-up paints, heat-resistant paints, auto-refinish products, underbody paints, and PVC sealants, performance coatings are the main products of this company.
Through this article let's think about SWOT Analysis of Kansai Nerolac Paints.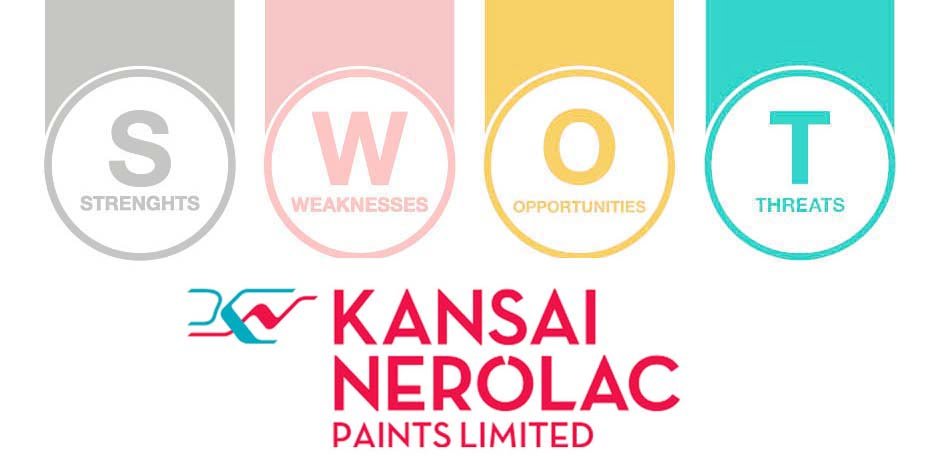 Strengths in the SWOT Analysis of Kansai Nerolac Paints
Large Business of Coatings and Paints – Kansai Nerolac Paints is India's largest coating and paint firm and is also a powder coating industry leader.
Tech-savvy – The company's technical innovation has helped to develop and better serve the customers.
Excellent Research and Development-Kansai Nerolac Paint's key attribute is its excellent R&D. The firm focuses more on research and develops new quality products to meet the requirements of the customer.
Branding and Marketing Strategy – The excellent branding and marketing strategy of Kansai Nerolac Paint has taken them to the top in the industry and to gain more recognition among the people.
Top customers in the list – The company has served many major automotive customers such as Toyota Kirloskar, Maruti Suzuki, Tata Motors, Ford, Honda, Yamaha, Volvo, Ashok Leyland, and so on.
Good supply chain – The business has an outstanding supply chain network to allow consumers access to the goods.
Celebrity ambassadors – Kansai Nerolac Paint is proud to have celebrities as its brand ambassadors to contribute to the company's growth.
Awards and accomplishments – Kansai Nerolac Paints has won multiple awards in a variety of different functions.
Weakness in the SWOT Analysis of Kansai Nerolac Paints
Change in consumer demand – The decorative paint industry is a look and feels one, where the taste and experience of the customer tend to change quite frequently. With the change in fashion, the goods quickly become obsolete. It is a major drawback for the company, like product planning and inventory problems will arise.
Kansai Nerolac Paint's business model-the the business model of Kansai Nerolac Paint can be easily replicated by its rivals. Therefore the organization would have to develop a development platform where manufacturers, suppliers, and end-users can be incorporated.
Costly Supply Chain and Logistics – Using the Internet and Artificial Intelligence, the Simple Material industry business model finds its way to become a market leader. Kansai Nerolac Paints supply chain must, therefore, be extremely costly in a robust way.
Opportunities in the SWOT Analysis of Kansai Nerolac Paints
Scope in New Products – Kansai Nerolac Paints has strong potential for developing new products that highlight the brand in a competitive environment.
Enhanced advances in technology – Technology improves manufacturing productivity, enabling manufacturers to manufacture more types of goods and services. This offers Kansai Nerolac Paints an opportunity to start pursuing new goods.
Opportunities online – Online services are growing and consumers prefer to take advantage of them very frequently. This also offers customers new products.
Low rate of inflation – Low rate of inflation brings with it greater price stability. It provides credit to the company's customers at a low-interest rate. This increases the consumption of the company's products thus offering them enormous opportunities.
New Products: New Products can be launched according to market demand and trends.
Offers on Bulk Purchase: Kansai Nerolac can capture the market by offering special discounts to Builders and Developers on bulk purchases.
Sanitizer Manufacturing: Company can enter to Sanitizer Manufacturing Industry as its demand is increasing and can be tapped easily and does not require extra licenses for the company.
Threats in the SWOT Analysis of Kansai Nerolac Paints
Changes in Regulations and Laws – Stringent guidelines and regulations on the quality of goods and production facilities are a major challenge to the operation of the company. Environmental policies are given more importance and the organization will need to constantly take care of that.
Raw material shortages – Raw material shortages and market volatility are also a major challenge to the company. Manufacturing is highly dependent on the raw materials; hence it gets affected when the raw material is unavailable or the prices keep fluctuating.
Competitor challenge – While Kansai Nerolac Paints is the leader in the paint manufacturing sector, it faces intense competition from both the local and international market.
Change in Government Policies : Any change in government policies regarding chemicals can directly affect the market of Kansai Nerolac Paints.
If you like This Article Please Like our Facebook Page PROJECTS4MBA
Cite This Work
Referencing Style to cite this article:
[citationic]