This article is on the SWOT Analysis of Johnson and Johnson. Johnson & Johnson is one of the world's leading brands for baby care and medicinal products. This article focuses on the SWOT Analysis of Johnson and Johnson.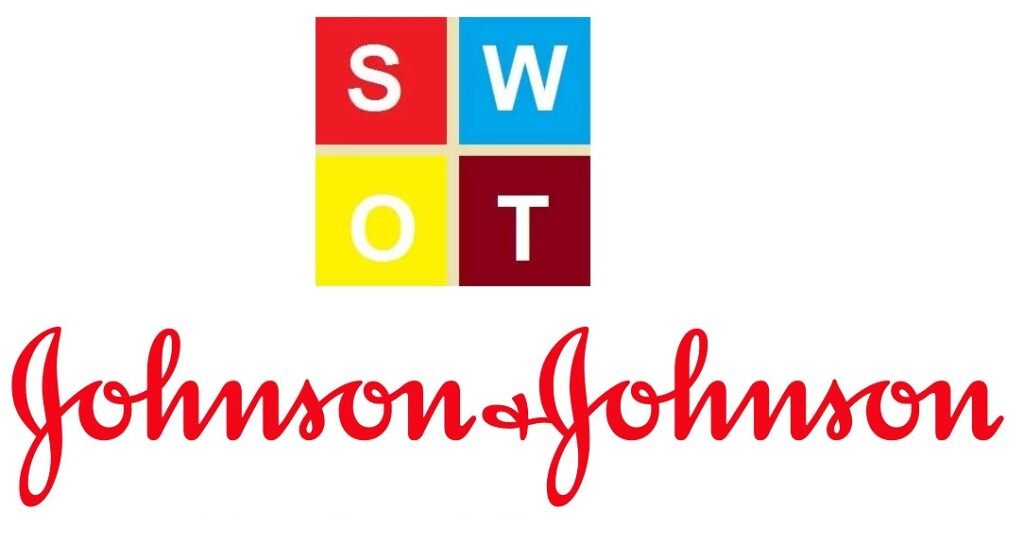 Established over a century ago as a family business, Johnson & Johnson expanded slowly and overcame the worst economic time to become the world's leading supplier of medical services.
Johnson & Johnson started off with just 14 employees who had experienced all the bad times and now employs around 126,500 people around the world.
As an innovative mind, Johnson & Johnson SWOT Analysis provides an invaluable ability to learn and develop the future empires.
Here is an in-depth Johnson & Johnson SWOT Analysis.
SWOT Analysis of Johnson and Johnson focuses on the strengths, weaknesses, opportunities, and threats of the company. This can be useful for the company to formulate strategies based on this SWOT Analysis. SWOT Analysis is a way to find the company's business performance.
This can be useful to analyze internal factors Strengths and Weakness and also to analyze the external factors threats and opportunities.
Strengths in the SWOT Analysis of Johnson and Johnson
Global Leader: Johnson & Johnson is the world's largest pharmaceutical company and it has more than 265 operating entities in more than 60 countries worldwide. It is a pioneer in medical equipment and diagnostics, pharmaceuticals, and consumer health products. Johnson & Johnson is among the world's most prominent firms. It impacts the economic well-being of many nations, including the US stock market.
Company Expertise: Johnson & Johnson knows with more than 130 years of expertise what the target market wants to fulfill completely. Getting greater expertise in health issues is a big asset and superiority over rivals.
Wide Product Portfolio: the position of Johnson & Johnson in every product segment is high. They have a wide variety of products and various brands to pick from which they can share a broad shelf area, which gives them good consumer exposure. Purell, Listerine, Tylenol, Destin, baby products, Clean & Clear, Visine, Band-Aid, Neutrogena, Acuvue Lenses, and Stayfree are the well-known products of Johnson & Johnson.
Strong CSR Activities: As a global citizen Johnson & Johnson has a full interest in public relations in issues affecting global health. The organization is still at the frontline of world health issues, from the United Nations Healthy Child Program to the Malaria Drive to the war against the virus with the US administration.
Strong Supply Chain System: Johnson & Johnson has a broad supply chain, ensuring every raw product is available, and finished goods are efficiently distributed to retailers, stores, and pharmacies worldwide.
Partnerships and collaborations: Most businesses often rely on making each profitable commodity, which can be costly. Johnson & Johnson is aware of how unsuccessful this approach is and opts for collaborators to produce extremely effective goods for experts in particular areas and fields of expertise.
Best Marketing: The marketing campaign of Johnson & Johnson relies on leveraging the intimate bond to build trust and enduring ties between moms and their products. The approach successfully produced the products and drew consumers worldwide.
Mergers and Acquisition: The more a business hits new and profitable markets, the more rapidly it expands. For quick and profitable development Johnson & Johnson strategically purchases and acquires large and small businesses.
Trusted company: Johnson & Johnson is a brand that many doctors & parents worldwide rely on. With increased emphasis on industry adaptations to local markets, Johnson & Johnson allowed them to satisfy customer demand.
Weaknesses in the SWOT Analysis of Johnson and Johnson
Law Suits: Lawsuits against Johnson & Johnson's harmful outcomes are estimated to cost about $15 billion. Lawsuit prosecution weakens trust and disfigures its credibility.
Business Diversification: The worldwide sales for Johnson & Johnson comes from three primary sources: medicine, medical equipment, and consumer products. Johnson & Johnson may suffer significant losses with all their eggs in one basket.
Overdependence on Successful Products: When a commodity has been launched and expanded to become an industry leader. The over-subsistence of Johnson & Johnson on Zytiga for $3.5 billion a year to 2018 when the Court approves generic drug variant purchases that lead to a sharp drop in sales.
Opportunities in the SWOT Analysis of Johnson and Johnson
Portfolio Rebalancing: Johnson & Johnson was willing to concentrate on rising sales of health-related products with medical devices and medicines contributing over 80% of overall revenues. Portfolio rebalancing will improve overall profits.
Acquisition: With acquisitions such as Tylenol, Johnson & Johnson's sales grew enormously during 2016 and 2020. Revenue can be increased more by acquiring more companies.
Focus on Emerging Markets: Around 57% of worldwide pharmaceutical revenues of Johnson & Johnson come from the United States. The company may concentrate in Latin America, Africa, and Asia on growing pharmaceutical revenues.
Target the Lower-Class: Johnson & Johnson was willing to launch a lower-class range of products or offer discounts on their drugs.
Business Utilization Potential: Incorporation of new biologics (e.g. therapeutic proteins, antibodies) into the company's portfolio will become a shield because small molecular patent applications lapse, thus leading to the further production of the company.
Change in Lifestyle: With the worldwide growth in literacy rates, the market for medicinal goods is growing due to health and medical conditions, which often support J & J.
Threats in the SWOT Analysis of Johnson and Johnson
Stiff Competition: The vast number of prominent multinational players competing against Johnson & Johnson challenges profits from Reckitt Benckiser to Unilever, Procter and Gamble, Abbott, and many more. If harsh rivalry continues to rise, Johnson & Johnson will lose a significant part of their market share.
Increase in Generics: Recently, sales of generic Zytiga variants were permitted in the market, and sales of Johnson & Johnson decreased. In the future, the viability and survival of the business will be threats more if generic products climb dramatically.
Stringent Regulation: With Johnson & Johnson selling their products internationally, they must comply with various government regulations. The business does not help with its record.
New Technologically Advanced Entrants: Innovative drug manufacturers are emerging rapidly from countries like India. If any company acquires the technological capacity to develop cheaper and more effective substitutes, retaining even most customers will be a challenge for Johnson & Johnson.
Intensified Fight against Drug Abuse: Drugmakers will contribute to the implementation of tougher regulations in the future in the opioid crisis in the USA. When states forbid Johnson & Johnson made drugs, this undermines the company's viability or even its survival.
Fighting harmful ingredients: Ingredients that could be carcinogens were frequently discovered by Johnson & Johnson products. Likewise, in the United States and other countries, these additives were forbidden. The brand profile of Johnson & Johnson was repeatedly influenced by these fights against toxic ingredients.
Negative Effects due to Drug Recall: Johnson & Johnson has recalled over 40 products. This has a negative effect on credibility, ability, and honesty.
If you like this article please like our Facebook Page PROJECTS4MBA
Cite This Work
Referencing Style to cite this article:
[citationic]