Honda Motors is a company that has been admired for the excellent vehicles it has provided us with since ages. Honda is a smart player on the market and is considered to be one step ahead of the market and hence the company has never suffered in its tenure for decades.
Lets Discuss the SWOT Analysis of Honda Motors.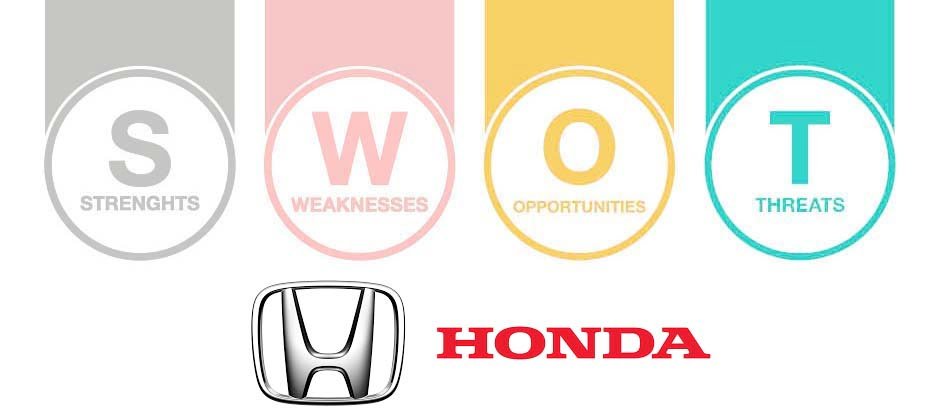 Strengths in the SWOT Analysis of Honda Motors – Honda SWOT Analysis
Largest manufacturer of motorcycles – There are many feathers in Honda motor cap but one of its greatest benefits is that it is the world's largest producer of motorcycles. It has a largest share of the motorcycle market.
The largest producer of internal combustion engines – Including motorcycles, Honda motors also have a major presence on the market for combustion engines used for aircraft, jet skis, yachts, or other heavy engine use.
Eight largest car makers – Honda Motors is now the eight largest automotive producers in addition to being the world's number one automobile manufacturer. It has a solid, localized portfolio of products.
Great R&D – One of the reasons Honda has managed to reach such heights is due to its emphasis on R&D and its R&D workforce. So Honda still comes up with sleek and innovative designs that are a success on the market.
High-tech products – Because Honda has high-tech products, the entry barriers are high and, hence, the brand has not been beaten in the last few years. When you combine Honda 's complete product portfolio, you'll understand how technically the firm is solid.
Over the years, brand value – Honda was able to offer hit goods after reaching the goods. The Honda Accord is one of the most loved cars and so is the Honda CRV. In motorcycles, there are many highly engineered items that put Honda well ahead in its brand image than a lot of its rivals.
Large employee base: Honda has given employment to 215,638 people. They are the real asset of the company.
Product portfolio-Honda 's product portfolio is massive. It has at least 100 types of cars and other automobiles, 100 types of bikes and scooters, it has power equipment such as generators, it manufactures high-quality engines, it has its own helicopters, mountain bikes, and all-terrain vehicles. Which also looks into hybrid and renewable-powered vehicles? As you can see, all of these products are technologically advanced and have their own brand value, coming from Honda's building.
Market share – As can be seen from the above points, Honda has a large market share of most of the goods it produces, owing to its manufacturing advantage.
Good Engine Quality of Vehicles.
Weakness in the SWOT Analysis of Honda Motors – Honda SWOT Analysis
High Manufacturing Costs– Obviously, with a strong R&D budget and state-of-the-art technology, commodity costs are high and end-customer prices are often high. It may be Honda's vulnerability but it has to have its vulnerability because by reducing prices it can not reduce its brand value.
Upper Middle Class are Target Customers – A common criticism for Honda cars is that cars are only for the upper-middle class and Honda wants more car portfolio for the lower middle class already targeted by other car manufacturers such as Hyundai and Maruti.
Indian hero and honda separation – Honda engines suffered badly, at least in India, when Hero and Honda split. Honda has had to replan her involvement in India as a result.
Opportunities in the SWOT Analysis of Honda Motors – Honda SWOT Analysis
Electric and alternative fuel vehicles – This section is oriented towards the future of the automobile industry where people will be seeking the use of renewable energy as fuel such as petrol and diesel and CNG have their limits.
Increasing vehicles – Growing the number of cars around the world. Most of the reasons for this are the rise in individual buying power, another is that owning a motorcycle or a car now is a social standard. Consumption is now at an all-time peak.
Expansion in developed countries – Due to increased buying power and easy car loads provided by banks, automobile purchases are growing, especially in developing countries. Honda needs to take full advantage of this upsurge in demand and rapidly seize the market.
Market expansion – two strategies widely employed by car producers are introducing more products to the inventory and creating more models to expand the product line. A lot of considerations need to be performed before a new concept is introduced. However in a competitive market , product expansion is the secret to rising.
Threats in the SWOT Analysis of Honda Motors – Honda SWOT Analysis
Competition – Competition by local and regional or national players in each of the countries in which it is present dent Honda 's revenues.
Fuel prices – While people now have more money to purchase vehicles, increasing fuel costs are worrying us and are one of the reasons why many people are still reluctant to buy vehicles, since later on the fuel costs charged are more than the cars.
Rising transportation and other costs – Transportation as well as production and labour costs are one of the things that plagues all car manufacturers. These costs are still on the rise with inflation, and are always a problem.
If you like This Article Please Like our Facebook Page PROJECTS4MBA
Cite This Work
Referencing Style to cite this article:
[citationic]