SWOT Analysis of GlaxoSmithKline focuses on Strengths, weaknesses, opportunities, and threats. Strength and Weakness are the internal factors and Opportunities and Threats are the external factors which influence the SWOT Analysis of GlaxoSmithKline.
GlaxoSmithKline (GSK) is a multinational pharmaceutical and consumer health product Company located in Brentford in the UK. In comparison, the organisation has a number of areas of the globe and has activities in over 100 nations. GSK is looking forward to expanding its product line by research and growth. GSK is the oldest pharmaceutical company in India. It has a wide range of prescription medicines and vaccines. GSK is producing medicines for dermatology, gynaecology, oncology, cardiovascular and diabetes. In India GSK as 3500 employees.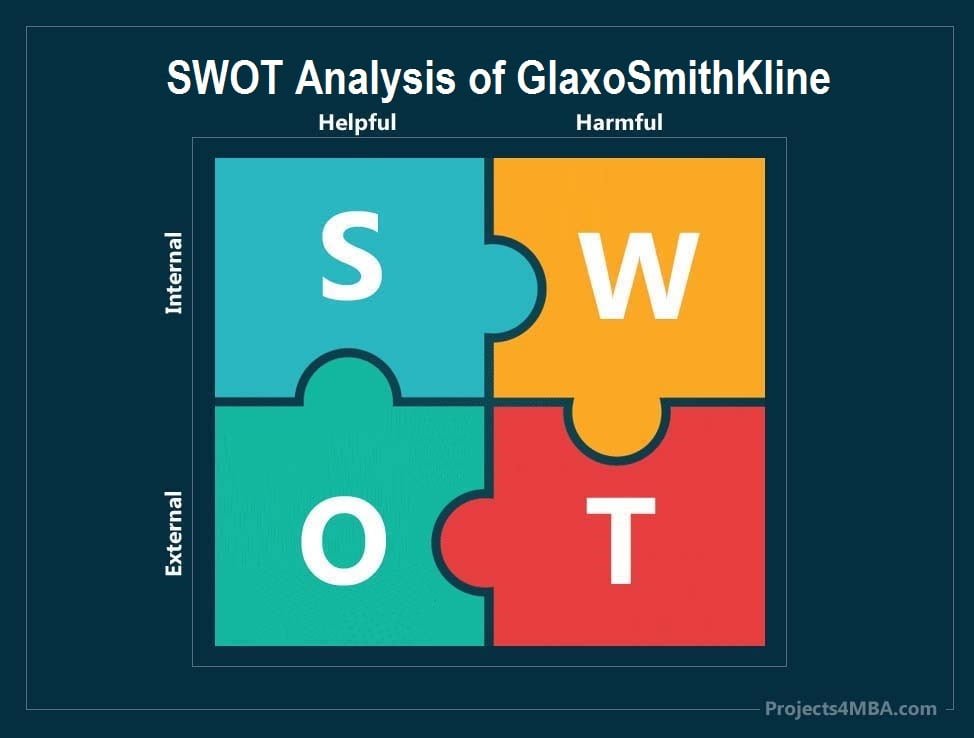 Strengths in the SWOT Analysis of GlaxoSmithKline – GlaxoSmithKline SWOT Analysis
Research and Development: Good Research and Development helps in portfolio expansion. GSK has invested time and money in research and development. GSK manufactures preventive or life-saving drugs such as cardiovascular and respiratory disorders. GSK is a leading multinational pharmaceutical business.
Good Manufacturing Practices (GMP): GlaxoSmithKline follows GMP to manufacture medicines and health care products.
Distribution Network: GSK has strong distribution network in India as well as around the globe. An effective supply chain is essential to ensure production of its goods as well as the provision of its newest products to the consumer quickly.
Global Footprint: GSK is present in 100 countries and it is expanding in developing and developed markets.
Joint Ventures: GlaxoSmithKline and Novartis have joint venture that produces Vaccines. The joint venture helped both GSK and Novartis to improve their penetration rate, launch innovative drugs and expand market share.
Use of Technology: GSK is using state of art technology for manufacturing of drugs and health care products.
Product Innovation: GSK is still innovating. This is supported by the company's Pharmacists, R&D Experts, engineers and machinery which allow GSK in improving in quality, cost, packaging and higher efficiencies.
Good ROI: GSK is relatively successful at the execution of new products and it generates good profits through its existing business and established medicines and healthcare products. Company is generating good Return on its investments.
Good Training for its Employees: High level personal skills can be acquired through training and development programmes. GSK Inc is providing continuous training and development of its employees resulting in an enthusiastic and motivated team.
Weaknesses in the SWOT Analysis of GlaxoSmithKline – GlaxoSmithKline SWOT Analysis
Allegations: GSK has been convicted for wrongful deceptive policies, misleading claims for generic medications, and failing to disclose safety results. Due to these cases, the brand value of the company is ruined.
Competition from Generic Medicine Manufacturers: Most of the GSK product range is now completely open to competition from generic medication. Affect the revenues for GSK.
Opportunities in the SWOT Analysis of GlaxoSmithKline – GlaxoSmithKline SWOT Analysis
Acquisitions: Strategic acquisitions and partnership has proven to be successful. GSK's corporate development is attributed to organic expansion. Acquisitions and alliances enable GSK to grow and raise its market share.
New Markets: GSK has organization structure that can be expanded. GSK is looking for new markets to enter and increase its revenues.
Rising Demand of Pharmaceutical Products: Because of the rising demand for premium and advanced pharmaceutical products in developing nations like India, GSK will boost its bottom-line and top-line.
Threats in the SWOT Analysis of GlaxoSmithKline – GlaxoSmithKline SWOT Analysis
Price caps on drugs: The prices of medicines are governed by legislation in several countries. In India, a new cost reform bill has been proposed that may push down costs of certain generic drugs.
Intense Competition: There are many players in the Pharmaceutical industry especially generic medicine manufacturers. The rivalry in the industry is quite high and results in a "market war."
Government Rules and Regulations: Any change in government policies can directly or indirectly affect the profits of the company.
New Entrants: New entrants in the Pharmaceutical companies can also be a threat to GlaxoSmithKline .
If you like this article you can recommend your friends about PROJECTS4MBA.COM
If you like This Article Please Like our Facebook Page PROJECTS4MBA
Cite This Work
Referencing Style to cite this article:
[citationic]