SWOT Analysis of FLIPKART focuses on (S) Strengths, (W) Weakness, (O) Opportunities, and (T) Threats. Internal Factors in the SWOT Analysis are Strengths and Weaknesses and External Factors in the SWOT Analysis are Opportunities and Threats.
SWOT Analysis is a proven management tool that helps organizations such as Flipkart to assess the e-commerce market and its success against rival companies. Flipkart has been one of the leading e-commerce giants.
Flipkart is a top e-commerce company in India. There are very few Indian companies worth more than $2bn and Flipkart is worth more than $11bn as of today. Flipkart was established by Binny and Sachin Bansal in the year 2007. They have worked hard and took the company to great heights.
In this article we will discuss SWOT Analysis of Flipkart.

Strengths in the SWOT Analysis of Flipkart – Flipkart SWOT Analysis
India's Top Online Store: Flipkart is India's e-commerce giant and has a revenue of 6.1 Billion.
Subsidiaries of Flipkart: Flipkart has subsidiaries like Myntra, Jabong, PhonePe, Jeeves, 2GUD, and E-kart.
Experienced entrepreneurs: Ex-Amazon workers are creators of Flipkart, Binny Bansal & Sachin Bansal. Experience in e-commerce was fruitful for the owners of Flipkart and they have achieved great heights and bale to create a good brand image of the company.
High Brand Recall: Through TV advertising, online branding, and social media presence, Flipkart has established itself as a renowned e-commerce company in India. Brand events such as the "Big Billion Day" have greatly improved the company's brand recall.
Own Payment gateway & Logistic arm: Getting its own Logistics arm E-kart & Payment gateway Payzippy has helped the company manage its expenses. Thereby moving the benefits on to the end customers.
Exclusive & broad product range: By having exclusive rights to launch such items such as Moto, Xiaomi 10 Pro as well as divisions of personal designers in the category of clothes, the company has helped to distinguish and localize its items.
In House Brands: Flipkart is promoting it's in house brands. This will help Flipkart to achieve more profits.
Walmart Stake in Flipkart: Walmart has recently increased its stake and invested a huge amount in Flipkart to overcome the loss in the pandemic situation.
Tie-ups with Well Established Brands: Flipkart has tie-ups with Xiaomi, Philips, Realme, Nokia, Samsung, Oppo, Vivo, Motorola, etc.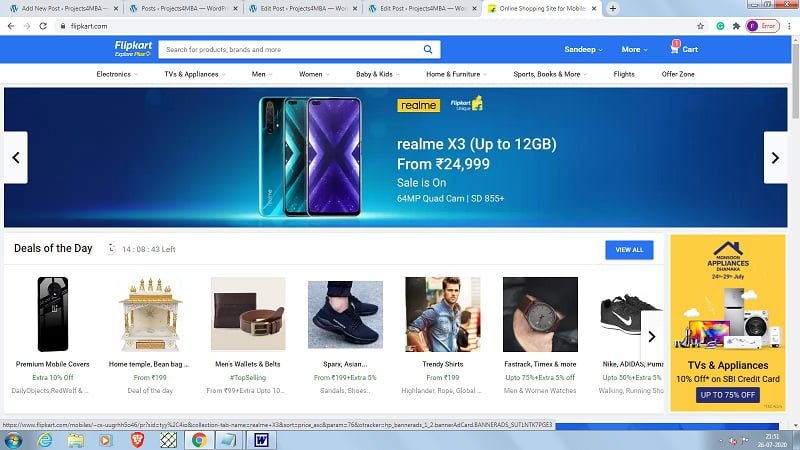 Weaknesses in the SWOT Analysis of Flipkart – Flipkart SWOT Analysis
Small channel distribution reach: while its logistics arm has kept the cost small, Flipkart 's weakness has affected scope. Global companies like Amazon & eBay will distribute the goods to anywhere in the world due to the use of outsourcing. Flipkart still struggles in this region, though.
Promotion cost: The Promotion cost is high because Flipkart is using aggressive promotional strategies to promote its products. Average spending of flipkart for promotion is Rs. 400 on each customer.
Power in buyers' hands: Since this market is filled with lots of competitors, consumers have a lot of choices to make. Customers often have lower switching costs, as they can quickly switch a service from one online shopping business to another. Many online shopping websites will feature the same items. Product differentiation is nearly absent and the struggle then starts only on the basis of price.
Opportunities in the SWOT Analysis of Flipkart – Flipkart SWOT Analysis
Business expansion: By targeting other emerging market businesses, they will boost their sales as well as have Scale Economies.
Expansion in Product Categories: This will boost its customer base and reduce acquisition costs and customer switching costs.
Changing Indian customer mentality: Due to Pandemic Situation, there is a shift towards online shopping.
Internet Usage: Increasing Internet Usage may change the attitude towards Online Shopping.
Supply chain: By managing their supply chain, they can compete with other players & handle the losing sales due to the distribution constraints of the product not being made available.
Establishing in other emerging economies: Like Amazon, Flipkart will start expanding gradually out of India and also set up operations in other countries that will help to increase revenues.
Threats in the SWOT Analysis of Flipkart – Flipkart SWOT Analysis
Competition: Stiff competition from multinational players such as Amazon, eBay as well as from local players such as Snapdeal, Tolexo, and Shopclues who are actively trying to steal a market share of each other.
Government controls on FDI problems in the multi-branding retail sector have been a big obstacle in India's e-commerce industry's success.
High Sellers Commission: Seller's commission is very high. If a company offers fewer sellers commission then sellers may switch to those e-commerce Platforms.
Government Control over distribution in restricted areas can also be a major Threat.
If you like This Article Please Like our Facebook Page PROJECTS4MBA
Cite This Work
Referencing Style to cite this article:
[citationic]