SWOT Analysis of Flipkart focuses on Strengths, weaknesses, opportunities, and threats. Strength and Weaknesses are internal factors and Opportunities and Threats are the external factors that influence the SWOT Analysis of Flipkart.
On any list of the best Indian online businesses, Flipkart would undoubtedly be at the top of the list. Flipkart is one of the few Indian companies with a market capitalization greater than 2 billion dollars, and the company is currently valued at more than 11 billion dollars. The company was founded in 2007 by the Bansal brothers, Sachin and Binny, who took it to dizzying heights during their tenure. Walmart, a U.S.-based retailing giant, acquired a 77 percent controlling stake in Flipkart for US$16 billion, valuing the company at approximately $20 billion at the time of acquisition. SWOT analysis of Flipkart is presented in this article.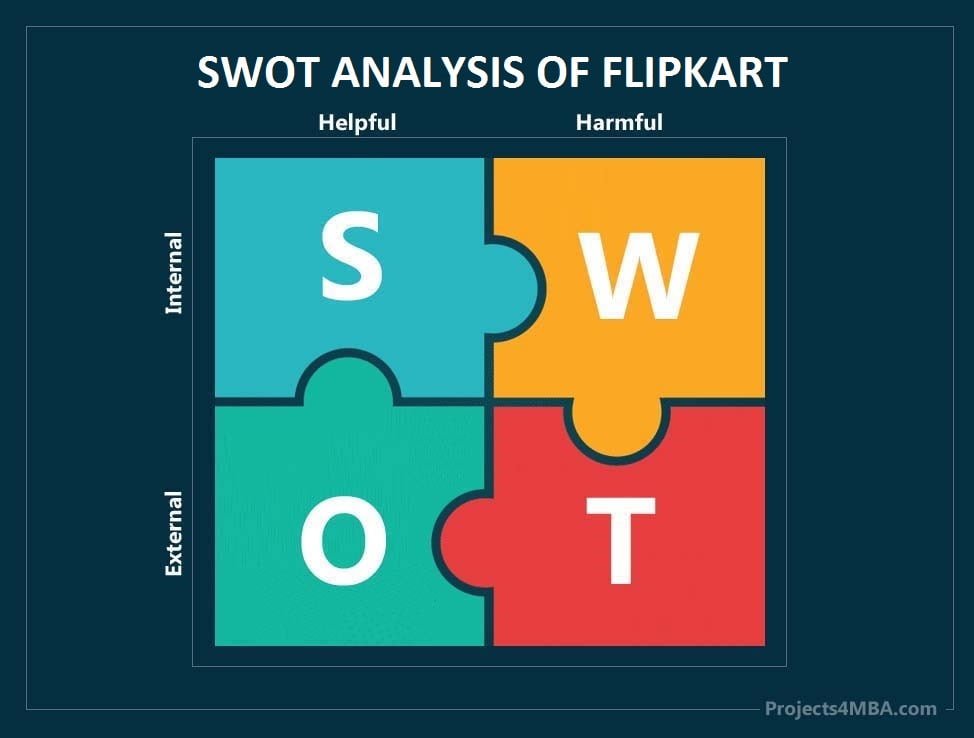 Strength in the SWOT Analysis of Flipkart – Flipkart SWOT Analysis
Large Company: Flipkart is India's largest e-commerce company, with a GMV (gross merchandise value) of $1 billion.
Market Share: Flipkart has a market share of 39.5%.
Financials: Flipkart has annual revenue of 6.1 billion US Dollars.
Financial Support from Wal-Mart: Flipkart has 77% stake in Wal-Mart a global retail giant. Whose Prior experience in the E-commerce industry aided the founders in strategizing and differentiating their business in a highly competitive market.
Acquisitions: The Company's series of acquisitions, including chakpak.com, weread.com, Letsbuy.co, Mine360, and Myntra, has assisted the company in its expansion into the E-commerce space by leveraging the capabilities and existing resources of acquired companies.
High brand recall: Flipkart has established itself as a renowned E-commerce company in India through television advertisements, online branding, and its presence on social media platforms. Brand activities such as the "Big billion day" have significantly increased the company's brand recall.
Own Payment Gateway & Logistics Arm: Having its own Logistics arm is advantageous. The company has been able to control its expenses through E-kart and the payment gateway Payzippy. As a result, the benefits are passed on to the end users.
Exclusive and broad product range: Having exclusive rights to launch some products, such as Motorola Mobiles, Xiaomi Mobiles, Oppo, Vivo, and personal designers segments in the garments category, has helped the company differentiate and localise its offerings.
Brand Portfolio: Flipkart has built a strong portfolio of brands. The SWOT analysis of Flipkart clearly confirms this element. This organization's brand portfolio can be extremely useful for them if they want to enter new product lines.
Launch New Products: Highly regarded when it comes to launching the new products.
Good ROI: Flipkart is relatively successful at the execution of new projects and it generates good profits through its existing business. Company is generating good Return on its investments.
Good Promotional Income: Flipkart charge extra for promoting products of its seller. This model always is beneficial for the company.
Large Employee Base: Flipkart has an employee base of 30,000+ employees.
Good Training and Development Programmes for its Employees: High level personal skills can be acquired through training and development programmes. Flipkart is providing continuous training and development of its employees resulting in an enthusiastic and motivated team.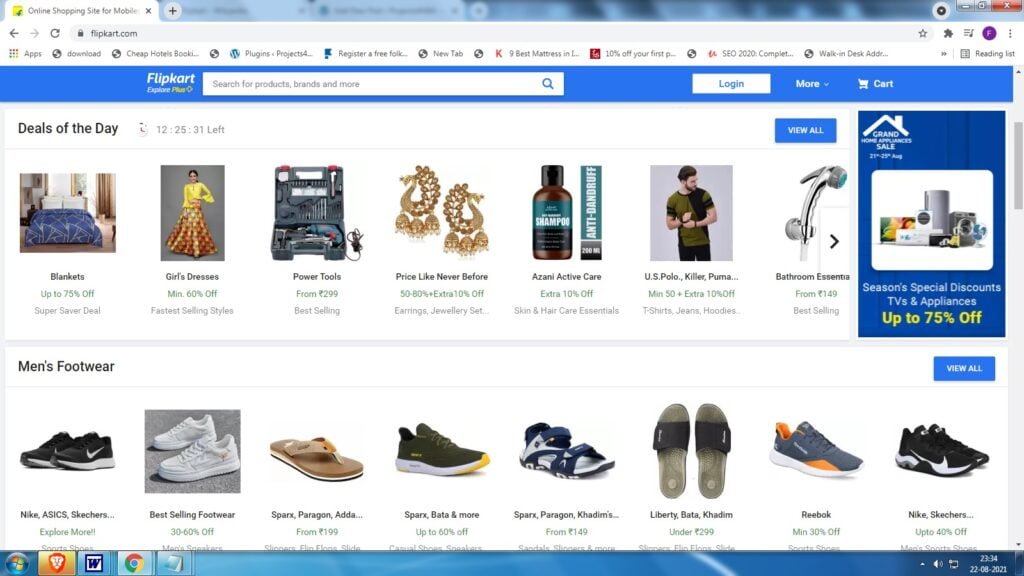 Weaknesses in the SWOT Analysis of Flipkart – Flipkart SWOT Analysis
Limited Distribution: Flipkart has a limited distribution channel reach, despite the fact that its logistics arm has kept costs low. This is a weakness for the company, as it has limited reach. Because of the use of outsourcing, global giants such as Amazon and eBay are able to deliver their products to any location in the country. Flipkart, on the other hand, is still struggling in this area.
Cost of Acquisition: Because Flipkart acquires a large number of customers through online advertising, the cost of acquisition is high due to stiff competition in the market and low customer retention. According to Flipkart data, the company spends R.s 400/- on average to acquire a new customer.
Buyers hold the power: Because this industry is flooded with a large number of players, buyers have a large number of options from which to choose. Customers save money on switching costs because they can easily switch from one online retail company to another. The same products will be displayed across multiple online retail websites. Product differentiation is almost non-existent, so the battle is fought solely on the basis of price.
Opportunities in the SWOT Analysis of Flipkart – Flipkart SWOT Analysis
Business expansion: By focusing on other emerging markets, a company can increase its revenues while also benefiting from economies of scale.
Expanding product categories: This will increase their customer base while decreasing the cost of acquisition and customer switch.
The changing mentality of Indian customers: As an increasing number of customers become more comfortable with online shopping, as well as an increase in the number of Internet users in India, there is tremendous opportunity in this industry.
Supply chain: By optimising their supply chain, they can compete with the other players and manage the sales that are lost as a result of not being able to make the product available due to delivery constraints.
Establishing operations in other developing economies: Similar to Amazon, Flipkart can gradually begin to expand its operations outside of India and establish operations in other countries as well, which will aid in the growth of its revenues.
Consumer Behaviour: The new trends in consumer behaviour will open up new opportunities for Flipkart. This has given a great opportunity for the organisation to expand revenue streams and to diversify into new product categories.
Threats in the SWOT Analysis of Flipkart – Flipkart SWOT Analysis
Intense Competition: There is fierce competition from global players such as Amazon and eBay, as well as local players such as Snapdeal, Tolexo, and Shopclues, who are constantly attempting to take market share away from one another.
Government Regulations: The government's regulations on issues such as foreign direct investment (FDI) in multi-brand retail have posed a significant barrier to the growth of the E-commerce industry in India.
If you like this article you can recommend your friends about PROJECTS4MBA.COM
If you like This Article Please Like our Facebook Page PROJECTS4MBA
Cite This Work
Referencing Style to cite this article:
[citationic]