SWOT Analysis is a validated framework that enables Ferrero Rocher to evaluate its business performance against competitors and the industry. Strength and weakness are the internal factors opportunities and threats are external factors.
SWOT Analysis of Ferrero Rocher explores the strengths, weakness, opportunities and threats. Ferrero Rocher is the most deliciously packaged and tastiest chocolates in the market.
Strengths in SWOT Analysis of Ferrero Rocher
Ferrero rocher's chocolates are considered to have the same flavour, whatever part of the globe you buy them, offering a quality and luxurious product.
Knowledge of the popular Ferrero brand
The distribution of this chocolate is great as it has spread far and wide and the boxes are accessible everywhere. The market share of packaged chocolates is immense.
Available in 3, 12, 18 and 24 piece packaging, the different package sizes are advantageous as you can change the sizes according to their meaning when gifting others.
Considered an ideal gifting product, very few chocolates were able to accomplish that because of the competition in that room. But in the gift room, Cadbury and Ferrero Rocher lead.
Because of its packaging, Ferrero Rocher earns instant customer recognition. Another point that is commendable is that the chocolate melts rarely and at very high temperatures, and the consistency is normal even at room temperature.
Available for both seasonal and special occasions in a number of new packages.
Two new brands, Ferrero Cappuccino and Ferrero Rond Noir, have been introduced by Ferrero Rocher.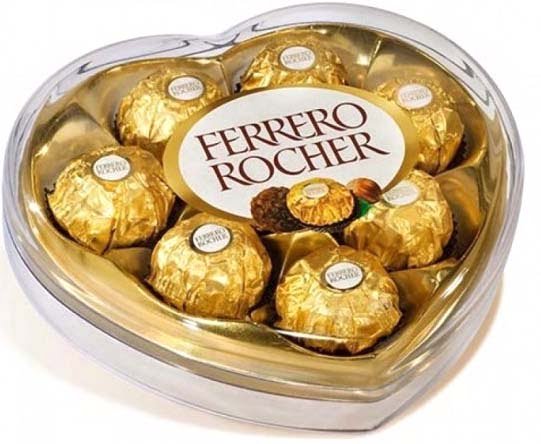 Weaknesses in SWOT Analysis of Ferrero Rocher
Highly priced- It is higher priced relative to other alternatives. But to achieve its premium image, that's normal, but it does affect turnover.
A major negative for Ferrero Rocher is that it is rarely marketed and thus, due to the effect on brand recall, it loses its market share to other rivals.
Perception of unhealthy chocolates in most masses
Easily inaccessible
Opportunities in SWOT Analysis of Ferrero Rocher
The launch of new flavours would help to gain greater market share
Advertising may be performed on the net or also on other media vehicles to boost demand in order to increase the use of the internet. This should make use of the latest surge of e-commerce.
Increase in demand for the impulsive pack of three pieces
Threats in SWOT Analysis of Ferrero Rocher
Ferrero Rocher imitation
High competition from other brands of chocolate
The trends in chocolate replacement for nutri-bars-a big challenge to Ferrero Rocher's likes, whose brand equity depends only on their chocolates.
Government Norms for Food and Confectionery Industry can directly impact the company.
If you like This Article Please Like our Facebook Page PROJECTS4MBA
Cite This Work
Referencing Style to cite this article:
[citationic]