This article presents a detailed SWOT Analysis of Dettol. SWOT Analysis of Dettol focuses on Strength, Weaknesses, Opportunities, and Threats. Strengths and Weaknesses are internal factors and Opportunities and Threats are external factors. SWOT Analysis provides a well-tested management methodology that enables Dettol in comparison with competitors and industry to assess its business performance.
Dettol is one of the top brands of Reckitt Benckiser. It is recognized as a household name and is the first product to be considered when an anti-septic liquid is required. In fact, a few years ago, for all anti-septic lotions, Dettol had become a common brand name. It is one of the most trusted antiseptic liquid.
One of the positive points in the SWOT Analysis of Dettol is the product and its brand equity. People have blind faith in Dettol. In fact, instead of any other antiseptic, doctors use Dettol to date.
Here is the SWOT analysis of Dettol.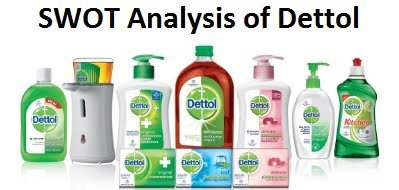 Strengths in the SWOT Analysis of Dettol – Dettol SWOT Analysis
Dettol is essentially the oldest germ killer in the market and has been used since 1936. Dettol has been used as an anti-septic in surgeries and has wide usage. Dettol is used for small scratches and a big one as an antiseptic liquid.
Dettol has become a household name due to its product consistency and easy use.
Dettol made a wise decision as it widened its brand identity to other everyday products that are still used in high quantities, such as soaps, oils, hand wash, body wash, and others.
Brand equity: Before Savlon arrived, Dettol had almost a monopoly on the anti-septic liquid market. Savlon has the biggest rival of Dettol. But in the soap and hand wash market, Dettol was also able to gain momentum due to its brand image.
Since it was the first to arrive on the market, many loyal customers still choose Dettol to think of this brand as the original Anti-septic quality.
Distribution and Reach: In almost every state, Dettol has a large number of dealers, backed by a strong distribution network that ensures that its goods are readily accessible to a large number of consumers in a timely way.
Cost structure: The low-cost structure of Dettol allows it to manufacture at a low cost and to sell its goods at a low price, making it affordable to its clients.
Dealer Community: Dettol has a good partnership with its dealers which not only supplies them but also focuses on promoting the products and training of the company.
Automation: Automation has enabled more effective resource utilization and cost reduction from various stages of production. It also enables its goods to be consistent in quality and offers the flexibility to scale up and scale down production as per market demand.
Trained labor force: Dettol has invested heavily in its workforce training, which has resulted in it hiring a significant number of professional and motivated workers.
Has a diverse workforce, with people of many ethnic, racial, cultural, and educational backgrounds who help the organization bring in various ideas and methodologies to do things.
Entering new markets: Creative teams from Dettol have helped it to come up with new products and reach new markets. In the past it was successful, in most of the initiatives it took in new markets.
Weaknesses in the SWOT Analysis of Dettol – Dettol SWOT Analysis
Penetration levels: Dettol is the market leader in practice and does not look at aggressive growth. With further penetration into rural areas, the delivery of Dettol can become stronger. The company must expand distribution into rural areas for Dettol soaps and hand wash.
Burning Pain in Dettol is the major weakness of the brand but Savlon doesn't cause this burning pain on its application. Dettol must do something to reduce the burning sensation
Opportunities in the SWOT Analysis of Dettol – Dettol SWOT Analysis
Introduction of New Products: Dettol can launch Sanitizer: Looking at the COVID-19 Scenario need for good hand sanitizer and anti-germ liquid is increasing. Thus Dettol must launch Sanitizers. Shampoo and is one product that should be in the portfolio. While this is too ambitious to wish for, Dettol baby goods would produce an entirely new demand for Dettol and give the company a new market to play in. The market is competitive, but Dettol will offer parents of newborn babies the confidence that their product is safe for the health of the baby with good products.
Fast Expansion: Dettol has to expand faster and take care of the situation in more territories. If it extends its offering to a non-burning anti-septic it can totally capture the market.
Threats in the SWOT Analysis of Dettol – Dettol SWOT Analysis
Competition from Savlon: None of the other rivals except Savlon are getting close to Dettol in the antiseptic industry. Dettol is not able to resist competition from Savlon.
New Entrants: Dettol has a threat from the new companies entering the market.
Government Regulations: Government regulations on the Pharmaceutical industry can directly or indirectly affect the sales and manufacturing of Dettol.
If you like This Article Please Like our Facebook Page PROJECTS4MBA
Cite This Work
Referencing Style to cite this article:
[citationic]