SWOT Analysis of Cipla Limited focuses on Strengths, weaknesses, opportunities, and threats. Strength and Weakness are internal factors and Opportunities and Threats are the external factors that influence the SWOT Analysis of Cipla Limited. Cipla Limited has a strong employee base of 22036 employees. The total Assets of Cipla Limited are 3.3 Billion US Dollars. The revenue of Cipla Limited is 2.5 Billion US Dollars.
Cipla Limited is a pharmaceutical company that develops and sells prescription medications, active pharmaceutical ingredients (API), and veterinary medicines. The company's headquarters are in Mumbai, India, and it has extensive R&D and production facilities there.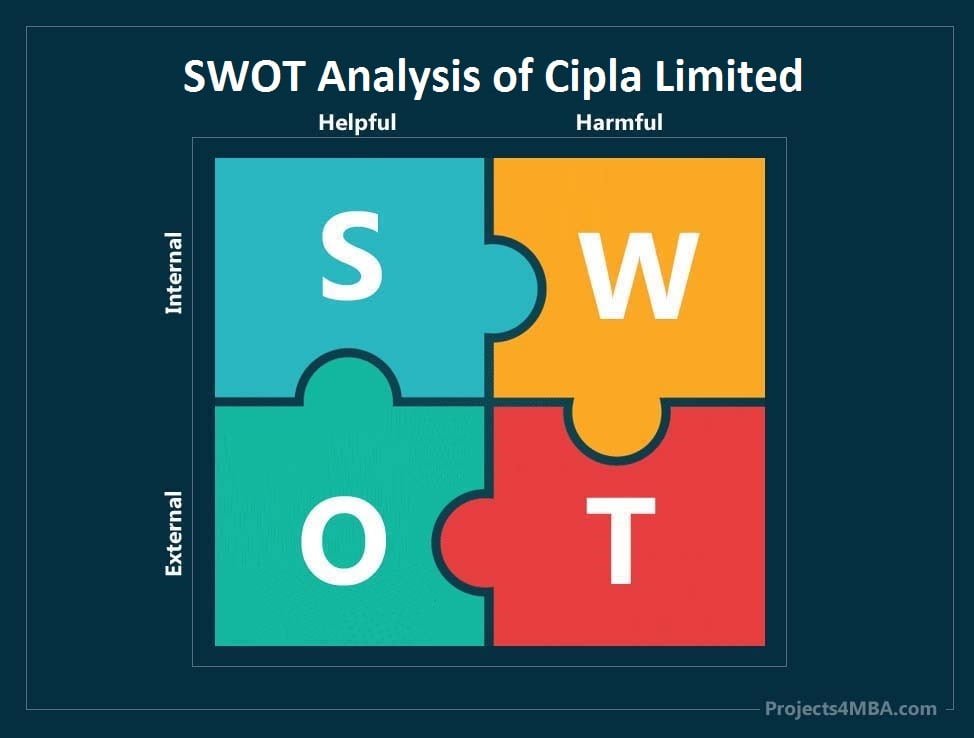 Strength in the SWOT Analysis of Cipla Limited – SWOT Analysis of Cipla Limited
Product Portfolio: Cipla offers a diverse product portfolio that includes APIs and formulations for human and animal healthcare goods. Cipla offers over 2000 items in over 65 categories and is always trying to expand its product line.
Low-Cost Drugs for Cancer Patients: Cipla offers and supports cancer patients by offering low-cost drugs, and it also developed a "No Touch Breast Scan" which is a stride ahead in screening technology in India.
Robust Research and Development: Cipla has prioritized the development of new drugs, as well as the improvement of medication delivery technologies and the expansion of product uses. Cipla has established a robust Research & Development infrastructure for this purpose. Cipla's strong R&D facilities are strongly backed by several industrial enterprises.
High Recognized: Cipla's products are highly recognized by regulatory agencies in India, the United States, Germany, and the United Kingdom, among others, lending legitimacy to the company's products.
Strong Brand Portfolio: Over the years, Cipla has made significant investments in developing a strong brand portfolio. This is reinforced by Cipla SWOT analysis. If the company wishes to grow into other product categories, this brand portfolio may be quite beneficial.
Good Training Programmes: Successful training programmes have resulted in a highly competent workforce. Cipla has invested heavily in employee training and development, resulting in a team that is not just highly competent but also driven to achieve more.
Weaknesses in the SWOT Analysis of Cipla Limited – SWOT Analysis of Cipla Limited
Rivalry: High rivalry from both domestic and global pharmaceutical businesses restricts Cipla's market share and prevents rapid expansion.
Dependent on Indian Market: Cipla's primary revenue-generating market in India. Although Cipla has a presence in over 100 other countries, it has little clout in other developed markets and is thus heavily reliant on the Indian market.
Opportunities in the SWOT Analysis of Cipla Limited – SWOT Analysis of Cipla Limited
Expansion: Cipla is continuously expanding its business in India and internationally through efforts such as investments, collaborations, and acquisitions. Cipla, for example, invested in a biotech manufacturing facility in South Africa. Cipla has also acquired InvaGen Pharmaceuticals in the United States, among other things.
Treatment: Cipla, via C-GA, provides a comprehensive variety of ARV medications for the treatment of HIV/AIDS in both children and adults. Cipla's medicines have the potential to treat an increasing number of people.
Develop in Emerging Countries: Cipla could look forward to expanding in emerging markets, particularly in countries where medical infrastructure is developing and, as a result, pharmaceutical is likely to grow.
Threats in the SWOT Analysis of Cipla Limited – SWOT Analysis of Cipla Limited
Regulation: Governments have influence over drug prices through national health organizations. A new pricing strategy under Drug price regulation has been suggested in India, which might have a severe influence on the sector. Pricing policy changes have an impact on pharmaceutical firms.
Intense Competition: Major companies like Sun Pharma, Cadila, Lupin, and others are fiercely competing in the Indian generics sector. This has an impact on Cipla's growth potential as well as its market share.
Exchange rate fluctuations: Any variations in exchange rates influence the company's financial agreements with other nations, which might have an impact on profitability.
Competition from Generic Medicines: Generic Medicines are giving tough competition to Cipla Limited.
Change in Technology: Technological Changes can reduce the production cost. If another company uses the latest technology it can give tough competition to Cipla.
If you like this article you can recommend your friends about PROJECTS4MBA.COM
If you like This Article Please Like our Facebook Page PROJECTS4MBA
Cite This Work
Referencing Style to cite this article:
[citationic]